IT
Ram & Memory Upgrades for Laptop, Computer & PC with Free Shipping
If you see that there are no patterns, just white noise - like the example below - these light curves are best categorized with the middle "quiet" icon. Other light curves - like the one below - show clear patterns. We think that most of the variability is caused by star spots, or pulsations.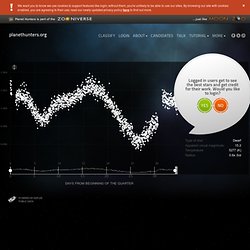 Planet Hunters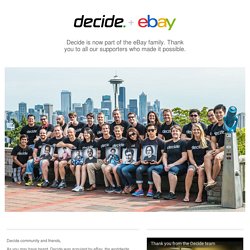 Decide community and friends, As you may have heard, Decide was acquired by eBay, the worldwide commerce leader. Since we started three years ago, weve been on a mission to bring you a more transparent shopping experience and help you feel more confident in your purchase decisions - in fact, we've been downright obsessed with it. Over the past year, we began experimenting with eBay and discovered an exciting opportunity to apply our team's strength in data and predictive analytics to help over 25 million eBay sellers make smarter decisions and be more successful.
* POOH.CZ *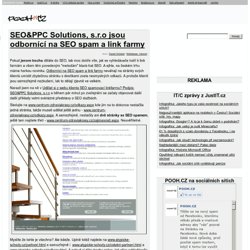 Jmenuje se Viktor a neexistuje. Stejně jako Milan a Jana. Capsa a jejich vymyšlená doporučení dnes | Daniel Dočekal | Reklama, média,marketing | | 1308 Pamatujte, když už na webu uvádíte "doporučení" svých uživatelů, tak se postarejte aby buď byla skutečná, nebo aby ti lidé byli nedohledatelní. Není dobré vidět, že doporučení falšujete.
The 1 percent have long had smartphones from Porsche and Vertu to quench their high-end thirst, but when it comes to dual-SIM handsets, the elite have had to settle for something a little more ordinary. For those in need, Gresso created Azimuth, the first dual-SIM luxury handset. Starting at $2,000, the phone is made of titanium, with both the keys and logo crafted out of 18K or white gold. Since appearances are all that matter, you're getting some pretty low-end specs under the hood, including 2GB of "internal memory," a 1.3-megapixel camera, Bluetooth 2.0 and a tiny 1,100mAh battery. To put things in perspective, Samsung's Galaxy S5 starts with 16GB of built-in storage, a 16-megapixel camera and a 2,800mAh battery.
Hello boys and girls, we at Robot VS Badger strive to get you the most awesome content available on the web. We love the oddities that the web has to throw at us and love sharing it with you guys even more. Check back daily as we update on a very regular basis. You can also join our FaceBook Fan Page to receive regular updates and check out some of the cooler stuff that doesn't always warrant a full post. I hope you enjoy the site, Thanks. See if you can name all the YouTube stars and spot all the references while watching the video.
Robot vs Badger – Finding the weird and interesting so you don't have to!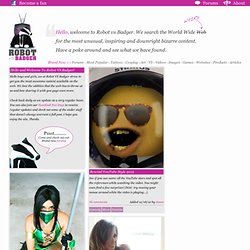 Picasa přináší automatické zálohování fotografií, má ale drobné mouchy Tipy V nejnovější verzi Picasy je možné nastavit automatické zálohování fotografií do úložiště v podobě Google Drive (Google+). Pár věci byste ale měli vědět. Celý článek Český rozhlas připomíná rok 1989 v retro přenosu Znovu 89 na sociálních sítích Po úspěchu loňského retro přenosu k výročí srpna 1968 spustil Český rozhlas další historický exkurz.