Content Curators Worth Following
The 5 Models Of Content Curation. March 31, 2011 | 36 Comments Curation has always been an underrated form of creation.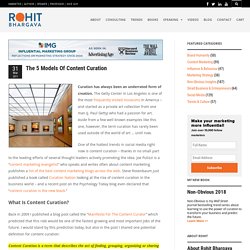 The Getty Center in Los Angeles is one of the most frequently visited museums in America – and started as a private art collection from one man (J. Paul Getty) who had a passion for art. Video Playlists at Curation Nation. Best of Neatorama – 2012. Webinars. Infographics.
---