anatomia y fisiologia
Get flash to fully experience Pearltrees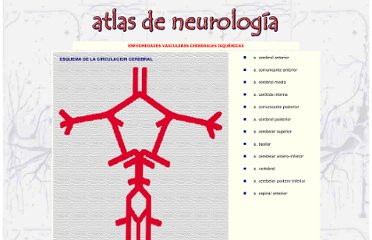 Según los vasos afectados, las enfermedades vasculares isquémicas de los grandes vasos se pueden clasificar de la forma siguiente: Síndromes producidos por isquemia en el territorio de la arteria carótida interna: Arteria cerebral media: Esta arteria irriga la parte medial de estructuras subcorticales, (ganglios basales, tálamo y cápsula interna), mediante ramas perforantes, y también suministra sangre a los lóbulos frontales, circunvoluciones superior y media del lóbulo temporal y zonas laterales de los lóbulos parietal y occipital. Según el lugar donde se situe la obstrucción se distinguen:
A multi-year study has found that the brain's white matter -- fibers connecting cells -- can shift with employment, education, and relationships For many years, the convention was that after adolescence, the brain had done about as much developing as it was going to do. Recent research has changed that notion, however, with studies finding that the brain can actually grow new neurons in certain areas. Now, a group reports that the fiber tracks connecting brain cell to brain cell (the white matter of the brain) may also continue to develop into early adulthood.
Animated Deceleration Injury from a Traumatic Brain Injury TBI Inform: Introduction to Brain Injury What Happens When a Brain Bleeds? Areas of the Brain Affected by Concussion
Chapter 9 — The Amygdala and the Emotions by Ben Best This installment is something of a digression in my "systematic" attempt to investigate the anatomical basis of mind. Here I investigate in detail a single component of the "Limbic System": the amygdala . The basis of this investigation is a book of scientific papers entitled THE AMYGDALA, Edited by John P.