Divers
Daydream Recipe – Bread Cones. Ingredients Dough: 1/2 cup milk 1/2 cup water.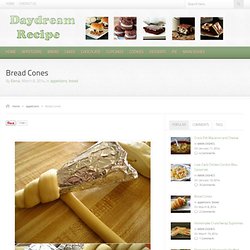 Raspberry Butter. Hey again!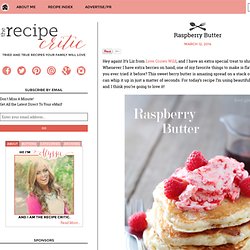 It's Liz from Love Grows Wild, and I have an extra special treat to share with you today! Whenever I have extra berries on hand, one of my favorite things to make is flavored butters. Have you ever tried it before? This sweet berry butter is amazing spread on a stack of pancakes, and you can whip it up in just a matter of seconds. For today's recipe I'm using beautiful, bright raspberries, and I think you're going to love it! What goes into making chocolate bowls. Leave it up to me to mess up every recipe in the world... but on the flipside, by experiencing everything that goes wrong, I end up learning the most.I had seen these bowls from Stephanie's Kitchen, and decided it was a fantastic idea for my food independent study. ingredients: chocolate, and balloons!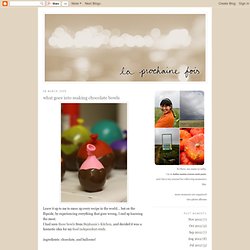 First, a giant bar of chocolate all the way from taiwan! And it's -special- grade, whatever that means. Meyer Lemons — The Salty. I owe a debt of gratitude to Moroccan cooking expert Kitty Morse.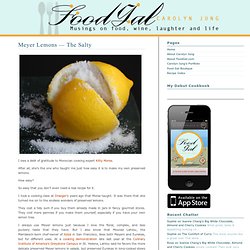 After all, she's the one who taught me just how easy it is to make my own preserved lemons. How easy? » Luscious Lemon Bars (nut-free) Against All Grain. Luscious Lemon Bars (nut-free) Posted by Against All Grain on May 10, 2013 · 26 Comments Don't let what I am about to say turn you off from this recipe or decide that it is not incredible.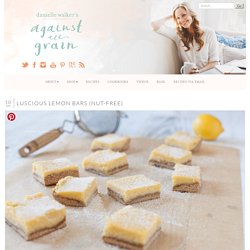 Because it is. Well, according to a dozen lemon-loving testers it is incredible. Energy bars you can make at home. Whether you've resolved to hit the gym more or your busy afternoons require a mid-afternoon pick-me-up, energy bars are a full of foods that provide slow-burning fuel, such as dates and sunflower seeds, that will keep you going through a 12-mile run or that 3 p.m. slump.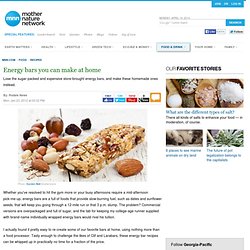 The problem? Commercial versions are overpackaged and full of sugar, and the tab for keeping my college-age runner supplied with brand-name individually wrapped energy bars would rival his tuition. I actually found it pretty easy to re-create some of our favorite bars at home, using nothing more than a food processor. Tasty enough to challenge the likes of Clif and Larabars, these energy bar recipes can be whipped up in practically no time for a fraction of the price. Raw Lemon-Coconut Bars These tasty bars are similar to Lärabars, but contain no added sweetener and are gluten free.
How to Make Proper Barbecue Chicken. There's a lot of misconception when it comes to "barbecue.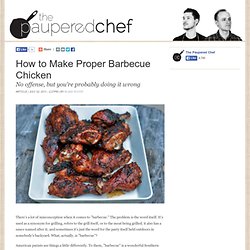 " The problem is the word itself. It's used as a synonym for grilling, refers to the grill itself, or to the meat being grilled; it also has a sauce named after it; and sometimes it's just the word for the party itself held outdoors in somebody's backyard. What, actually, is "barbecue"? American purists see things a little differently.
Conversions et tableaux. Cook-shop. A Visual Guide to Cooking with Onions and Garlic at Epicurious. B ulb vegetables which include onions, garlic, and ramps—all related and members of the lily family—are usually just culinary accents: Add in small amounts, and they'll make a dish come alive with aromatic undertones.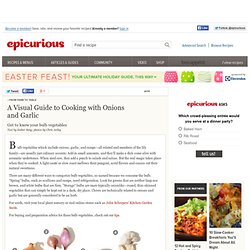 When used raw, they add a punch to salads and salsas. But the real magic takes place when they're cooked: A light sauté or slow roast mellows their pungent, acrid flavors and coaxes out their natural sweetness. There are many different ways to categorize bulb vegetables, so named because we consume the bulb. Roasted Pumpkin Seeds Recipe, Toasted Pumpkin Seeds Recipe. Method 1 Cut open the pumpkin by cutting a circle around the stem end with a sharp knife (knife blade angled in), and pulling off the top.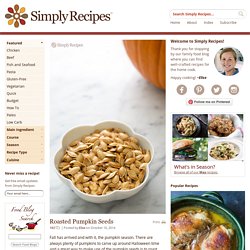 Use a strong metal spoon to scrape the insides of the pumpkin and scoop out the seeds and strings. Warmed-Spiced Pecans with Rum Glaze. Warmed-Spiced Pecans with Rum Glaze If you have been to a mall during the holiday season, many state fairs and sporting events then you have smelled the amazingly enticing aroma of roasted nuts.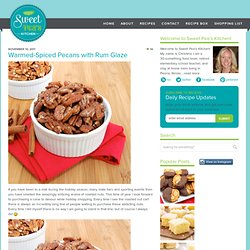 This time of year I look forward to purchasing a cone to devour while holiday shopping. Vanilla Extract Recipe, How to Make Vanilla Extract. Commercial vanilla extract usually has simple syrup (sugar water) added to the extract to give it a sweet aftertaste. You can do this if you want, but if you are using the vanilla for baking, there really is no need. Method 1 Use kitchen scissors or a sharp paring knife to cut lengthwise down each vanilla bean, splitting them in half, leaving an inch at the end connected. 2 Put vanilla beans in a glass jar or bottle with a tight fitting lid (mason jars work well). Infusing sugar. June 9, 2011 | Sweet Recipes | Comments I love the idea of infusing sugar! The wonderful uses of infused sugars are endless. You can use the citrus or lavender sugar in a poundcake or sugar cookie recipe to add a hint of flavor or simply place a teaspoon in your coffee (think espresso bean-infused!) Or when mixing a cocktail.
---