Music
Miley Cyrus - Wrecking Ball (Acoustic Piano Cover by Sarah Engels)
Spotify
Electro/Techno/DnB. Chill music. GorgeousChaya. Welcome to YouTube!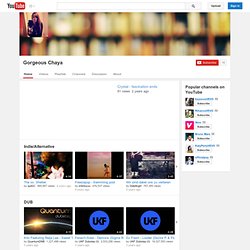 The location filter shows you popular videos from the selected country or region on lists like Most Viewed and in search results.To change your location filter, please use the links in the footer at the bottom of the page. Click "OK" to accept this setting, or click "Cancel" to set your location filter to "Worldwide". Everyone's Mixtape. Checking your Google account... Checking your Facebook account... Everyone's Mixtape's celebrates the art of creating mixtapes. You can add to an existing mix, or start one of your own. Tape.tv. Chaya who? Everyone's Mixtape.
Artists
Best pop. Dubsteb. Indie. Live music.
---