iPad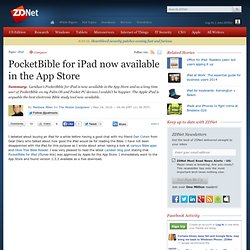 PocketBible for iPad now available in the App Store
I debated about buying an iPad for a while before having a good chat with my friend Dan Cohen from Gear Diary who talked about how good the iPad would be for reading the Bible. I have not been disappointed with the iPad for this purpose as I wrote about when taking a look at various Bible apps and Olive Tree Bible Reader. I was very pleased to read the latest Laridian blog post stating that PocketBible for iPad (iTunes link) was approved by Apple for the App Store. I immediately went to the App Store and found version 1.3.3 available as a free download.
Ipad Articles on TUAW - The Unofficial Apple Weblog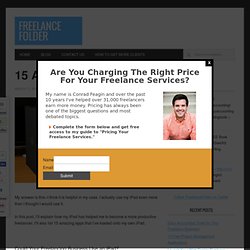 15 Amazing iPad Apps
With the arrival of the iPad 2, you may be looking at incorporating an iPad into your arsenal of freelancing tools. If you're considering an iPad 2 for your freelancing business, who could blame you? This newest generation of the iPad has received an awful lot of news coverage lately. But is an iPad worth it as a freelancing tool? Of course, depending on their own business needs, every freelancer will have a different answer to this question. My answer is this–I think it is helpful in my case.
Forum
TiPb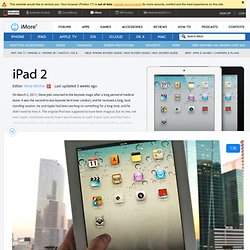 We're entering what is, for many, the biggest shopping and gift-giving season of the year, and by virtue of their quality, cachet, and overall coolness, Apple gifts are always high on everyone's lists. Whether you're looking for that perfect present for that special someone, or just want to take advantage of the once-a-year sales for yourself, it can be a challenge to figure out exactly which Apple devices to get. When does a Retina iPad mini make more sense than a full-sized iPad Air? When does a MacBook Air?