iPad
PocketBible for iPad now available in the App Store. I debated about buying an iPad for a while before having a good chat with my friend Dan Cohen from Gear Diary who talked about how good the iPad would be for reading the Bible.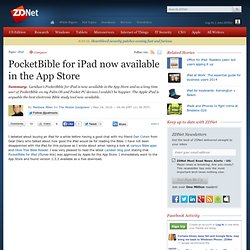 I have not been disappointed with the iPad for this purpose as I wrote about when taking a look at various Bible apps and Olive Tree Bible Reader. I was very pleased to read the latest Laridian blog post stating that PocketBible for iPad (iTunes link) was approved by Apple for the App Store. I immediately went to the App Store and found version 1.3.3 available as a free download. Ipad Articles on TUAW - The Unofficial Apple Weblog. 15 Amazing iPad Apps. iPad News, Reviews, Apps, Accessories, and Tips. Forum. TiPb. On March 2, 2011, Steve Jobs returned to the keynote stage after a long period of medical leave.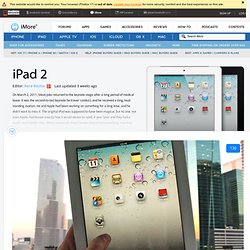 It was the second-to-last keynote he'd ever conduct, and he received a long, loud standing ovation. He and Apple had been working on something for a long time, and he didn't want to miss it. The original iPad was supposed to have been magical, but no one, not even Apple, had known exactly how it would weave its spell. MobileMe Sign In. iPadNewsDaily.com - Apple iPad tablet news, reviews, apps, games and accessories.
---