Carpintería
Bird house plans, free simple to build projects, instructions and pictures. Building wooden bird houses is a great way to attract a variety of birds to your property, and it can also be a fun weekend project.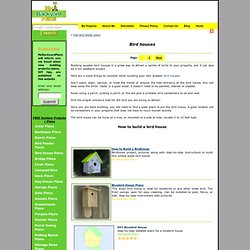 Here are a some things to consider when building your own wooden bird houses: Don't paint, stain, varnish, or treat the inside or around the hole entrance of the bird house, this will keep away the birds. Cedar is a good wood, it doesn't need to be painted, stained or treated. Avoid using a perch, putting a perch on the will give a predator bird somewhere to sit and wait.
Free Bird House Plans. Here are some bird house plans to use for your own backyard habitat.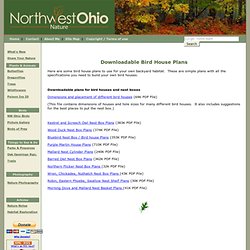 These are simple plans with all the specifications you need to build your own bird houses. Downloadable plans for bird houses and nest boxes. Etsy - Your place to buy and sell all things handmade, vintage, and supplies.
Herrajes. Screw advance box joint jig version 2. After I built my original screw advance box joint jig I ended up using it quite a lot.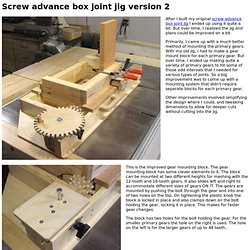 But over time, I realized the jig and plans could be improved on a bit. Primarily, I came up with a much better method of mounting the primary gears. With my old jig, I had to make a gear mount block for each primary gear. More links. THISisCarpentry Journal for caprenters and contractors Dorset custom furniture A prefessional woodworkers photo journal Woodworking for mere mortals Steve Ramsey's videos The Woodpecker good woodworking videos, in English and French IBuiltIt.ca John Heisz's do it yourself projects.
Woodworking for engineers. Matthias Wandel's home page. Daniel-n. Kreg Deck Jig System Presented by Woodcraft. Woodworking Website | Welcome to Your Online Workshop! Welcome to Australian Woodsmith. Sierra de Banco. Lasierracirculardebancoesunacajaobaseenlaquehayunaflechaoejeque,enunextremo,llevalahojadelasierra,yenelotro,lapoleaconqueseconectaalmotor.lashojasdelasierrasubenobajanalgirarunamanijaypuedenfijarsefirmementealaalturaquesequiera.8 latapadelbancoeslamesadetrabajo.Tieneunaranuraalcentro,porlaquesalelahojadelasierra.lasierratieneunaescalaquemuestraelángulodeinclinacióndelahoja.Conotramanijaesposiblehacerquelahojaseinclineencualquierángulo,hasta45grados,parahacercortesperfectosabisel.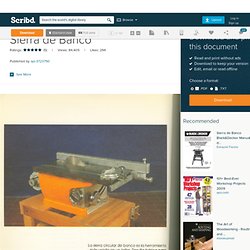 Haydostiposdesierrasdebanco. En unas,generalmentemásbaratas,hechasmuchasvecesporelpropiocarpintero,elmotorylaflechaquedanfijosyeslamesalaqueseelevaoseinclina.Enotras,máscomplicadasycostosas,peromásprecisasyseguras,eselárboloflechaloquesesube,bajaoinclina. MITER SAW woodworking plans and information at WoodworkersWorkshop. Free Woodworking Plans at Bink's Wood working. CAJAS OMICRON: baules, racks, cajoneras, estuches rigidos, cases anvil.
Built this Shot Glass Display Case, it's Easy! 12 Free Workshop Storage Plans: Tool Cabinets, Rolling Carts, Under Stair Storage and More | Like clamps and free lumber, storage is always scarce when you need it.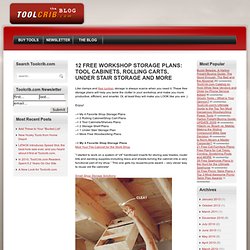 These free storage plans will help you tame the clutter in your workshop and make you more productive, efficient, and smarter. Or, at least they will make you LOOK like you are ;) Enjoy! –> My 4 Favorite Shop Storage Plans –> 2 Rolling Cabinet/Shop Cart Plans –> 3 Tool Cabinets/Shelves Plans –> 2 Storage Shelf Plans –> 1 Under Stair Storage Plan –> More Free Woodworking Plans.
---