Blogs I follow
(satire) Britain's chancellor George Osborne's economic competence collapsed by 0.7% in the second quarter of 2012 as the country's double-dipstick chancellor of the exchequer's ineptitude extended into a third quarter. A unique combination of across-the-board weakness in ability and proficiency coupled with a weakening of rational output right across Mr Osborne's activities were responsible for the setback, according to data from the Office for National Statistics.
UK suffers worst double-dipstick chancellor in 50 years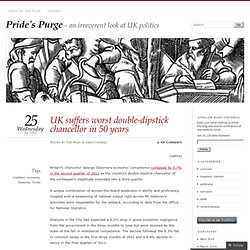 I was reminded yesterday by the good eggs at Avon & Somerset Police Federation of a saying I had not heard since I was a kid – a comment my dad used to come out with quite often when watching news stories about the latest Royal visit or boat launch or whatever it was …. Dad always used to say "The Queen must think the whole country smells of fresh paint and flowers", remarking on the vast amount of public space housekeeping that used to get done by whichever council was responsible for looking after the area of the impending Royal visit.
Constable Chaos – UK Police Blog
I am in two minds about these wind farm thingies.The same argument can be put for solar Photo voltaic panels too. On one hand, if you take them at their face value; they are fairly efficient, they don't produce pollution, they are not that ugly, especially compared to huge cooling towers and plumes of smoke. They don't smell, and birds do not fly into them and die. Solar PV, are not efficient enough as yet. Not at UK latitudes anyway.
Cumulo Cirrus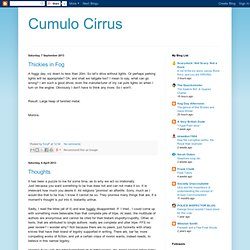 I have been healed! Yes, that's right, healed! Well, according to the person who ever so 'kindly' did the healing I have.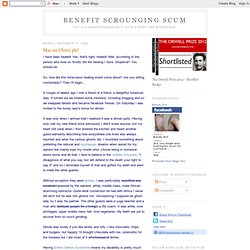 Benefit Scrounging Scum: Mac an Cheez plz!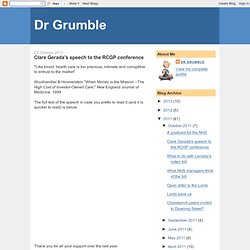 Dr Grumble
"Like blood, health care is too precious, intimate and corruptible to entrust to the market" Woolhandler & Himmelstein "When Money is the Mission –The High Cost of Investor-Owned Care," New England Journal of Medicine. 1999 The full text of the speech in case you prefer to read it (and it is quicker to read) is below. Thank you for all your support over the last year.
The Banks are more powerful today than they were before the crisis
GERALD CELENTE BLOG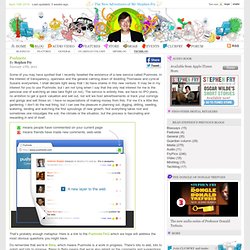 Some of you may have spotted that I recently tweeted the existence of a new service called Pushnote. In the interest of transparency, openness and the general calming down of doubting Thomases and cynical Susans everywhere, I shall declare right away that I do have shares in this new venture. It may be in my interest for you to use Pushnote, but I am not lying when I say that the only real interest for me is the personal one of watching an idea take flight (or not). The service is entirely free, we have no IPO plans, no ambition to get a quick valuation and sell out, nor will we host advertisements or track your comings and goings and sell those on. I have no expectations of making money from this. For me it's a little like gardening.
Pushnote
I love Christmas. I love everything about it, apart perhaps from the predictable fundamental Christians bleating on about the so called War on Christmas and their irksome ill-informed insistence that Jesus is the reason for the season. A few years back at my local church, I sat through the vicar's ranting sermon shoehorned into the school carol concert. It was blatantly aimed at heathen parents like me that no longer routinely grace his ever-dwindling flock.
Science, Reason and Critical Thinking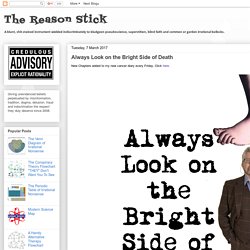 Dave has been talking about religion. Speaking during a question-and-answer session in Darwen near Blackburn, the Telegraph reports, he described the Bible as "not a bad handbook", but admitted struggling with some of the sayings contained therein, such as Jesus' instruction to the rich man to sell all he possessed and give the proceeds to the poor. "But what I think is so good about Jesus' teachings," he added, "is there are lots of things that he said that you can still apply very directly to daily life and to bringing up your children."
Politics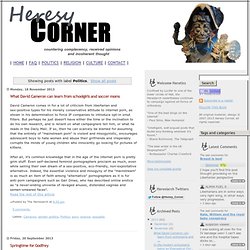 The Ordinary Cook
I intended to make rowan berry and crabapple jelly this year. The rowan berries have drooped heavily this year. In fact, on our usual walk I have noticed several new rowan trees.
I decided to deliver my urgent letter to HRH Prince Charles, personally, but was thwarted by two burly policemen at the entrance to Highgrove House, Tetbury, Gloucestershire. I was originally going to deliver it by 1943 Piper Cub, registration G-KURK and land her just outside the prohibited zone to walk the short distance to his Royal Highness's residence. Kirstie suggested that that was not such a good idea, bearing in mind my recent protracted stay in Texas State Lunatic Asylum, in Austin and subsequent deportation.
G-Kirk Flying Vet My local character Rofl