Science stuff
Get flash to fully experience Pearltrees
(February 2010) Modern industry uses radioisotopes in a variety of ways to improve productivity and, in some cases, to gain information that cannot be obtained in any other way. Sealed radioactive sources are used in industrial radiography, gauging applications and mineral analysis. Short-lived radioactive material is used in flow tracing and mixing measurements.
The delivery, manipulation and assembly of functional materials such as metal nanoparticles into predefined architectures and patterns is of great interest in nanotechnology.
How Hydroelectric Generation Works
Contexte historique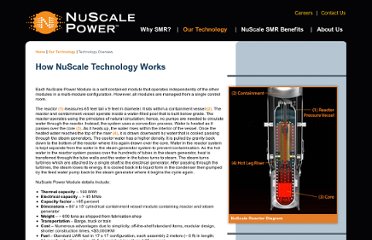 Each NuScale Power Module is a self-contained module that operates independently of the other modules in a multi-module configuration. However, all modules are managed from a single control room. The reactor (1) measures 65 feet tall x 9 feet in diameter. It sits within a containment vessel (2) . The reactor and containment vessel operate inside a water-filled pool that is built below grade.