TV related
Jekyll is a British television drama serial produced by Hartswood Films and Stagescreen Productions for BBC One. The series also received funding from BBC America. Steven Moffat wrote all six episodes, with Douglas Mackinnon and Matt Lipsey each directing three episodes. The series is described by its creators as a sequel to the novella Strange Case of Dr Jekyll and Mr Hyde, rather than an adaptation of it, and the Robert Louis Stevenson tale is used within the series as a back story.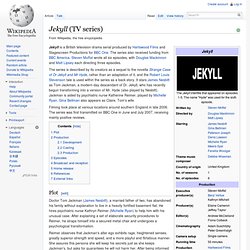 Jekyll (TV series)
Nikita TV Show | Nikita Cast and Crew | Season Guide | Fancast
Sorry, currently our video library can only be watched from within the United States Hulu is committed to making its content available worldwide. To do so, we must work through a number of legal and business issues, including obtaining international streaming rights.