Doc France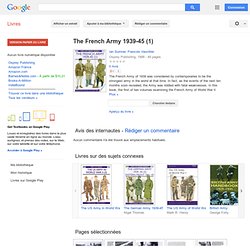 Ian Sumner was born in 1953 in Eccles, near Manchester, UK. He originally trained as a librarian in Newcastle-upon-Tyne but now devotes himself to full-time writing. He has written numerous titles for Osprey, and also several books on the history of the East Riding of Yorkshire, where he now lives with his wife. Francois Vauvillier is the greatly respected editorial director of the French Military publishers Histoire & Collections is the former editor of Gazette des Uniformes and of Militaria magazine. His special personal interests include French uniforms of both World War I and World War II.
The French Army 1939-45
2/6)Tanks! Fall of France
Equipements et uniforme du soldat français en 1940
Histoires de Français Libres
Et si la France avait continué la lutte en 1940 ?
en collaboration avec Jean-Pierre Valantin 2007 - Un Point d'étape 1.1. LES BASES Nous disposons d'un certain nombre d'informations sur la peinture des engins de combat français. 1.1.1.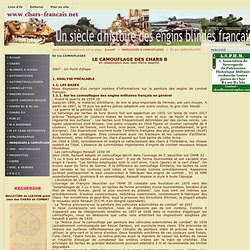 Chars français - B1 bis CAMOUFLAGES
Articulos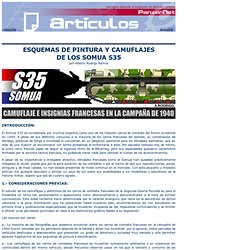 ESQUEMAS DE PINTURA Y CAMUFLAJES DE LOS SOMUA S35 por Alberto Rodrigo Ramos El Somua S35 es considerado por muchos expertos como uno de los mejores carros de combate del frente occidental en 1940. A pesar de sus defectos, comunes a la mayoría de los carros franceses del periodo, su combinación de blindaje, potencia de fuego y movilidad lo convertían en un peligroso oponente para los blindados alemanes, que en más de una ocasión se encontraron con serios problemas al enfrentarse a ellos. Por aquellos tiempos era, de hecho, el único carro francés capaz de seguir el vigoroso ritmo de la Blitzkrieg; pero sus capacidades quedaron seriamente limitadas por la doctrina táctica francesa, no pudiendo hacer nada para cambiar el rumbo de los acontecimientos.
WW2 French Armoured Vehicles
Pics 31 to 34: The 47mm anti-tank gun assembled and painted. Pic 35: A close-up view shows many of the small changes to the hull front. Although the Ironside kit comes with photo-etched parts for the mudguards and driver's hatch, sheet plastic was substituted as a less painful alternative. Lorraine Options My fascination with the Lorraine dates back to the mid-1960s when I first began to build tank models. Reference material was thin on the ground, and the 'Armour in Profile' series was my favourite.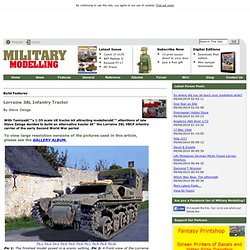 Lorraine 38L Infantry Tractor - Build Features
chant militaire " La strasbourgeoise "