Industrial control,scada,hmi,domotic DATALOG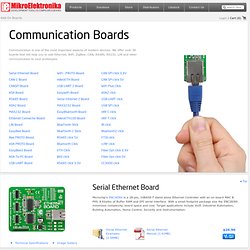 Communication Boards - MikroElektronika
nRF T Click™ is an add-on board in mikroBUS™ form factor. It features Nordic nRF24L01P 2.4 GHz transceiver module with an embedded baseband protocol engine as well as 2.4 GHz PCB trace antenna. The board supports an air data rate of 250 Kbps, 1 Mbps and 2 Mbps and it is suitable for ultra low power designs.
Filling the gap between PC/104 and EBX
A growing number of companies offer small SBCs that fit within a size gap between the PC/104 (13 sq. in.) and EBX (46 sq. in.) form-factors. Unfortunately, no dominant standard for such "half-EBX" sized boards has emerged, so each supplier's product family tends to implement a unique approach and few are interchangeable with each... other. Being 1.5 to 2 times the size of PC/104 modules, and given the availability these days of highly integrated system-on-chip processors as well as highly integrated peripheral controllers, SBCs in this size range have sufficient board space to fit just about all the functions a small Embedded Linux based system is likely to require.
Logomatic v2 Serial SD Datalogger
Replacement: WIG-10216 The new version features a charge circuit based on the MCP73831, instead of the hard-to-find MAX1555. This page is for reference only. Description: The Logomatic v2 takes everything we learned with multiple logging projects over the years and boils it down to an easy to use device, that is now more adaptable than ever!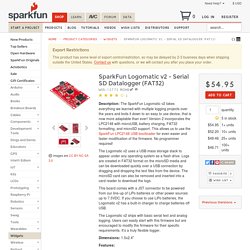 The ArduinoLogger: SD Data Logging for Any Application The ArduinoLogger can be used alone for logging temperatures, or use the serial interface to log time-stamped data in any application. Advanced users can customize the source code to integrate other sensor data directly in the Arduino environment. Features: SD card slot for SD or uSD (with adapter) flash card, push-in/push-out type. Battery backed Real Time Clock (DS1302) for adding timestamps to logs.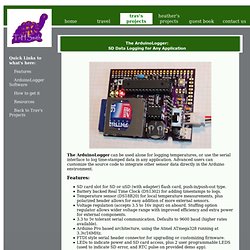 Trav's Projects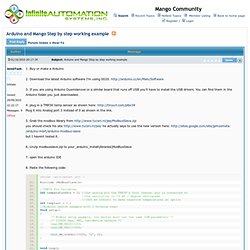 Hi, I have a one question. I use the modbus serial for comunication. It is script:
Arduino and Mango Step by step working example
Mango, open source M2M