Alternative News
All modern mainstream news sources are slanted to serve an agenda. The truth can be found between the lines, and in unbiased journalism. May 17
Before It's News | Alternative News | UFO | Beyond Science | True News| Prophecy News | People Powered News
The Vigilant Citizen
A network of individuals, independent and alternative media activists and organisations, offering grassroots, non-corporate, non-commercial coverage of important social and political issues. Full article | 22 comments Updates to the Indymedia Newswire The UK Indymedia Collective met this weekend in Wales. Amongst other things, we have agreed some changes to the newswire.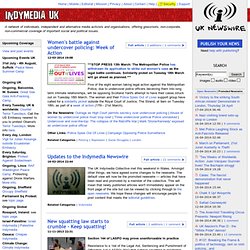 UK Indymedia
TorrentFreak | Torrent News, Torrent Sites and the latest Scoops
Two years ago the Internet's biggest ever protest killed the hugely controversial anti-piracy legislation SOPA. Speaking to studios this week, a prominent UK government intellectual property advisor admitted that the damage caused was so great that it's unlikely that there will be a fresh piracy-focused legislative push for another five years. A man who uploaded a single movie to The Pirate Bay kickstarting South Africa's first online piracy case has been sentenced today. After striking a plea bargain with the state over what was unusually framed as a criminal rather than civil offense, the 29-year-old was handed an unprecedented five-year suspended…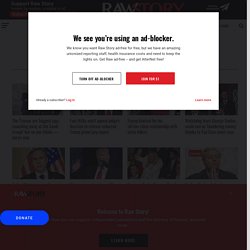 Drug cartel leader on Treasury blacklist arrested in Mexico Police have arrested the deputy leader of the Beltran Leyva drug cartel in Mexico City as he visited the capital,… Looters take advantage of Brazilian police strike in World Cup host city Looting broke out in Salvador de Bahia, one of the host cities for this year's World Cup in Brazil, as… Sexual violence against Egypt women 'goes unpunished': report Sexual violence against women has been rife since the 2011 uprising in Egypt, where hundreds of female protesters have been…
The Raw Story | America's #1 completely independent news and politics source
Home
Following recent attacks in Chiapas, a Week of National and International Solidarity "If they touch the Zapatistas, they touch all of us" has been called, to be held from 16th to 23rd February, 2014, to "denounce the counterinsurgency war" and emphasise that "the Zapatista communities are not alone." The new aggressions were made against the iconic Zapatista community of 10 de Abril, by government supporters from the group CIOAC democratic who live in a nearby community, and who have been threatening and provoking the Zapatistas in this area since 2007, with the aim of dispossessing them from their lands. Six Zapatista support bases (BAZ) were injured, three of them seriously, and one is in danger of losing his sight.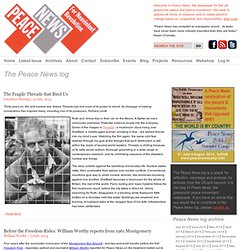 The Peace News log | Peace News