Alternative News
All modern mainstream news sources are slanted to serve an agenda. The truth can be found between the lines, and in unbiased journalism. May 17
Before It's News | Alternative News | UFO | Beyond Science | True News| Prophecy News | People Powered News
The Vigilant Citizen
A network of individuals, independent and alternative media activists and organisations, offering grassroots, non-corporate, non-commercial coverage of important social and political issues. Full article | 34 comments Attack on The Casa On Saturday 2nd November 2013 a fundraising benefit gig for the family of imprisoned whistleblower Chelsea Manning, organised by WISE Up Action, at The Casa in Liverpool, a pub set up by sacked Liverpool Dockers, suffered multiple violent attacks. The day before the physical and verbal attacks on the anti-war activist organisers and The Casa staff, a statement on Adam Ford's blog, "from a group of activists who will be supporting Chelsea Manning but opposing Ciaron O'Reilly at an event in Liverpool tomorrow" claimed that "Ciaron O'Reilly - a main organiser of tonight's event - does not support Chelsea Manning in the same way that we do" and said that they "intend to protest against that".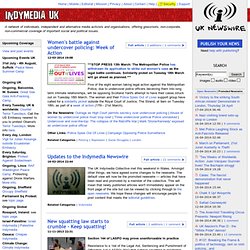 UK Indymedia
TorrentFreak | Torrent News, Torrent Sites and the latest Scoops
NewsBits Even more news... DDoS Attack Takes Down EZTVThe popular TV-torrent index EZTV has been offline for more than a day. TorrentFreak reached out...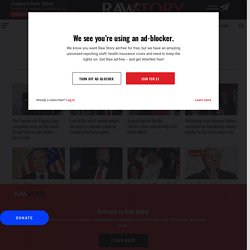 N. Korea slams hawkish 'militarist maniac' Japanese Prime Minister Shinzo Abe North Korea on Sunday lashed out at Japan's hawkish prime minister for seeking to revise Tokyo's pacifist post-World War II… Aussie legs bared for annual No Pants commute Trains and trams in Australia's major cities were awash with bare legs and briefs Sunday as pranksters travelled trouserless for… Israelis pay last respects to founding father Ariel Sharon
The Raw Story | America's #1 completely independent news and politics source
Home
Najib, his grandma and Hakim From Sherif in Egypt My dear enemy, I kill you with love…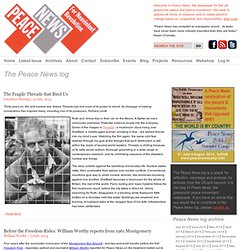 The Peace News log | Peace News