Spirituality
My Word Like Fire
Alcoholics Anonymous is in opposition to the Bible. A.A.'s own history has been incorrectly interpreted by those who–undoubtedly with the best of intentions–wish keep Christians involved in the twelve step religion. Interestingly, in one of his own books, Dick B. (an advocate for A.A.'s non-existent "Christian/biblical" roots) records how author Mel B. tried to correct him about Christian influence in early A.A. Dick B. writes, "[New Thought heretic Emmet] Fox appeared to teach that the death and resurrection and ascending of Jesus to the right hand of God was not merely the accomplishment for those who believed, but for anyone and everyone, if at all.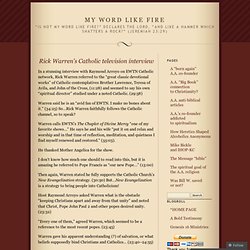 Thomas Merton Quotes
Mother Teresa Quotes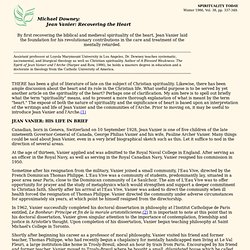 SPIRITUALITY TODAY Winter 1986, Vol. 38, pp. 337-348. Michael Downey: Jean Vanier: Recovering the Heart THERE has been a glut of literature of late on the subject of Christian spirituality. Likewise, there has been ample discussion about the heart and its role in the Christian life. What useful purpose is to be served by yet another article on the spirituality of the heart? Perhaps one of clarification. My aim here is to spell out briefly what the term "spirituality" means, and to present a more thorough explanation of what is meant by the term "heart."
Michael Downey: Jean Vanier: Recovering the Heart
Favorite Sites | Nouwen Legacy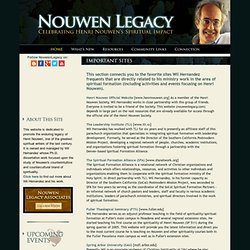 This section connects you to the favorite sites Wil Hernandez frequents that are directly related to his ministry work in the area of spiritual formation (including activities and events focusing on Henri Nouwen). Henri Nouwen Official Website [www.henrinouwen.org] As a member of the Henri Nouwen Society, Wil Hernandez works in close partnership with this group of friends. Everyone is invited to be a friend of the Society. This website (nouwenlegacy.com) depends in large part on the vast resources that are already available for access through the official site of the Henri Nouwen Society. The Leadership Institute (TLI) [www.tli.cc] Wil Hernandez has worked with TLI for six years and is presently an affiliate staff of this parachurch organization that specializes in integrating spiritual formation with leadership development.