RDF
RDFa 1.1 with a rich snippet example - W3C Blog
With RDFa 1.1 making its way out of last call, I looked at the examples from Google's Webmaster Central to see what RDFa 1.1 brings to those. A typical example is the one on reviews ; here s where it starts out in RDF 1.0: <div xmlns:v="http://rdf.data-vocabulary.org/#" typeof="v:Review" ><span property="v:itemreviewed" >L'Amourita Pizza</span> Reviewed by <span property="v:reviewer" >Ulysses Grant</span> on <span property="v:dtreviewed" content="2009-01-06" >Jan 6</span>. <span property="v:summary" >Delicious, tasty pizza on Eastlake!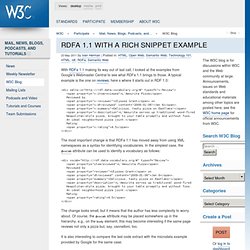 microdata is an extension to HTML5 that provides another way to embed microformats and poshformats vocabularies. Specification: http://www.w3.org/TR/microdata/ summary microdata consists of a set of attribute extensions to HTML5 :
microdata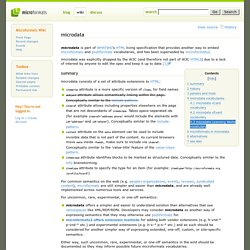 SearchMonkey - Local
We begin the introduction to RDFa by using a subset of all the possibilities called RDFa Lite 1.1 [ RDFA-LITE ]. The goal, when defining that subset, was to define a set of possibilities that can be applied to most simple to moderate structured data markup tasks, without burdening the authors with additional complexities. Many Web authors will not need to use more than this minimal subset.