Social Media
Social websites are latest sources for plagiarized material | Curriculum. Homework and academic help sites also rank high in list of sources for most-copied material By Jenna Zwang, Assistant Editor Read more by Jenna Zwang Harrick advised demonstrating how easily students can be caught plagiarizing at the start of the school year.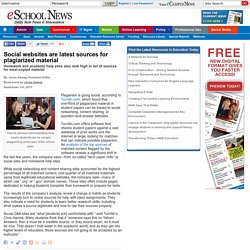 Plagiarism is going social, according to Turnitin.com , which found that one-third of plagiarized material in student papers can be traced to social networking, content sharing, or question-and-answer websites. Here's How People Look at Your Facebook Profile -- Literally. When potential dates, employers and friends glance at your online social profiles, what do they see?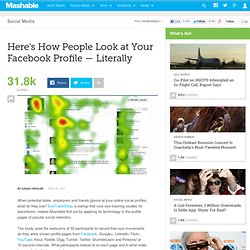 EyeTrackShop, a startup that runs eye-tracking studies for advertisers, helped Mashable find out by applying its technology to the profile pages of popular social networks. The study used the webcams of 30 participants to record their eye movements as they were shown profile pages from Facebook, Google+, LinkedIn, Flickr, YouTube, Klout, Reddit, Digg, Tumblr, Twitter, StumbleUpon and Pinterest at 10-second intervals. What participants looked at on each page and in what order is recorded in the images below. What to include in your social media publishing schedule: Part One  At some point along the way, you or someone on your team decided to buy into a social media strategy.
For some time now, you might have been dabbling in the depths of the vast social media world, searching for the best thing to drive traffic to your sites and generate interest within your community. You've created and moderated the school's Twitter and Facebook accounts, consistently uploaded videos to your YouTube channel and even ventured into live streams. 10 Creative Social Media Resumes To Learn From. Like flowers in early spring, new social media job openings are sprouting across industries as companies of all sizes look to create or expand their social squads.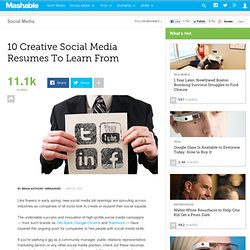 The undeniable success and innovation of high-profile social media campaigns — from such brands as Old Spice, Google Chrome and Starbucks — have inspired this ongoing push for companies to hire people with social media skills. If you're seeking a gig as a community manager, public relations representative, marketing person or any other social media position, check out these resumes for inspiration on how to stand out from the crowd.
Also, let us know in the comments about any creative tactics you use to promote yourself and your skills. The Social Media Guide. Luis Sanz is a co-founder of Olapic, a company that helps brands and online publishers crowdsource photos on their site or Facebook fan pages to create a more engaging user experience.
You can follow him on Twitter @lsanza. If you haven't noticed, photos are big on the social web right now. Running a contest is a great way to tap into that content and boost community engagement in a fun and social way. When planning a photo contest, keep these seven tips in mind — you will easily increase the effectiveness of your photo-related contest. Exploring the Role of Social Media in Education  Deleted Facebook Pictures May Still Lurk on the Internet.
---