Node.js
Static Version
Node.js and MongoDB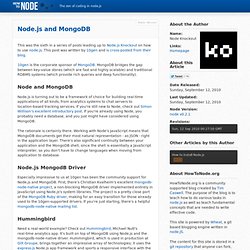 You use Node.js to write event-driven, scalable network programs in server-side JavaScript.
node.JS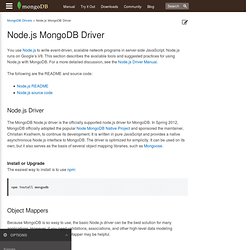 UPDATE: New packages and further items What a difference a year makes. Last year at the first conference solely dedicated to JavaScript, JSConf 2009, there was a big focus on the uses of JavaScript on the client side.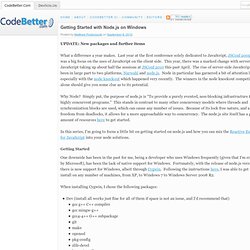 Getting Started with Node.js on Windows | Matthew Podwysocki
There's a substantial amount of buzz and enthusiasm right now about Node.js. So what is it, and why should you care about it (well, other than "I said so")? ReadWriteWeb chatted with Javascript developer Guillermo Rauch, co-founder and CTO of LearnBoost in order to get some insights.
Why Developers Should Pay Attention to Node.js
Introduction to Nodejs (taking javascript to the server-side) - GeexHQ
0inShare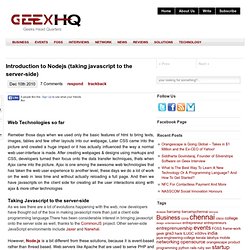 Node.js is a software platform that is used to build scalable network (especially server-side) applications. Node.js utilizes JavaScript as its scripting language, and achieves high throughput via non-blocking I/O and a single-threaded event loop. History[edit]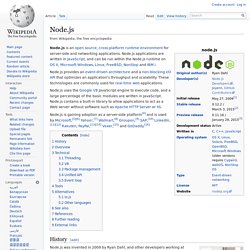 Node.js
I gave a talk on Friday at Full Frontal , a new one day JavaScript conference in my home town of Brighton. I ended up throwing away my intended topic (JSONP, APIs and cross-domain security) three days before the event in favour of a technology which first crossed my radar less than two weeks ago . That technology is Ryan Dahl's Node .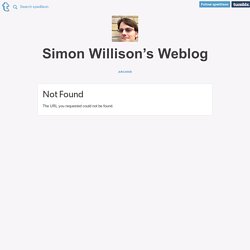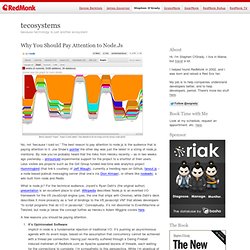 No, not "because I said so." The best reason to pay attention to node.js is the audience that is paying attention to it.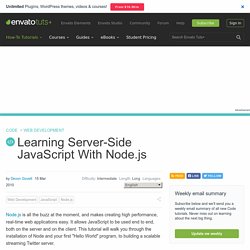 Node.js is all the buzz at the moment, and makes creating high performance, real-time web applications easy. It allows JavaScript to be used end to end, both on the server and on the client.
Preview Download Free Preview NOTE: The code download has been updated for the latest Node 0.6.10 release and NPM 1.1.1.
Meet Node.js | PeepCode Screencasts for Web Developers and Alpha Geeks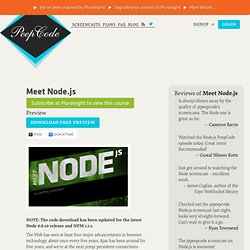 nodeJsCloud - A node.js Cloud Hosting Platform
Node.js is a server side framework based on top of Google's V8 JavaScript Engine, that aims to assist developers in building highly scalable network programs, by using evented, non-blocking I/O.
Virtual Panel: The Node.js Ecosystem - Frameworks, Libraries and Best Practices
After reading Simon Willison's post on Node.JS, I decided I'd give it a try myself.
Node.JS and the WebSocket protocol
Twisted is an event-driven networking engine written in Python and licensed under the open source MIT license.
eventmachine @ GitHub
eventmachine @ GitHub
cinco_de_node