Graphic Design
Wire Sculpture. Home. 21 Images You Won't Believe Aren't Photoshopped (Part 8) This is the latest edition of our most popular feature, in which we demonstrate that the truth is stranger than Photoshop.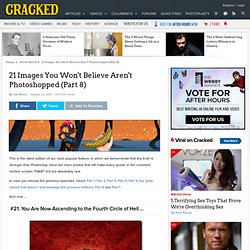 Here are more photos that will make every poster in the comment section scream "FAKE! " but are absolutely real. In case you missed the previous episodes, here's Part 1, Part 2, Part 3, Part 4, Part 5, the gritty reboot that doesn't acknowledge the previous editions, Part 6 and Part 7. And now ... #21. Color Trends + Palettes. Threadless graphic t-shirt designs; cool & funny t-shirts weekly! Tees designed by the community.
Digital
Paint. Mixed Media. Chalk. Traditional (pencil, pen,...) Information. News. Make-up. Glass.
---