Helpful internet stuff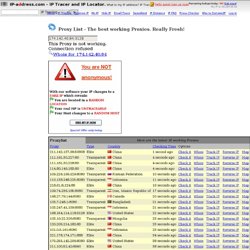 Proxy List - Best working proxies here
A proxy list is a well kept list of all stable forms of proxies available online that is known to the source hosting the list. More or less, a proxy list is an organized list to help you determine a working proxy for use in your browsing or application needs. So, that brings us to another question if you are not familiar with it - and that is, what is a proxy website? A proxy website allows a user to access blocked or limited websites that they may not can usually access.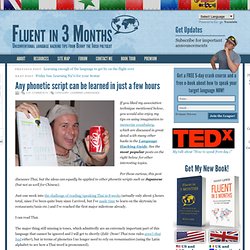 Any phonetic script can be learned in just a few hours
If you liked my association technique mentioned below, you would also enjoy my tips on using imagination to memorize vocabulary, which are discussed in great detail with many other hacks in the Language Hacking Guide. See the most popular posts on the right below for other interesting topics. For those curious, this post discusses Thai, but the ideas can equally be applied to other phonetic scripts such as Japanese (but not as well for Chinese). Just one week into the challenge of reading/speaking Thai in 8 weeks (actually only about 5 hours total, since I've been quite busy since I arrived, but I've made time to learn on the skytrain/in restaurants/taxis etc.) and I've reached the first major milestone already. I can read Thai.
mozarella.jpg (JPEG Image, 610×600 pixels) - Scaled (90%)
what can you learn on youtube? - Tomash.soup
25 Facebook Tips and Tricks you should be aware of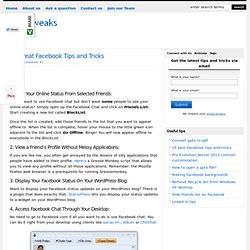 1. Hide Your Online Status From Selected Friends: So you want to use Facebook chat but don't want some people to see your online status? Simply open up the Facebook Chat and click on Friends List. Start creating a new list called BlockList. Once the list is created, add those friends to the list that you want to appear offline to.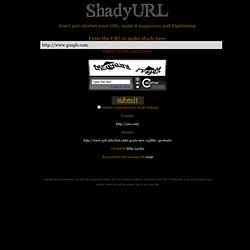 Due to some technical and legal difficulties, ShadyURL has been disabled for the time being. Hopefully it'll be back soon. In case you're curious, ShadyURL used to work like a url shortener, except instead of making links shorter, it would make them look suspicious. Like cnn.com would become something like 5z8.info/trojan_r8r5_open.exe.
Making Your Twitter Followers A Little More Uneasy
Life Hacks Vs Anti Life Hacks at Kontraband
stumblecard_pants.jpg (JPEG Image, 596×524 pixels)
Achievement.aspx (JPEG Image, 422×77 pixels)
a new type of indextwenty-five net services at your fingertips [ Home | White Pages | Yellow Pages | Email Directory | Trip Planner ] Welcome to the New Ultimates! Here you can search resources from all over the net like phone books, email directories, and trip planners. But this isn't just another list of links.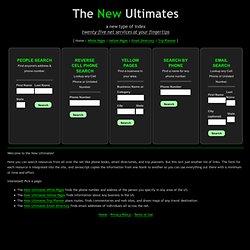 White Pages | Email Lookup | People Find Tools at The Ultimates
About DaveProxy - Your Free Web Proxy / UK Based Proxy Server If you require a UK proxy server that lets you anonymously surf the web, DaveProxy is one of the most stable of UK proxies on the net.
Mozilla Firefox
Unscramble.net
Guide to opening up a port ports on your router to allow P2P and file-sharing programs like BitTorrent to function properly. For those just getting started with downloading and uploading files via a router there's nothing more annoying that staring at poor download and upload speeds in your BitTorrent client. Oftentimes its because you don't have a port properly forwarded – a process which can be confusing for many. Port forwarding is also essential for running FTP servers and other programs that want to communicate with the world outside your home network.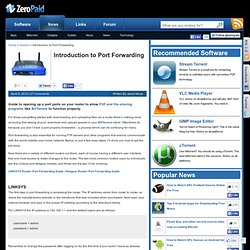 Introduction to Port Forwarding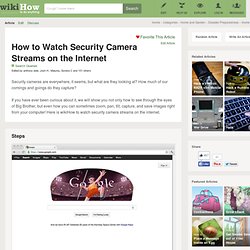 How to Watch Security Camera Streams on the Internet
Favorite This Article Edit Article Search Queries Edited by anthony eide, Josh H., Maluniu, Sondra C and 101 others
FreewarePlanet :: Best freeware on Earth :: Home page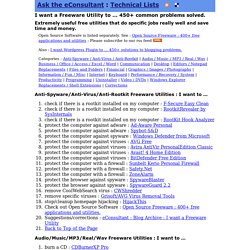 I want a Freeware Utility to ... 450+ common problems solved
I want a Freeware Utility to ... 450+ common problems solved. Extremely useful free utilities that do specific jobs really well and save time and money. Open Source Software is listed separately.
Top 10 Ways to Access Blocked Stuff on The Web
@themadscientist: I am living on the flip side of that coin. I work in the technology department of a city, and our IT security staff is both lazy and stupid. They set up smart filter and won't unblock anything ever, even if you need it to do your job.