Twitter
Twitter Releases YouTube Video Guide on How to Buy Ads on Service | Peter Kafka | MediaMemo | AllThingsD. Twitter hopes to generate something like $100 million from advertising this year, but first it has to teach people how to buy its ads.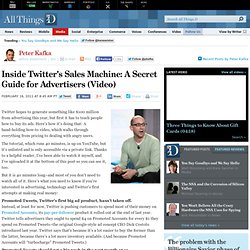 Here's how it's doing that: A hand-holding how-to video, which walks through everything from pricing to dealing with angry users. The tutorial, which runs 40 minutes, is up on YouTube, but it's unlisted and is only accessible via a private link. Thanks to a helpful reader, I've been able to watch it myself, and I've uploaded it at the bottom of this post so you can see it, too. But it is 40 minutes long–and most of you don't need to watch all of it. Are Twitter's recommendations a first look at Twitter Analytics? A few days ago, Twitter started suggesting users for you to follow.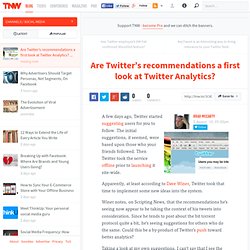 The initial suggestions, it seemed, were based upon those who your friends followed. Then Twitter took the service offline prior to launching it site-wide. Apparently, at least according to Dave Winer, Twitter took that time to implement some new ideas into the system. Winer notes, on Scripting News, that the recommendations he's seeing now appear to be taking the context of his tweets into consideration. KeyTweet - A twitter client that learns what you like. KeyTweet is an interesting way to bring relevance to your Twitter feed. TNW Quick Hit KeyTweet takes your Twitter stream and sorts it by relevant topics.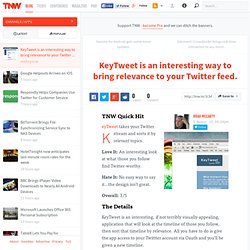 Love It: An interesting look at what those you follow find Twitter-worthy. How do i find new accounts with twitter suggestions.
---