Twitter
Are Twitter's recommendations a first look at Twitter Analytics?
KeyTweet - A twitter client that learns what you like
TNW Quick Hit KeyTweet takes your Twitter stream and sorts it by relevant topics. Love It: An interesting look at what those you follow find Twitter-worthy.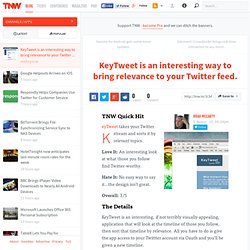 KeyTweet is an interesting way to bring relevance to your Twitter feed.
how do i find new accounts with twitter suggestions