Paypal
Of course Milo Yannopoulos' first question on stage to PayPal's Osama Bedier, Vice President of Platform, Mobile and New Ventures Osama Bedier was why PayPal blocked WikiLeaks payments. "State Dept told us these were illegal activities. It was straightforward."
PayPal VP On Blocking WikiLeaks: ?State Department Told Us It Was Illegal?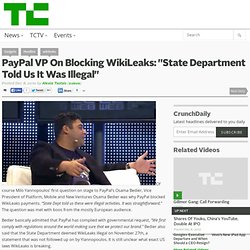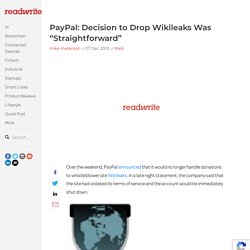 PayPal: Decision to Drop Wikileaks Was "Straightforward"
Over the weekend, PayPal announced that it would no longer handle donations to whistleblower site Wikileaks. In a late night statement, the company said that the site had violated its terms of service and the account would be immediately shut down. Now, Osama Bedier, Paypal's VP of Platform, has told the audience at LeWeb 2010 that the controversial decision was straightforward.
8 December 2010Last updated at 13:02 ET PayPal's Osama Bedier: "Our policy group had to make the decision of suspending the account"
Wikileaks' IT firm threatens to sue Visa and Mastercard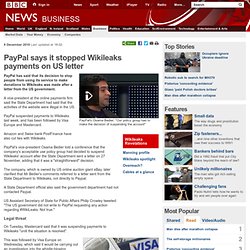 How to Cancel or Close your Pay Pal Account
PayPal blog: Updated Statement about WikiLeaks from PayPal General Counsel, John Muller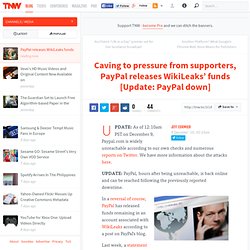 UPDATE: As of 12:10am PST on December 9, Paypal.com is widely unreachable according to our own checks and numerous reports on Twitter. We have more information about the attacks here.
Caving to pressure from supporters, PayPal releases WikiLeaks' funds
PayPal
PayPal's corporate headquarters in San Jose, California PayPal is an international e-commerce business allowing payments and money transfers to be made through the Internet.