Paypal
Of course Milo Yannopoulos' first question on stage to PayPal's Osama Bedier, Vice President of Platform, Mobile and New Ventures Osama Bedier was why PayPal blocked WikiLeaks payments. "State Dept told us these were illegal activities. It was straightforward."
PayPal VP On Blocking WikiLeaks: ?State Department Told Us It Was Illegal?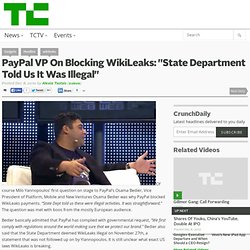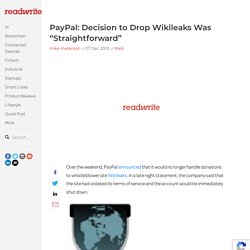 PayPal: Decision to Drop Wikileaks Was "Straightforward"
Over the weekend, PayPal announced that it would no longer handle donations to whistleblower site Wikileaks. In a late night statement, the company said that the site had violated its terms of service and the account would be immediately shut down. Now, Osama Bedier, Paypal's VP of Platform, has told the audience at LeWeb 2010 that the controversial decision was straightforward.
8 December 2010Last updated at 13:02 ET PayPal's Osama Bedier: "Our policy group had to make the decision of suspending the account" PayPal has said that its decision to stop people from using its service to make donations to Wikileaks was made after a letter from the US government. A vice-president at the online payments firm said the State Department had said that the activities of the website were illegal in the US. PayPal suspended payments to Wikileaks last week, and has been followed by Visa Europe and Mastercard. Amazon and Swiss bank PostFinance have also cut ties with Wikileaks.
Wikileaks' IT firm threatens to sue Visa and Mastercard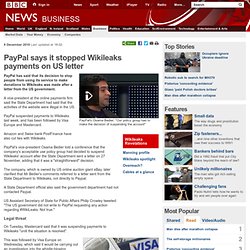 How to Cancel or Close your Pay Pal Account
PayPal blog: Updated Statement about WikiLeaks from PayPal General Counsel, John Muller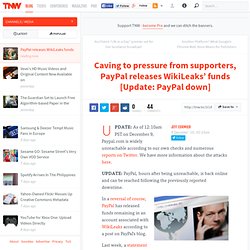 UPDATE: As of 12:10am PST on December 9, Paypal.com is widely unreachable according to our own checks and numerous reports on Twitter. We have more information about the attacks here. UPDATE: PayPal, hours after being unreachable, is back online and can be reached following the previously reported downtime. In a reversal of course, PayPal has released funds remaining in an account associated with WikiLeaks according to a post on PayPal's blog. Last week, a statement from PayPal indicated, the company had suspended the account following claims by the U.S. that the activities of WikiLeaks violated the law. According to the report, PayPal acted of their own volition, without being contacted by any government agency.
Caving to pressure from supporters, PayPal releases WikiLeaks' funds
PayPal
PayPal's corporate headquarters in San Jose, California PayPal is an international e-commerce business allowing payments and money transfers to be made through the Internet. Online money transfers serve as electronic alternatives to paying with traditional paper methods, such as checks and money orders. It is subject to the US economic sanction list, and subject to other rules and interventions required by US laws or government. PayPal is an acquirer, performing payment processing for online vendors, auction sites, and other commercial users, for which it charges a fee. It may also charge a fee for receiving money, proportional to the amount received.