Paypal
Of course Milo Yannopoulos' first question on stage to PayPal's Osama Bedier, Vice President of Platform, Mobile and New Ventures Osama Bedier was why PayPal blocked WikiLeaks payments. "State Dept told us these were illegal activities. It was straightforward."
PayPal VP On Blocking WikiLeaks: ?State Department Told Us It Was Illegal?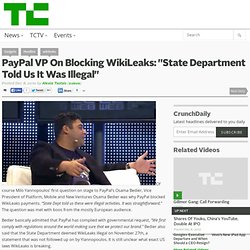 PayPal: Decision to Drop Wikileaks Was "Straightforward"
8 December 2010 Last updated at 13:02 ET PayPal's Osama Bedier: "Our policy group had to make the decision of suspending the account"
Wikileaks' IT firm threatens to sue Visa and Mastercard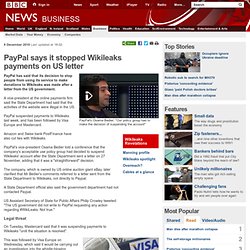 PayPal admits US pressure over WikiLeaks account freeze | Media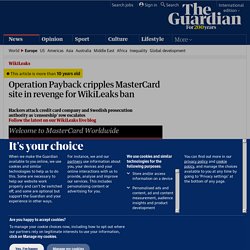 The websites of the international credit card MasterCard and the Swedish prosecution authority are among the latest to be taken offline in the escalating technological battle over WikiLeaks , web censorship and perceived political pressure.
How to Cancel or Close your Pay Pal Account
PayPal blog: Updated Statement about WikiLeaks from PayPal General Counsel, John Muller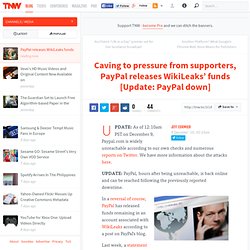 UPDATE: As of 12:10am PST on December 9, Paypal.com is widely unreachable according to our own checks and numerous reports on Twitter . We have more information about the attacks here .
Caving to pressure from supporters, PayPal releases WikiLeaks' funds
PayPal
eBay 's North First Street satellite office campus (home to PayPal's corporate headquarters) PayPal is a global e-commerce business allowing payments and money transfers to be made through the Internet.