Events
Privacyidentityinnovation. TechPolicy (TechPolicy) HotSec '10. Thanks to those of you who joined us in Washington, DC, for HotSec '10!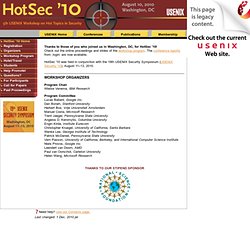 Check out the online proceedings and slides of the workshop program. The conference reports from ;login: are now available. HotSec '10 was held in conjunction with the 19th USENIX Security Symposium (USENIX Security '10), August 11–13, 2010. Global Privacy Summit 2010. In early March, some 2,000 privacy, security and data protection experts from around the globe gathered for world-class education and networking at the IAPP Global Privacy Summit 2012—the largest and most-anticipated privacy conference in the world.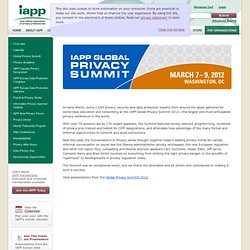 With over 70 sessions led by 170 expert speakers, the Summit featured timely, relevant programming; hundreds of privacy pros trained and tested for CIPP designations; and attendees took advantage of the many formal and informal opportunities to network and build connections. New this year, the Conversations in Privacy series brought together today's leading privacy minds for candid, informal conversation on issues like the Obama administration privacy whitepaper, the new European regulation and other hot topics.
The Public Voice: "Next Generation Privacy Challenges and Opportunities" (*: Indicates that speaker is invited but not yet confirmed) 8:00 Registration / Breakfast 9:00 Welcome Lillie Coney, EPIC (USA) Yoram Hacohen, Director, The Israeli Law, Information and Technology Authority (ISR)* 9:30 "The Madrid Declaration: One Year Later" One year ago, civil society organizations gathered in Madrid, and drafted and adopted "The Madrid Privacy Declaration," which reaffirms international privacy norms, identifies new challenges, and sets out specific objectives.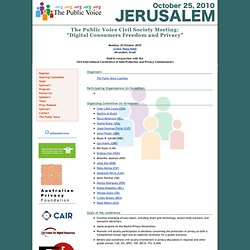 The Public Voice (thepublicvoice) Privacy: Generations opening video clip.
---