Social Media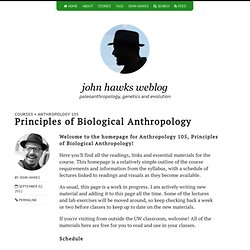 Welcome to the homepage for Anthropology 105, Principles of Biological Anthropology! Here you'll find all the readings, links and essential materials for the course. This homepage is a relatively simple outline of the course requirements and information from the syllabus, with a schedule of lectures linked to readings and visuals as they become available.
Principles of Biological Anthropology
Sourcemap: Slick App for Tracking the Supply Chain for Your Laptop (or Tuna or Nutella) | 80beats
Science in the Open
The Learning Paradox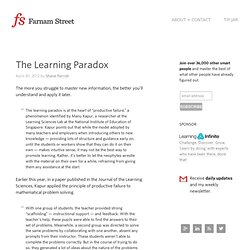 The more you struggle to master new information, the better you'll understand and apply it later. The learning paradox is at the heart of "productive failure," a phenomenon identified by Manu Kapur, a researcher at the Learning Sciences Lab at the National Institute of Education of Singapore. Kapur points out that while the model adopted by many teachers and employers when introducing others to new knowledge — providing lots of structure and guidance early on, until the students or workers show that they can do it on their own — makes intuitive sense, it may not be the best way to promote learning.
The Prozac Yogurt Effect: How Hype Can Affect the Future of Science | The Crux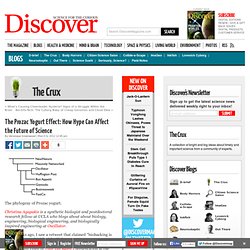 The phylogeny of Prozac yogurt. Christina Agapakis is a synthetic biologist and postdoctoral research fellow at UCLA who blogs about about biology, engineering, biological engineering, and biologically inspired engineering at Oscillator.
Download The Universe
Download the Universe Right Here: A New Site for Science E-Book Reviews | Wired Science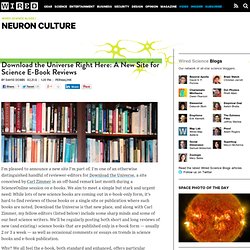 I'm pleased to announce a new site I'm part of. I'm one of an otherwise distinguished handful of reviewer-editors for Download the Universe, a site conceived by Carl Zimmer in an off-hand remark last month during a ScienceOnline session on e-books. We aim to meet a simple but stark and urgent need: While lots of new science books are coming out in e-book-only form, it's hard to find reviews of those books or a single site or publication where such books are noted. Download the Universe is that new place, and along with Carl Zimmer, my fellow editors (listed below) include some sharp minds and some of our best science writers.
Search for stories by hashtag, add comments from Google+, and other things you didn't know you could do with Storify · storify
The Science Journalist Online: Shifting Roles and Emerging Practices | Climate Shift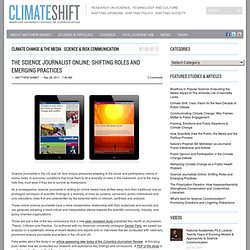 Science journalists in the US and UK face unique pressures adapting to the social and participatory nature of online news, to economic conditions that force them to fill a diversity of roles in the newsroom, and to the many hats they must wear if they are to survive as freelancers. As a consequence, science journalists in writing for online media have shifted away from their traditional role as privileged conveyors of scientific findings to a diversity of roles as curators, conveners, public intellectuals and civic educators, roles that are underwritten by the essential skills of criticism, synthesis and analysis. These online science journalists have a more collaborative relationship with their audiences and sources and are generally adopting a more critical and interpretative stance towards the scientific community, industry, and policy-oriented organizations.
This semester, students from a diversity of majors at American University are participating in an advanced seminar I am teaching on science and environmental communication. For the first part of the semester, we are covering core issues and themes. In the process, students will be blogging on related selected topics while finalizing their research paper topic.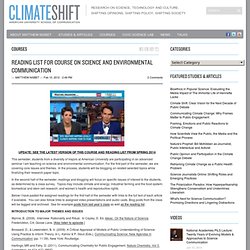 Reading List for Course on Science and Environmental Communication | Climate Shift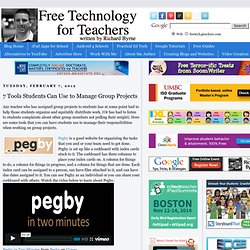 Any teacher who has assigned group projects to students has at some point had to help those students organize and equitably distribute work. (Or has had to listen to students complaints about other group members not pulling their weight). Here are some tools that you can have students use to manage their responsibilities when working on group projects. Pegby is a good website for organizing the tasks that you and or your team need to get done. Pegby is set up like a corkboard with index cards stuck to it. The corkboard has three columns to place your index cards on.
7 Tools Students Can Use to Manage Group Projects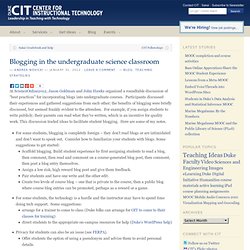 Blogging in the undergraduate science classroom | Center for Instructional Technology
At ScienceOnline2012, Jason Goldman and John Hawks organized a roundtable discussion of "best practices" for incorporating blogs into undergraduate courses. Participants discussed their experiences and gathered suggestions from each other; the benefits of blogging were briefly discussed, but seemed frankly evident to the attendees. For example, if you assign students to write publicly, their parents can read what they've written, which is an incentive for quality work. This discussion traded ideas to facilitate student blogging. Here are some of my notes. For some students, blogging is completely foreign – they don't read blogs or are intimidated and don't want to speak out.
那些年我们一起追得女孩
Safe cycling on Singapore's roads | Love cycling in Singapore
Key concept for safer cycling in Singapore: Remember you are invisible to cars.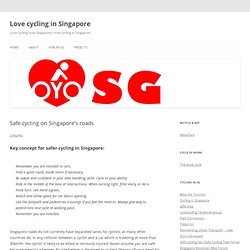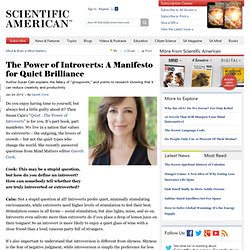 Mind & Brain::Mind Matters::January 24, 2012:: ::Email::Print Author Susan Cain explains the fallacy of "groupwork," and points to research showing that it can reduce creativity and productivity By Gareth Cook Image: Do you enjoy having time to yourself, but always feel a little guilty about it? Then Susan Cain's "Quiet : The Power of Introverts" is for you.
The Power of Introverts: A Manifesto for Quiet Brilliance
Some Help when googling
Literature Reviews - Summarising
Summarising your research Research and literature review can throw up a wealth of information and references from which one could fill a whole essay with quote after quote. It is notoriously difficult, having gathered the best of this wealth of information to filter it in order of what is essential information, what is peripheral and what is largely irrelevant (Fink, 2005). The secret to successful research and review is hitting upon the salient points, the points that were the foundations or will represent the way forward in your area of study, that are going to become the bench marks of the future. You have already chosen the reference points that will form the basis of your essay and have written your piece. But with so many points and so much material how do you summarise your essay without writing it all over again?
www.jvank.nl/PP/down/HandoutSysRevn.pdf
library.stkate.edu/pdf/litreview.pdf
Very Fine Commentary | Opinion that matters.
Grooveshark needs no recommendation.
9 Useful Tools to Get The Best Experience Out Of GrooveShark
A conversation on TED.com: How can the travel and tourism industry catalyze conservation?
Translated phrase-list jokes
« previous post | next post » An amusing "Anglo-EU Translation Guide" has been circulating widely in recent weeks. This seems to come from the same source as an old Economist column ("I understand, up to a point", 9/2/2004; discussed here), which attributed the joke to "the Dutch, trying to do business with the British", and which also gave some examples from a list "written by British diplomats, as a guide to the language used by their French counterparts". The recently-posted Anglo-EU Translation Guide shares 3 phrases with the 2004 Economist column (some expressive details aside), lacking 2 others and adding 12 more.
Twitter