Patterns
Design patterns. Patterns : Designing Interfaces. Selected patterns from the book are featured here on the website, in their entirety.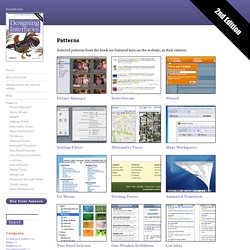 Here are all of the patterns in the second edition of the book, sorted by chapter. Most of these patterns are not online yet, but many of them will become available over time as featured patterns. Patience! What users do. Design patterns, de nouvelles librairies pour la conception d'interface. Les sont des schémas de conception, c'est-à-dire des modèles d'interface répondant à des cas typiques d'interaction.
Les design patterns permettent d'avancer rapidement lors de la conception en fournissant des gabarits qu'il suffit d'adapter et d'assembler pour construire l'interface. Notre dernière liste de librairies et sa mise à jour commençaient à dater un peu, voici une nouvelle mise à jour plus complète. Au menu de cet article : des librairies de patterns pour trouver des solutions ergonomiques ( ici ), des galeries de patterns pour s'inspirer ( ici ), et des librairies interactives pour se faire une idée ( ici ). Les librairies de patterns Les librairies ont l'avantage non seulement de proposer de nombreux patterns, mais surtout d'en expliquer l'usage.
---