Wordpress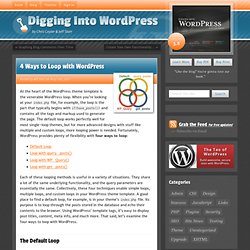 At the heart of the WordPress theme template is the venerable WordPress loop. When you're looking at your index.php file, for example, the loop is the part that typically begins with if(have_posts()) and contains all the tags and markup used to generate the page. The default loop works perfectly well for most single-loop themes, but for more advanced designs with stuff like multiple and custom loops, more looping power is needed.
The loop is a very important aspect of WordPress blogs.
WordPress is my favorite tool for building blogs and websites. In this article, I have compiled the most useful resources for WordPress developers I came across in the past 3 years.
WordPress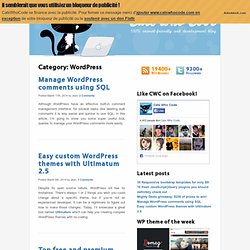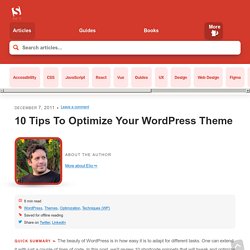 10 Tips To Optimize Your WordPress Theme
The beauty of WordPress is in how easy it is to adapt for different tasks.
WiseStamp - Gmail Facebook Twitter...and more! :: Componenti aggiuntivi per Firefox
Wordpress Browser detection and OS detection with body_class – 500+ Wordpress code snippets for your blog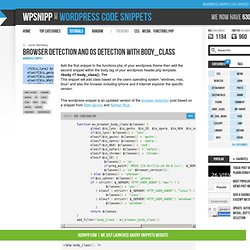 Add the first snippet to the functions.php of your wordpress theme then add the second snippet within the body tag of your wordpress header.php template.
Getting Started with WordPress Shortcodes (+Examples)
Shortcodes were introduced in WordPress 2.5, and help you to create macro codes to use within your content. If you think about it, this is a great way to create something like a dynamic ad spot or a call-to-action button in your posts. If we use the call-to-action example, you could add something like this to your blogpost to show the button, and then edit the output in your templates functions.php file, which we'll get to in a minute.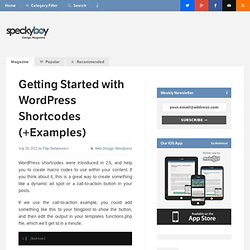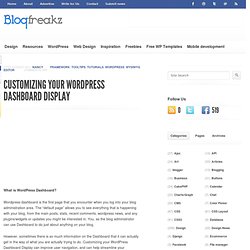 Customize your Wordpress Dashboard | blogfreakz.com
What is WordPress Dashboard?
Diy Theme Framework
Roles and Capabilities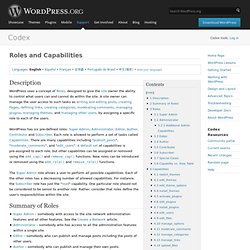 Roles and Capabilities Languages : English • Español • Français • 日本語 • Português do Brasil • 中文(简体) • ( Add your language )
Function Reference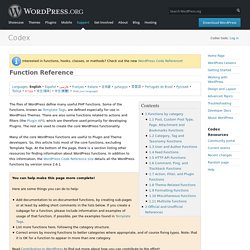 Function Reference/post class Languages : English • 日本語 • 中文(简体) • ( Add your language ) Description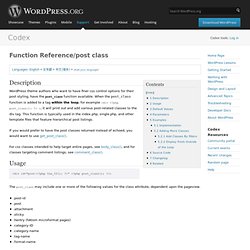 Function Reference/post class
Gallery Shortcode Languages : English • 日本語 • Русский • Português do Brasil • ( Add your language )
Gallery Shortcode
WordPress MU Domain Mapping
This plugin allows users of a WordPress MU site or WordPress 3.0 network to map their blog/site to another domain.
How To Set WordPress permalink (rewrite rules) on Nginx | blogfreakz.com
These rules are already in the .htaccess on apache, but if you want to be cutting edge, and get the best performance out of your WordPress blog, you can redo them in Nginx!
How to add Facebook "Like" button to your WordPress Blogs | blogfreakz.com
Now, it is easier than ever to add the Facebook famous "Like"/"Recommend" to your posts and increase your blog popularity.
Abilitare la funzione MultiSito in WordPress 3.0 | WordPress MS Italy
WordPress 3.0 segna l'unione di WordPress con WordPress MU, permettendo cosi' di gestire un network di siti o blog che dir si voglia con WordPress.
10 Snippets to Make WordPress User-Friendly (part 1)
9 Snippets to Make WordPress User-Friendly
WordPress 3.2 Full Page Writing Screen
10 Plugin Replacing Tutorials for WordPress