Wordpress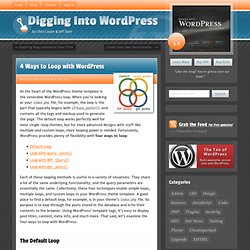 At the heart of the WordPress theme template is the venerable WordPress loop. When you're looking at your index.php file, for example, the loop is the part that typically begins with if(have_posts()) and contains all the tags and markup used to generate the page. The default loop works perfectly well for most single-loop themes, but for more advanced designs with stuff like multiple and custom loops, more looping power is needed.
Advertisement The loop is a very important aspect of WordPress blogs. In fact, the loop is what allows you to get posts from your WordPress database and print them on the screen. A set of useful and user-friendly functions, the loop is incredibly powerful. With it, you can get a single post, a list of posts ordered by date, title or category, a list of posts written by a specific author and much more. In this article, we'll show you 10 useful things you can do with the WordPress loop to make your blog even more powerful than it is right now.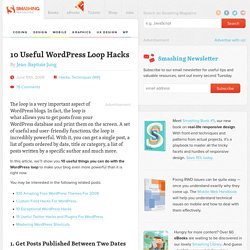 Although WordPress have an effective built-in comment management interface, for several tasks like deleting bulk comments it is way easier and quicker to use SQL. In this article, I'm going to show you some super useful SQL queries to manage your WordPress comments more easily. Despite its open source nature, WordPress sill has its limitations. There's always 1 or 2 things you wish you could change about a specific theme, but if you're not an experienced developer, it can be a nightmare to figure out how to make those changes. Today, I'll showcase a great tool named Ultimatum which can help you creating complex WordPress themes with no coding. Do you want your blog or site to look really cool for the new year?
WordPress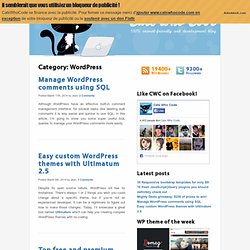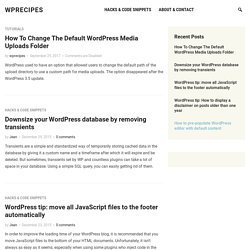 Long time with no giveaway here on WpRecipes! Today, my partners from MightyDeals are offering you the chance to win a bundle of 5 amazing WordPress themes. Just read, and join if you want to win! A word about Mighty Deals Mighty Deals offers unbelievable deals and discounts for creative professionals.The deals include products and services that are heavily discounted, exclusively for Mighty Deals customers, usually from 50% to 90% off.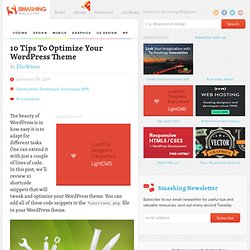 10 Tips To Optimize Your WordPress Theme
Advertisement The beauty of WordPress is in how easy it is to adapt for different tasks. One can extend it with just a couple of lines of code. In this post, we'll review 10 shortcode snippets that will tweak and optimize your WordPress theme. You can add all of these code snippets to the functions.php file in your WordPress theme. Limit The Excerpt's Word Count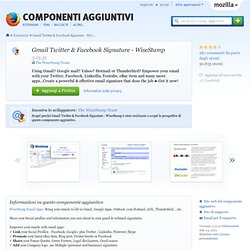 WiseStamp Email Apps- Bring your emails to life in Gmail, Google Apps, Outlook .com Hotmail, AOL, Thunderbird....etc . Share your Social profiles and information you care about in your gmail & webmail signatures. Empower your emails with email apps:✓ Link your Social Profiles - Facebook, Google+ plus Twitter , Linkedin, Pinterest, Skype✓ Promote your latest eBay item, Blog post, Twitter tweets or Facebook ✓ Share your Funny Quotes, Green Footers, Legal disclaimers, Good causes ✓ Add your Company logo, use Multiple (personal and business) signatures "They make your gmail signature "live" with hooks into your social networking tools. Check it out! " - Scobleizer
WiseStamp - Gmail Facebook Twitter...and more! :: Componenti aggiuntivi per Firefox
Wordpress Browser detection and OS detection with body_class – 500+ Wordpress code snippets for your blog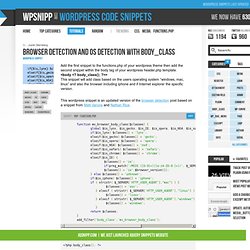 Add the first snippet to the functions.php of your wordpress theme then add the second snippet within the body tag of your wordpress header.php template. <body <? body_class(); ?>>This snippet will add class based on the users operating system "windows, mac, linux" and also the browser including iphone and if Internet explorer the specific version.
Getting Started with WordPress Shortcodes (+Examples)
WordPress shortcodes were introduced in 2.5, and help you to create macro codes to use within your content. If you think about it, this is a great way to create something like a dynamic ad spot or a call-to-action button in your posts. If we use the call-to-action example, you could add something like this to your blogpost to show the button, and then edit the output in your templates functions.php file, which we'll get to in a minute.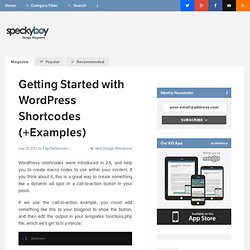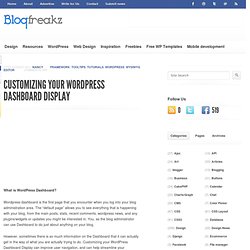 Customize your Wordpress Dashboard | blogfreakz.com
What is WordPress Dashboard? Wordpress dashboard is the first page that you encounter when you log into your blog administration area. The "default page" allows you to see everything that is happening with your blog, from the main posts, stats, recent comments, wordpress news, and any plugins/widgets or updates you might be interested in. You, as the blog administrator can use Dashboard to do just about anything on your blog. However, sometimes there is so much information on the Dashboard that it can actually get in the way of what you are actually trying to do.
Roles and Capabilities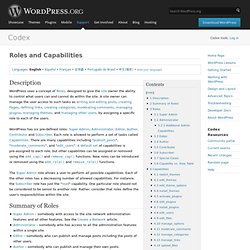 Roles and Capabilities Languages: English • Español • Français • 日本語 • Português do Brasil • 中文(简体) • (Add your language) Description WordPress uses a concept of Roles, designed to give the site owner the ability to control what users can and cannot do within the site. A site owner can manage the user access to such tasks as writing and editing posts, creating Pages, defining links, creating categories, moderating comments, managing plugins, managing themes, and managing other users, by assigning a specific role to each of the users. WordPress has six pre-defined roles: Super Admin, Administrator, Editor, Author, Contributor and Subscriber.
Function Reference Languages: English • Español • Persian • Français • Italiano • 日本語 • ქართული • 한국어 • Português do Brasil • Русский • Türkçe • עברית • 中文(简体) • 中文(繁體) • (Add your language) The files of WordPress define many useful PHP functions. Some of the functions, known as Template Tags, are defined especially for use in WordPress Themes. There are also some functions related to actions and filters (the Plugin API), which are therefore used primarily for developing Plugins.
Function Reference/post class Description WordPress theme authors who want to have finer css control options for their post styling, have the post_class function available.
Function Reference/post class
Gallery Shortcode Languages: English • Italiano • 日本語 • Português do Brasil • Русский • (Add your language) The Gallery feature allows you to add one or more image galleries to your posts and pages. Since WordPress 2.5 and up until 3.5, the gallery shortcode was commonly used in its most basic form: [gallery] Following 3.5, gallery shortcodes now include the image IDs by default.
Gallery Shortcode
This plugin allows users of a WordPress MU site or WordPress 3.0 network to map their blog/site to another domain. It requires manual installation as one file must be copied to wp-content/. When upgrading the plugin, remember to update domain_mapping.php and sunrise.php. Full instructions are on the Installation page and are quite easy to follow.
How To Set WordPress permalink (rewrite rules) on Nginx | blogfreakz.com
How to add Facebook "Like" button to your WordPress Blogs | blogfreakz.com
Abilitare la funzione MultiSito in WordPress 3.0 | WordPress MS Italy
10 Snippets to Make WordPress User-Friendly (part 1)
9 Snippets to Make WordPress User-Friendly
WordPress 3.2 Full Page Writing Screen
10 Plugin Replacing Tutorials for WordPress