PORTFOLIO - IMMAGINI
Deliver small images to small devices Adaptive Images detects your visitor's screen size and automatically creates, caches, and delivers device appropriate re-scaled versions of your web page's embeded HTML images. No mark-up changes needed. It is intended for use with Responsive Designs and to be combined with Fluid Image techniques. Why? Because your site is being increasingly viewed on smaller, slower, low bandwidth devices.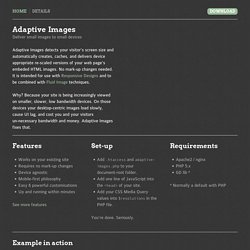 watermark.js : Create Image Watermarks with HTML Canvas and Javascript - Nuefolio Magazine
Watch the video iPhone, iPad, Android, Blackberry 6 and Desktop all supported. What is it? PhotoSwipe is a FREE HTML/CSS/JavaScript based image gallery specifically targeting mobile devices. Who is it for?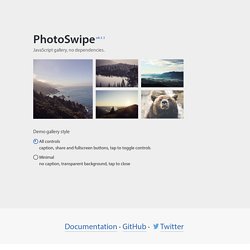 Droparea is a HTML5 drag and drop image file uploader jQuery plug-in and a php script for server-side. Simply drag the image file into the specified area, the image will be automatically uploaded to your server. You can also see the progress of the upload too. Droparea has been tested on Google Chrome and Mozilla Firefox. Requirements: jQuery Framework Demo: http://gokercebeci.com/dev/droparea License: MIT License Incoming search terms for the article: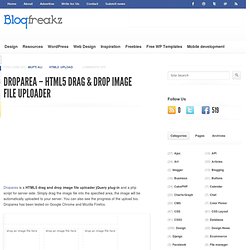 Droparea - HTML5 Drag & Drop Image File Uploader Plugin for jQuery | blogfreakz.com
jQuery & WordPress Image Slider The Nivo Slider is world renowned as the most beautiful and easy to use slider on the market. The jQuery plugin is completely free and totally open source, and there is literally no better way to make your website look totally stunning. If you don't believe us, check out the list of features below and you soon will. Beautiful Transition Effects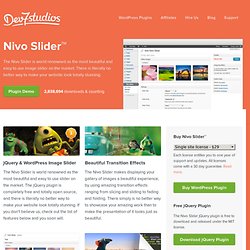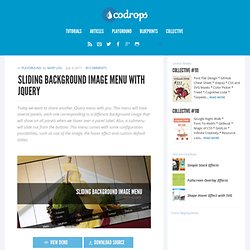 Sliding Background Image Menu with jQuery
Today we want to share another jQuery menu with you. This menu will have several panels, each one corresponding to a different background image that will show on all panels when we hover over a panel label. Also, a submenu will slide out from the bottom. This menu comes with some configuration possibilities, such as size of the image, the hover effect and custom default states. View demoDownload source Today we want to share another jQuery menu with you.
Shutter Effect Portfolio with jQuery and Canvas - Nuefolio Magazine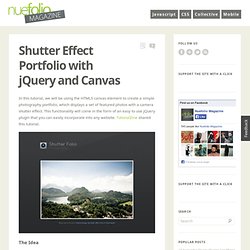 In this tutorial, we will be using the HTML5 canvas element to create a simple photography portfolio, which displays a set of featured photos with a camera shutter effect. This functionality will come in the form of an easy to use jQuery plugin that you can easily incorporate into any website. TutorialZine shared this tutorial.
Today we want to show you how to create a neat image wall with jQuery. The idea is to scatter some thumbnails with different sizes on the page and make a ribbon slide in when we click on the picture. The ribbon will show some description next to the picture and […]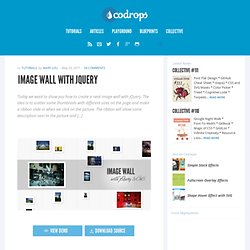 Expanding Fullscreen Grid Portfolio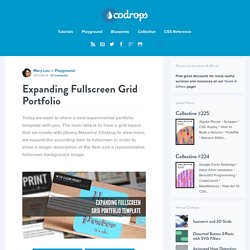 Today we want to share a neat experimental portfolio template with you. The main idea is to have a grid layout that we create with jQuery Masonry. Clicking to view more, we expand the according item to fullscreen in order to show a longer description of the item and a representative fullscreen background image. View demo Download source Each item has a little slideshow of thumbs which will be animated to the right position once the portfolio item gets "expanded".