DESIGN
Complete Websites. Design Magazine | Archive | Weekly News. This is our popular weekly design news post where we share our favorite design related articles, resources and freebies from the past week.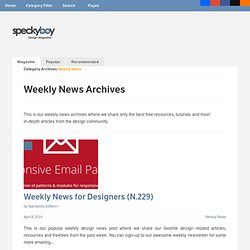 You can sign-up to our awesome weekly newsletter for some more amazing… This is our popular weekly design news post where we share our favorite design related articles, resources and freebies from the past week. Building An Effective 'Coming Soon' Page For Your Product - Smashing Magazine. Advertisement I recently had to design a couple of teaser pages for a client and a personal project, and this led me to think about what exactly makes for a good teaser page — or to be more precise a "coming soon" page that companies often put up before they're ready to launch their product.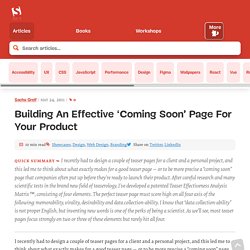 After careful research and many scientific tests in the brand new field of teaserology, I've developed a patented Teaser Effectiveness Analysis Matrix™, consisting of four elements. The perfect teaser page must score high on all four axis of the following: Memorability,Virality,Desirability,Data collection-ability. 35 Effective Examples of Minimalism in Web Design. All designers have different interpretations of what minimal web design truly is.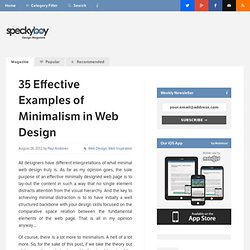 As far as my opinion goes, the sole purpose of an effective minimally designed web page is to lay-out the content in such a way that no single element distracts attention from the visual hierarchy. And the key to achieving minimal distraction is to to have initially a well structured backbone with your design skills focused on the comparative space relation between the fundamental elements of the web page. That is all in my opinion anyway… 20 Free Social Login and Bookmark Buttons Source Files. A popular trend knowadays is for websites and services to use integrated social networking logins to rapidly reduce the time it would take a typical user to signup (no more filling in forms and remembering another password).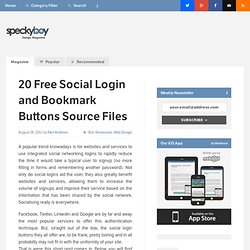 Not only do social logins aid the user, they also greatly benefit websites and services, allowing them to increase the volume of signups and improve their service based on the information that has been shared by the social network. Socialising really is everywhere. Facebook, Twitter, Linkedin and Google are by far and away the most popular services to offer this authentication technique. But, straight out of the box, the social login buttons they all offer are, to be frank, pretty boring and in all probabilty may not fit in with the uniformity of your site.
Developing Visual Rhythm in Web Design. In design, rhythm is created by simply repeating elements in predictable patterns.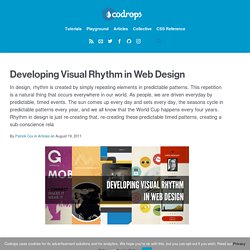 This repetition is a natural thing that occurs everywhere in our world. As people, we are driven everyday by predictable, timed events. The sun comes up every day and sets every day, the seasons cycle in predictable patterns every year, and we all know that the World Cup happens every four years. Rhythm in design is just re-creating that, re-creating these predictable timed patterns, creating a sub-conscience rela. Creating Reusable & Versatile Background Patterns. I haven't written any Photoshop tutorials for a while.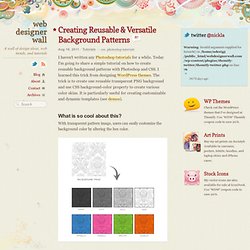 Today I'm going to share a simple tutorial on how to create reusable background patterns with Photoshop and CSS. I learned this trick from designing WordPress themes. The trick is to create one reusable transparent PNG background and use CSS background-color property to create various color skins. CSS Tools: Reset CSS. The goal of a reset stylesheet is to reduce browser inconsistencies in things like default line heights, margins and font sizes of headings, and so on.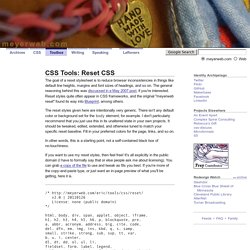 The general reasoning behind this was discussed in a May 2007 post, if you're interested. Reset styles quite often appear in CSS frameworks, and the original "meyerweb reset" found its way into Blueprint, among others. YUI 2: Reset CSS. CSS-Tricks. 35 Excellent Wireframing Resources - Smashing Magazine. Advertisement Wireframing is one of the most valuable parts of any web design project.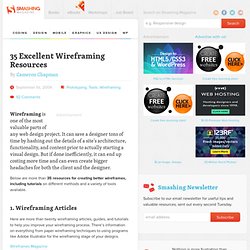 It can save a designer tons of time by hashing out the details of a site's architecture, functionality, and content prior to actually starting a visual design. But if done inefficiently, it can end up costing more time and can even create bigger headaches for both the client and the designer. Pwireframing: Paper Wireframing - mStoner - Blog. The Bethel Strategy Background Every web redesign project we get comes with an essential strategy document.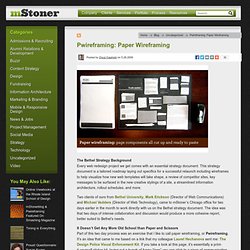 This strategy document is a tailored roadmap laying out specifics for a successful relaunch including wireframes to help visualize how new web templates will take shape, a review of competitor sites, key messages to be surfaced in the new creative stylings of a site, a streamlined information architecture, rollout schedules, and more. Two clients of ours from Bethel University, Mark Erickson (Director of Web Communications) and Michael Vedders (Director of Web Technology), came to mStoner's Chicago office for two days earlier in the month to work directly with us on the Bethel strategy document.
25+ Free Gorgeous HTML Templates. We all know that today is the era of online business; web presence is crucial.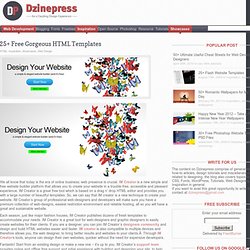 IM Creator is a new simple and free website builder platform that allows you to create your website in a trouble-free, accessible and pleasant experience. IM Creator is a great free tool which is based on a drag n' drop HTML editor and provides you with a large number of beautiful templates. So, we can say that IM creator is a new technique to create your website. Design Informer :: The Latest in Web Design and Graphic Design. A Craft Of Consequences: Reader, Writer And Emotional Design Before the very first page of a book has been read, you've already analyzed it in countless ways without even noticing. The paper stock, the thickness of the binding, the aroma, the color of the type and even the texture of the cover; the very character of the book is being dissected by the hand and eye at every moment. In this brief second there is a dialogue between the reader and the object.
This conversation is subtle and complex, but for most people it is entirely subconscious. This is because we rarely think about these things — we feel them instead. Great Web Design in Comforting Hues of Brown. Inspiration July 5, 2011 Brown is a color often associated with the earth, with home and with nature in general. It helps make one feel sentimental, safe or comfortable. Aesthetically, it makes a great background color since it's neutral. It helps other colors stand out or blend just right.
On the other hand, it can also become a great accent color over white because of the simplicity it lends to the design. Mark Boulton Design | Web Design. Designing Faster with a Baseline Grid. Lately, grids have become the ultimate obsession of designers and design writers. Hundreds — not to say thousands — of articles, tutorials, books and websites solely dedicated to grids and their application in (web)design have been published in the last few years. A simple search on Google with the terms "grid" and "webdesign" returns almost 5 million results. Experiments with wide images | clagnut/sandbox.
1. A very wide image contained in a paragraph with no styles applied Dunstan kindly lent me this charming image. Pellentesque in felis quis tortor consectetuer condimentum. Phasellus nibh nibh, interdum sit amet, sagittis nec, cursus sit amet, dolor. CSS3 @font-face Design Guide. Beautiful Typography in Web Design. Following A Web Design Process - Smashing Magazine. Website Planning Guide - Smashing Magazine. Planning And Implementing Website Navigation - Smashing Magazine.
Useful Ideas And Guidelines For Good Web Form Design - Smashing Magazine. Vitamin T : So you think you can build a website? Design Principles. CodeVisually | Web Developer Tools & Resources.
---