SM Tools
10 Search Engines to Explore the Invisible Web. The Invisible Web refers to the part of the WWW that's not indexed by the search engines.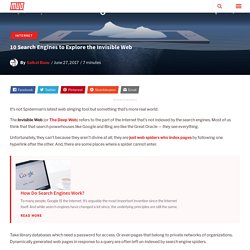 Most of us think that that search powerhouses like Google and Bing are like the Great Oracle"¦they see everything. Unfortunately, they can't because they aren't divine at all; they are just web spiders who index pages by following one hyperlink after the other. What Hashtag. Twitter tool to find any existing hashtag. Social Media Monitoring Wiki - A Wiki of Social Media Monitoring Solutions.
The Creative Finder: Find Anyone from Anywhere on The Search Engine for Creatives. Timeu.se: What Do People Do All Day? Social Business Index. Real-time local Twitter trends. Celebrities.
---