SM Tools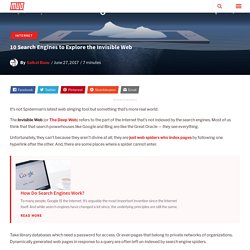 The Invisible Web refers to the part of the WWW that's not indexed by the search engines. Most of us think that that search powerhouses like Google and Bing are like the Great Oracle"¦they see everything. Unfortunately, they can't because they aren't divine at all; they are just web spiders who index pages by following one hyperlink after the other. Have you ever wanted to tweet about a trending topic but do not know the most convenient hashtags? WhatHashtag is an online application that allows you to find easily the most used Twitter hashtags for the keywords you want to search. Just enter your search keyword and automatically you will get the most popular hashtags used worldwide to discuss your topic. The result retrieves the last 1.000 tweets related to your keyword, and orders hashtags by frequency of use. Using WhatHashtag you will gain visibility when tweeting your opinions, being read beyond your followers in the most effective way.
timeu.se: What Do People Do All Day?
The Walt Disney Company Media Do you work here? Burbank, California, United States Top Performer Top 10 Industries