Sniffing
Archéologie du « copier-coller » est un blog dédié à la publication d'études sur le phénomène du « copier-coller » et du plagiat dans les travaux universitaires (thèses et articles de doctorants et enseignants-chercheurs). Ce blog s'intéresse au plagiat et aux réactions institutionnelles à ce fléau. Les cas traités, à l'exception de ceux liés à l'Université Paris 8 (Département Hypermedia où j'ai été en fonction et Laboratoire Paragraphe), le sont à l'initiative de collègues confrontés à ces situations, notamment comme plagiés.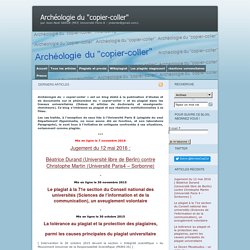 Two years ago the Internet's biggest ever protest killed the hugely controversial anti-piracy legislation SOPA. Speaking to studios this week, a prominent UK government intellectual property advisor admitted that the damage caused was so great that it's unlikely that there will be a fresh piracy-focused legislative push for another five years. A man who uploaded a single movie to The Pirate Bay kickstarting South Africa's first online piracy case has been sentenced today. After striking a plea bargain with the state over what was unusually framed as a criminal rather than civil offense, the 29-year-old was handed an unprecedented five-year suspended… Several large "pirate" movie streaming portals are using Google's servers to distribute copyrighted material. More than 18,000 videos are currently publicly available, and requests to Google to remove the files have reportedly gone unanswered. Human to Human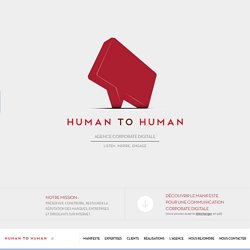 Nous voulons affirmer ici que le web n'est ni un passe temps pour des citoyens en manque d'occupation, ni un nouveau centre commercial pour des consommateurs perclus. Les réseaux sociaux et les espaces de publication et de conversation en ligne participent à la construction d'une culture, celle de l'instantanéité, d'une intelligence, celle du participatif, et d'une opinion, celle de la spontanéité. Nous voulons également affirmer ici que le web est organique. Des communautés préexistent en ligne. Elles sont autonomes, conversent et s'emparent de sujets qui sont pour elles des centres d'intérêt ou des sujets de préoccupation.
Discover Who Hosts Any Website | Who Is Hosting This
Welcome to uwhois.com