FASHION
Luli Sanchez
harvest textiles
I made this dress back in China and never got around to doing a post on it due to becoming pregnant and feeling sick then not being able to fit into it....but here it is now! Still loving it the day I made it a year ago. I love how comfy it is with the elastic waist, yet is is uber feminine. Perfect for that special date that you want to feel comfy by look stunning!
Sheer high low dress tutorial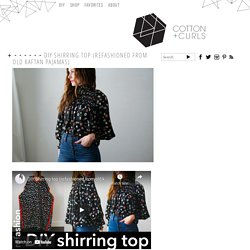 Ralph Pink Patterns
Basic Blocks | RalphPink.com
unnamed pearl
www.necchi.it/public/alpian/Manuale_209.pdf
Free Beginner's Market Tote Sew Tutorial!
FashionMagazine.it
Ruby on Rails application could not be started
Moda, bellezza, celebrities e tutto ciò che fa tendenza - Style.it