ART
FMOL DQ. DON QUIJOTE EN BARCELONA
LVHRD.ORG
Radio WNE
Agrafmobile
- mattepainting.be redirected by MyOwn.be
Rsultats de la recherche dimage Google partir de http://paris.blog.lemonde.fr/paris/images/atelier_paul_gabor_003
Christophe MOUSTIER:Bric--Brac
The Collection
Ugly Home
Edito Code promo Afin de recevoir votre code promotionnel, envoyez-nous un mail en cliquant sur ce lien Recherche Notre boutique Paiement sécurisé Suite à un problème technique de gestion de commande entrainant des retards de livraison, le site est temporairement fermé pour maintenance. Our site is temporarily closed. Thank You for coming back very soon.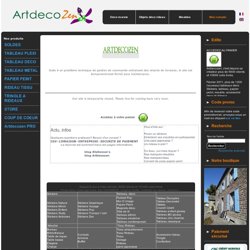 Stickers et Images Dco adhsifs pour la dcoration de la maison ou le frigo
Ideco Paris \ Aoc . Mila . Koziol . Montana: . Home . Quandt
le pr deau - Atelier de design Mural - Adhsif mural dcoratif
Arnaud Frich
Pierre Giner : Faut-il considérer les nouveaux media comme actuels ? À la mode, audacieux, autres, dans le vent, débutants, derniers, dernier cri, différents, extraordinaires, in, inaccoutumés, inattendus, inconnus, inédits, inexpérimentés, inexplorés, inhabituels, inimaginés, inouïs, insolites, insoupçonnés, inusités, jeunes, modernes, néophytes, neufs, novateurs, novices, originaux, récents, surprenants, ultramodernes, up to date, verts, vierges. Ou bien, faut-il les considérer comme les plus anciens. " Autour des figures de la relation interpersonnelle, de la tentative d'échange et de parole, de l'espace de la rencontre, de l'accident et de la catastrophe, Pierre Giner imagine des situations qui interrogent l'impensé des nouvelles technologies, regardées et mises en perspective par le cinéma.
Pierre Giner : Faut-il considrer les nouveaux media comme actuels ?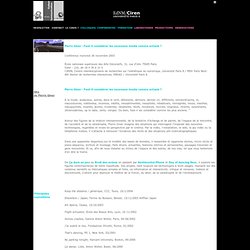 www.pierreginer.net
Whitney ARTPORT: The Whitney Museum Portal to Net Art
SOUMISSION__WEB FLASH FESTIVAL _ FRANCE___ DU 23 au 25 MAI 2008___CENTRE POMPIDOU__________________________________
Claudine Colin Communication - Agence - Atouts
L'agence Claudine Colin Communication, créée en 1990, est spécialisée dans la communication d'événements culturels d'envergure nationale et internationale. Chacun d'entre eux fait l'objet d'une réflexion stratégique dans laquelle nous envisageons l'apport de chacun des outils et des actions de communication. Pour chaque manifestation, nous mettons en place une communication globale que nous affinons par rapport à l'actualité culturelle, sociale ou politique quand cela est pertinent. Nous réfléchissons au projet lui-même et à ceux qui le portent, au contenu et au contenant.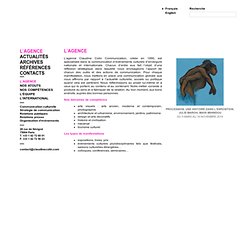 lecielestbleu.com
Marc Da Cunha Lopes Online Portfolio
JULIANNE ROSE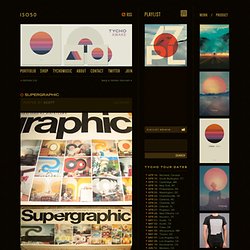 Blog - The Blog of Scott Hansen Blog Archive SUPERGRAPHIC
These great shots sent in by Jason Bustin: "I found a home graphics kit that was made in Canada back in 1974 named "Supergraphic". Its slogan was, "Professional wall graphics made easy for you to paint" and was geared towards creating cutting edge graphics in your household without having to hire a professional, (back at that time).
Madrone : Typo & Polices de caractres : Signum Art
C'est en 1970 que l'une des plus grande révolution typographique des 500 dernières années est née dans le secret le plus absolu du studio Suddler & Hennessy où officiait Herb depuis déjà une vingtaine d'années. Herb, entouré de ses fidèles amis fut convaincu par Aaron Burns, expert de l'industrie typographique pour avoir suivi une filière presque identique à celui de Herb en sortant de la Newark Evening School of Fine and Industrial Arts, de créer une fonderie typographique virtuelle. De quoi s'agissait-il? Aaron, qui a suivi un cursus identique mais qui a fréquenté les ateliers de composition de New York (The Composing Room, Inc.) sentait bien que le monde basculait vers des préoccupations de type «développement durable» dirions-nous aujourd'hui.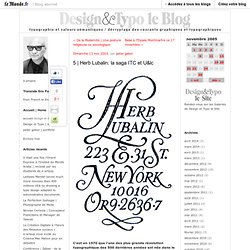 5 | Herb Lubalin: la saga ITC et U&lc - design et typo - Blog LeMonde.fr
ITC Cheltenham Book
ModeColorimetrique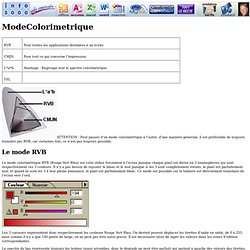 ATTENTION : Pour passer d'un mode colorimétrique à l'autre, d'une manière générale, il est préférable de toujours transiter par RVB, car certaines fois, ce n'est pas toujours possible. Le mode RVB Le mode colorimétrique RVB (Rouge Vert Bleu) est celui utilisé forcément à l'écran puisque chaque pixel est divisé en 3 luminophores qui sont respectivement ces 3 couleurs. Il n'y a pas besoin de rajouter le blanc et le noir puisque si les 3 sont complètement éteints, le pixel est parfaitement noir, et quand ils sont les 3 à leur pleine puissance, le pixel est parfaitement blanc. Ce mode est possible car la lumière est directement transmise de l'écran vers l'oeil. Les 3 curseurs représentent donc respectivement les couleurs Rouge Vert Bleu.
Catégorie : Art , Publié le samedi 4 décembre 2010 23:00, Écrit par Benjamin Alliguié Plongée en eaux profondes du côté des anneaux de Saturne : quand Phillip K. Dick rencontre le béton armé et que Pyongyang se trouve projetée dans un monde inconnu en périphérie des réalités supposées, Nicolas Moulin n'est jamais bien loin... - "La réalité, c'est ce qui refuse de disparaître quand on cesse d'y croire" : une définition de la réalité par Philip K. Dick, que tu affectionnes ; peux-tu nous donner ta définition de la fiction ?
NICOLAS MOULIN OU LE BATISSEUR DES VESTIGES A VENIR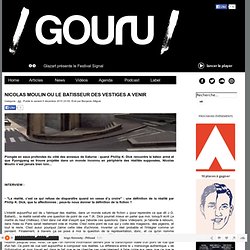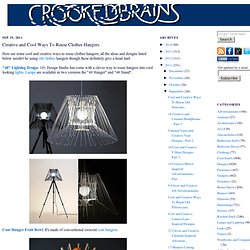 Here are some cool and creative ways to reuse clothes hangers; all the ideas and designs listed below needn't be using old clothes hangers though these definitely give a head start. "48" Lighting Design: 101 Design Studio has come with a clever way to reuse hangers into cool looking lights. Lamps are available in two versions the "48 Hanger" and "48 Stand". Coat Hanger Fruit Bowl: It's made of conventional crescent coat hangers. Hanger Lights: Creative reuse of wire hangers at 'Anthropologie'; they have turned hangers into lights. Make a Multifunctional Container: A cool and simple DIY project for turning a wire hanger into a little container.
Creative and Cool Ways To Reuse Clothes Hangers.
ZIZART