Careers
Making LinkedIn Work for You - The Juggle. By Sue Shellenbarger Bloomberg News Some Juggle commenters have asked for a post on the professional networking website LinkedIn.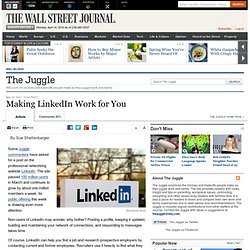 The site passed 100 million users in March and continues to grow by about one million members a week. Twenty something? Job seeker? How to dramatically increase your chances of getting the job. Face it: the job market sucks.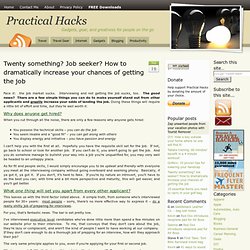 Interviewing and not getting the job sucks, too. The good news? There are a few simple things you can do to make yourself stand out from other applicants and greatly increase your odds of landing the job. Fistful of Talent: 11 Helpful Sites for Job Seekers - US News & World Report. Eight New Trends Every Job Seeker Should Know About. 64 Interview Questions. Interview Questions. Job Interview Weakness. Mental fear of the unknown is often what produces the physical symptoms of nervousness.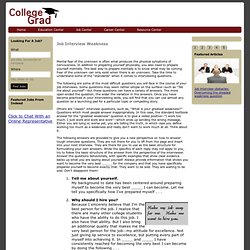 In addition to preparing yourself physically, you also need to prepare yourself mentally. The best way to prepare mentally is to know what may be coming. Fear of the unknown can only exist when there is an unknown. Take the time to understand some of the "standards" when it comes to interviewing questions. The following are some of the most difficult questions you will face in the course of your job interviews. Companies that hire home workers. Ten Tips for the Shy Job Seeker. In my previous post , I discussed the challenges for shy (or introverted ) people in the job market.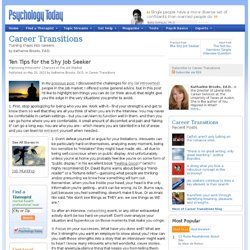 I offered some general advice, but in this post I'd like to highlight ten things you can do (or think about) that might give you the edge in the very situations you prefer to avoid. 1. First, stop apologizing for being who you are. Work with it-- find your strengths and get to know them so well that they are all you think of when you are in the interview. You may never be comfortable in certain settings-- but you can learn to function well in them, and then you can go home where you are comfortable. Interview Questions You Must Ask. In many ways, moving ahead in our careers depends on our bosses: the people who can motivate us, advise us, challenge us, or — on the other hand — make our lives miserable.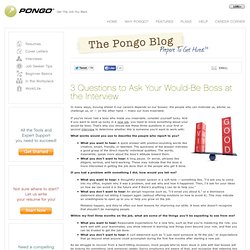 If you've never had a boss who made you miserable, consider yourself lucky. And if you want to wind up lucky in a new job, you need to know something about your would-be boss.
---