Ruby On Rails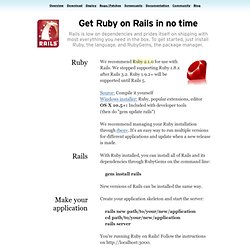 We recommend Ruby 2.1.0 for use with Rails. We stopped supporting Ruby 1.8.x after Rails 3.2. Ruby 1.9.2+ will be supported until Rails 5. Source: Compile it yourself Windows installer: Ruby, popular extensions, editor OS X 10.5+: Included with developer tools(then do "gem update rails")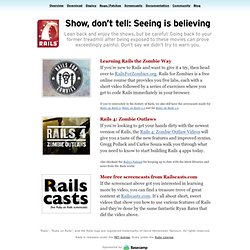 Learning Rails the Zombie Way If you're new to Rails and want to give it a try, then head over to RailsForZombies.org. Rails for Zombies is a free online course that provides you five labs, each with a short video followed by a series of exercises where you get to code Rails immediately in your browser. If you're interested in the history of Rails, we also still have the screencasts made for Ruby on Rails 2, Ruby on Rails 0.5 and for Ruby on Rails 1.0.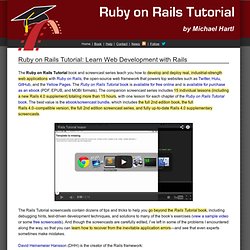 Ruby on Rails Tutorial: Learn Web Development with Rails The Ruby on Rails Tutorial book and screencast series teach you how to develop and deploy real, industrial-strength web applications with Ruby on Rails, the open-source web framework that powers top websites such as Twitter, Hulu, GitHub, and the Yellow Pages. The Ruby on Rails Tutorial book is available for free online and is available for purchase as an ebook (PDF, EPUB, and MOBI formats). The companion screencast series includes 15 individual lessons (including a new Rails 4.0 supplement) totaling more than 15 hours, with one lesson for each chapter of the Ruby on Rails Tutorial book. The best value is the ebook/screencast bundle, which includes the full 2nd edition book, the full Rails 4.0–compatible version, the full 2nd edition screencast series, and fully up-to-date Rails 4.0 supplementary screencasts.
I tweet from @dhh and email from david@heinemeierhansson.com. I write essays on this site and on the Signal vs Noise blog. Creator of Ruby on Rails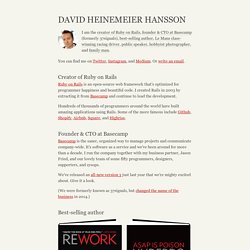 David Heinemeier Hansson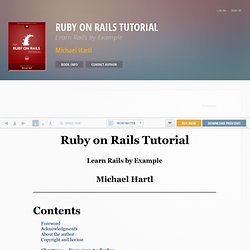 Michael Hartl Contents Foreword My former company (CD Baby) was one of the first to loudly switch to Ruby on Rails, and then even more loudly switch back to PHP (Google me to read about the drama).
Ruby on Rails Tutorial: Learn Rails by Example | Ruby on Rails 3 Tutorial book and screencasts | by Michael Hartl