3 National Security
US-CERT: United States Computer Emergency Readiness Team. Small Wars Journal. The ICSR blog. FREErad!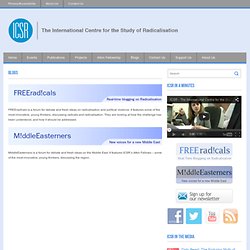 Cals is a forum for debate and fresh ideas on radicalisation and political violence. It features some of the most innovative, young thinkers, discussing radicals and radicalisation. They are looking at how the challenge has been understood, and how it should be addressed. Opinio Juris. Hard National Security Choices.
Lettre d'informations stratégiques et de défense. European Interagency Security Forum. Pnyx - comment on global security and politics - Pnyx. Defining Ideas by topic: National Security. By Robert Chesney, Jack Goldsmith (Senior Fellow and Member of the Task Force on National Security and Law), Matthew Waxman (member of the Task Force on National Security and Law), and Benjamin Wittes (member of the Task Force on National Security and Law) Image credit: Wikipedia Commons The "Authorization to Use Military Force" serves as the primary legal foundation for the ongoing conflict, but it is now obsolete.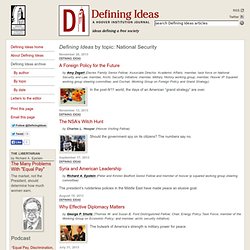 What should replace it? Clausewitz. US Air Force: Counter Terrorism Strategy. Smart Influence. The Cost of America's Secret Wars, Then and Now. The constitutional distance between what President Obama is doing and "The Enterprise," which was the Reagan administration's term for the foolishness from El Salvador's death squads all the way through Iran-Contra, is not vast.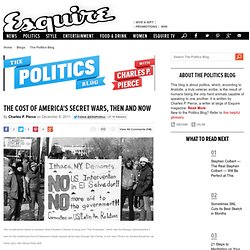 Photos by Gamma-Keystone via Getty (top); Alex Wong/Getty (left) On Sunday, I went to early Mass at Gesu Church, the baronial old Jesuit pile on Wisconsin Avenue in Milwaukee, and the place I would go on Sundays during college to ask the Lord for forgiveness for whatever several commandments I may have left in the shebeen the night before. During what we used to call The Prayer of the Faithful, which comes immediately after the Homily, we prayed for the souls of Ita Ford, Maura Clarke, Jean Donovan, and Dorothy Kazel, four Catholic missionaries who were beaten, raped, and murdered by a death squad in El Salvador in 1980. Zone Militaire. Alex Jones.
Experts Say Technology Is Widely Disseminated Inside and Outside Military. Danger Room. "So, You Ever Kill Anybody?" Very few screenwriters get kidnapped.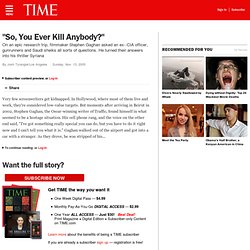 In Hollywood, where most of them live and work, they're considered low-value targets. But moments after arriving in Beirut in 2002, Stephen Gaghan, the Oscar-winning writer of Traffic, found himself in what seemed to be a hostage situation. His cell phone rang, and the voice on the other end said, "I've got something really special you can do, but you have to do it right now and I can't tell you what it is. " Gaghan walked out of the airport and got into a car with a stranger. As they drove, he was stripped of his... In quotes: Excerpts from Nato report on Taliban. 1 February 2012Last updated at 08:52 The quotations are reflections from fighters detained by Isaf in Afghanistan A secret Nato report seen by the BBC suggests the Taliban in Afghanistan are being directly helped by the Pakistani security service (ISI).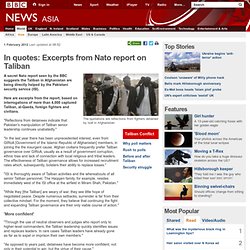 Here are excerpts from the report, based on interrogations of more than 4,000 captured Taliban, al-Qaeda, foreign fighters and civilians. "Reflections from detainees indicate that Pakistan's manipulation of Taliban senior leadership continues unabatedly. " Defense News | Breaking International Defense News | defensenews.com.