3 National Security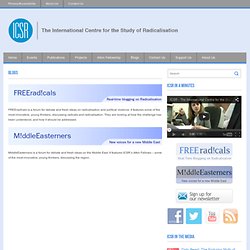 The ICSR blog
FREErad!cals is a forum for debate and fresh ideas on radicalisation and political violence. It features some of the most innovative, young thinkers, discussing radicals and radicalisation. They are looking at how the challenge has been understood, and how it should be addressed.
Put the words "Al Qaeda" in a news headline, and you inevitably conjure a very particular idea in the mind of the American reader. "Al Qaeda" is the group that attacked the United States on 9/11. The group led by Osama bin Laden (now led, some might recall, by his successor, Ayman Zawahiri).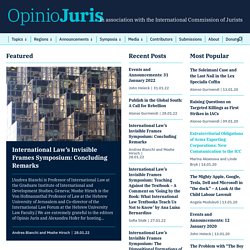 We're going to skip all of the preview stories about the President's NSA speech tomorrow. You'll find out what he's going to say when he says it. We begin with military news. The Air Force leadership has announced that 34 nuclear missile launch officers cheated on monthly launch proficiency tests and have had their clearances revoked. The discoveries were made as part of an investigation into illegal drug possession by the officers. We are, supposedly, still safe, and we haven't noticed any unexplained nuclear detonations that suggest otherwise.
Hard National Security Choices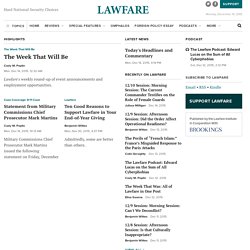 Home The indispensable A400M The A400M programme is certainly the most significant European programme of the last decade. Drawing on the latest technological and operational expertise, this new strategic transport aircraft produced by Airbus Military will improve the fluidity and efficiency of military operations. Download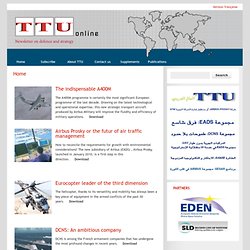 Lettre d'informations stratégiques et de défense
European Interagency Security Forum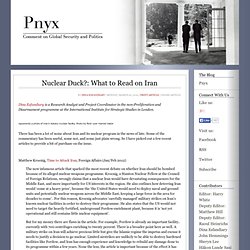 John Hardy is a Sir Arthur Tange Scholar at the Strategic and Defence Studies Centre, ANU, and a Lecturer at the University of Canberra. Virginia Class Submarine USS Hawaii during a routine port-visit to South Korea, November 2010 Amidst recent discussion of Australia's future submarine, few commentators have come out in support of the nuclear option. Despite a compelling strategic logic for at least considering nuclear powered submarines for the ADFs future force structure, many have preferred to sideline the issue and accept the foregone conclusion that anti-nuclear sentiment is too deeply entrenched in Australia's public mindset to bother entertaining the notion.
Pnyx - comment on global security and politics - Pnyx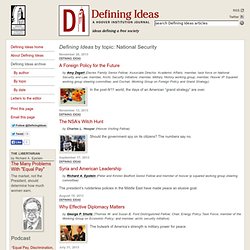 by Robert Chesney, Jack Goldsmith (Senior Fellow and Member of the Task Force on National Security and Law), Matthew Waxman (member of the Task Force on National Security and Law), and Benjamin Wittes (member of the Task Force on National Security and Law) Image credit: Wikipedia Commons The "Authorization to Use Military Force" serves as the primary legal foundation for the ongoing conflict, but it is now obsolete. What should replace it?
Defining Ideas by topic: National Security
Clausewitz
by T.C. MILITARY snipers are competitive types. There is an ongoing and grisly contest between them to see who can kill an enemy soldier from the farthest distance away. The present record is held by Craig Harrison, a corporal in the British Army's Household Cavalry, who managed to kill two Taliban soldiers from 2,475 metres in November 2009.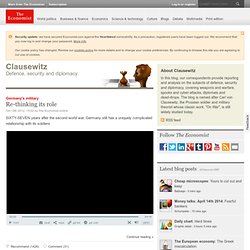 The terrorist attacks of September 11, 2001,in Washington, D.C., New York City, andPennsylvania were acts of war against theUnited States of America and its allies, andagainst the very idea of civilized society. Nocause justifies terrorism. The world mustrespond and fight this evil that is intent onthreatening and destroying our basic free-doms and our way of life. Freedom and fearare at war.The enemy is not one person.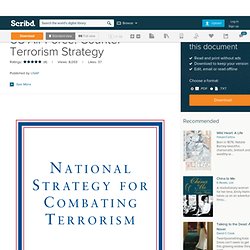 US Air Force: Counter Terrorism Strategy
Smart Influence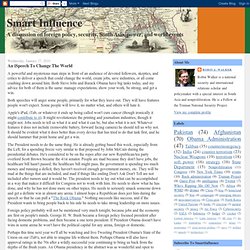 President Obama signed the $626 billion defense bill recently, and various columnists and bloggers have decried what is or is not in the final version, including various ships, planes, and helicopters that are of no use or are vastly over budget. To me just as big a problem is the federal government's use of contractors. I'm not the only one who has noticed: the President himself asked for $40 billion in contracting costs to be cut over the next two budgets, and CNAS and others have come out with reports, but more attention needs to be paid. Contractors come in multiple flavors (for the moment I'm not talking about government contracts to buy goods or materials). Some consider themselves "consultants" and swoop in with their MBAs and PowerPoint flow charts from companies like McKinsey or Deloitte, tell the government what they are doing wrong using proprietary jargon, and swoop on to the next project.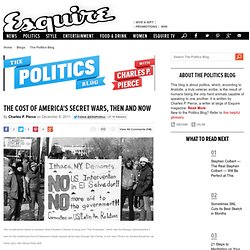 The constitutional distance between what President Obama is doing and "The Enterprise," which was the Reagan administration's term for the foolishness from El Salvador's death squads all the way through Iran-Contra, is not vast. Photos by Gamma-Keystone via Getty (top); Alex Wong/Getty (left) On Sunday, I went to early Mass at Gesu Church, the baronial old Jesuit pile on Wisconsin Avenue in Milwaukee, and the place I would go on Sundays during college to ask the Lord for forgiveness for whatever several commandments I may have left in the shebeen the night before. During what we used to call The Prayer of the Faithful, which comes immediately after the Homily, we prayed for the souls of Ita Ford, Maura Clarke, Jean Donovan, and Dorothy Kazel, four Catholic missionaries who were beaten, raped, and murdered by a death squad in El Salvador in 1980.
The Cost of America's Secret Wars, Then and Now
16 janvier 2014 – 11:23 Le groupe français Safran a indiqué, le 15 janvier, avoir reçu une commande de la Direction générale de l'armement (DGA) portant sur la livraison de 3 drones tactiques Sperwer destinés à l'armée de Terre. Une option d'achat a été posée pour deux exemplaires supplémentaires. Ces appareils seront livrés par sa filiale, Sagem, en 2015.
MIT Professor Exposes Climate Change Hysteria Mikael Thalen | "The opportunities for taxation, for policies, for control, for crony capitalism are just immense." Obama speech: Miller Lite commercial: less filling, tastes great Jon Rappoport | Obama just made a Miller Lite speech, to calm fears that NSA spying is a bother and a problem. Obama Justifies NSA Spying: Paul Revere Did It First
SAN FRANCISCO, May 20 — Congressional efforts to rein in a Pentagon surveillance project may be ineffective because new surveillance technology is being widely disseminated both inside and outside of the military and other less visible federal offices are pursuing similar research, industry executives and computer scientists say. The Defense Advanced Research Projects Agency's Information Awareness Office, overseen by Adm. John M. Poindexter, faced widespread opposition last year to its Total Information Awareness project after reports about the project raised concerns about civil liberties.
Experts Say Technology Is Widely Disseminated Inside and Outside Military
These Playing Cards School U.S. Soldiers in Archaeology By Elise Craig Thursday, December 12 0 Comments When Laurie Rush, an army archaeologist and anthropologist, heard that the military had built a helipad directly on top of ancient Babylon, she realized she needed to do more to educate US soldiers about historic places. New Stealth Spy Drone Already Flying Over Area 51 By Jason Paur Friday, December 6 1 Comment The latest top secret unmanned spy plane to be uncovered isn't just a design idea, it's already flying at the Air Force's famed Area 51. Unlike the recently announced SR-72, the new RQ-180 from Northrop Grumman is believed to be currently in flight testing according to Aviation Week and Space Technology. The RQ-180 is a […] This 6-Foot, 330-Pound Robot May One Day Save Your Life By Jason Kehe Wednesday, November 20 0 Comments Meet Atlas, the Pentagon's 6'2″, 330-pound humanitarian robot.
Danger Room
"So, You Ever Kill Anybody?"
Very few screenwriters get kidnapped. In Hollywood, where most of them live and work, they're considered low-value targets. But moments after arriving in Beirut in 2002, Stephen Gaghan, the Oscar-winning writer of Traffic, found himself in what seemed to be a hostage situation. His cell phone rang, and the voice on the other end said, "I've got something really special you can do, but you have to do it right now and I can't tell you what it is." Gaghan walked out of the airport and got into a car with a stranger. As they drove, he was stripped of his...
In quotes: Excerpts from Nato report on Taliban