CRAFTS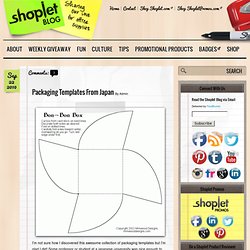 I'm not sure how I discovered this awesome collection of packaging templates but I'm glad I did! Some professor or student at a japanese univeresity was nice enough to share all their packaging templates with the world! These are a few of my favorites and you can see all of them on their website.
You know that I save toilet paper rolls. They can be made into so many things — mummies, rockets, Uncle Sam hats, flower party favors………………. even cute pillow boxes perfect for a little favor!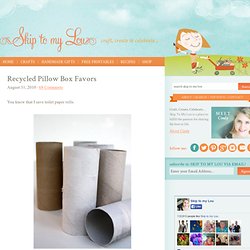 NetFlix Origami - Recycle Paper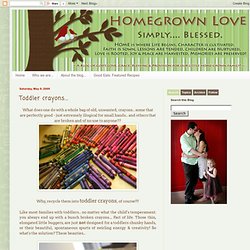 What does one do with a whole bag of old, unwanted, crayons... some that are perfectly good - just extremely illogical for small hands... and others that are broken and of no use to anyone?? Why, recycle them into toddler crayons, of course!!! Like most families with toddlers... no matter what the child's temperament. you always end up with a bunch broken crayons.... Fact of life. Those thin, elongated little buggers, are just not designed for a toddlers chunky hands, or their beautiful, spontaneous spurts of swirling energy & creativity!
Toddler crayons...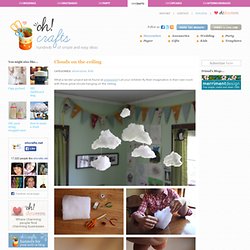 What a tender project we've found at ohdeedoh! Let your children fly their imagination in their own room with these great clouds hanging on the ceiling. You will only need cotton or polyester batting to shape the cloud you'd like to create, pinching and pulling it until get the desired cloud; next, form a spiral with a wire along a pencil and wherein one end you will create a circle (with the help of pliers) to tie the fishing line. To end, join wire with batting with a corkscrew movement and hang it on the ceiling with Scotch tape.
How To Make Owl Stuffies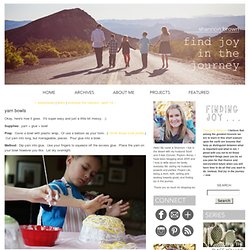 Okay, here's how it goes. It's super easy and just a little bit messy. ;) Supplies: yarn + glue + bowl Prep: Cover a bowl with plastic wrap.
i saw this craft after the years of different butterfly punch art and i was finally ready. i had pictures of annie painting the paper but they have disappeared. the first step is to watercolor paint on paper.paint all over with pattern or with out....less water makes for brighter colored paint.and let it dry. then punch out as many butterflies as you can. i bought this martha stewart butterfly punch at joann's.they are not cheap but it was on sale and they do have 40% off coupons quite often.and THAT punch is really cool.VERY easy to use! it's in two pieces so you can punch out from any part of the paper not just on the edge.VERY COOL.i get why it costs more than the other brands....quality.it's martha!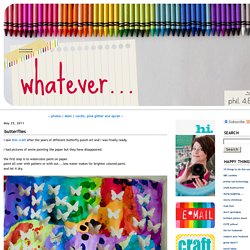 We spent an afternoon making crayon hearts for Little Greek goddess's classmates for Valentine's Day. A friend of mine suggested the craft because she knows how I love to reuse and my aversion of sugar. We were so pleased at how they turned out… they're adorable! Here's all the information in case we've inspired you to make this cute and practical Valentine's craft: Materials Crayon pieces (Tip: dip crayon pieces in warm water to make removing the paper a lot easier)Heart-shaped metal cookie or muffin tin
MY GREEN SIDE · Photo Friday – Crayon Hearts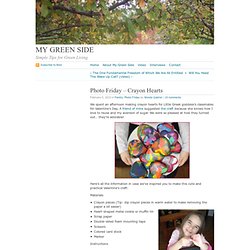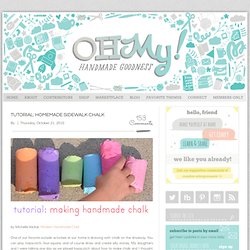 by Michelle Vackar, Modern Handmade Child One of our favorite outside activities at our home is drawing with chalk on the driveway. You can play hopscotch, four-square, and of course draw and create silly stories. My daughters and I were talking one day as we played hopscotch about how to make chalk and I thought to myself, let's try it! It ended up being quite a lot of fun. What you will need: • Toilet paper or paper towel tubes • Scissors • Duct tape • Wax paper • Small bucket or disposable container to make the recipe • ¾ cup of warm water • 1 ½ cups Plaster of Paris • 2-3 tablespoons of tempera paint • Paper bag or a "mess mat"
Kids Crafts: Bathtub Soap Crayons And Song For Children | Kids Grow Smart With Music
Okay, okay. Non-obnoxious isn't a word. But neither is unobnoxious. Not really, anyway. I've come to embrace this part of my life where I have a baby and a toddler.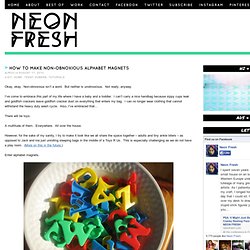 Bath Crayons
Hello there! If you are new here, you might want to subscribe to my RSS feed for updates. Thanks so much for taking the time to stop by. Come back soon! Guest Post by Katie Hostetter from Frugal Femina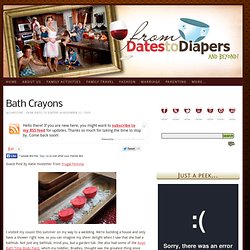 Capture the Details: Easter egg craft - suncatchers!
The kids and I made some pretty Easter egg decorations for our sliding glass door. They are super easy to make, too! You will need: crayons in pretty colors, a crayon sharpener (usually built in to the larger crayon boxes), wax paper, invisible thread, a small hole punch, an iron and old towels. I chose bright 'girly' colors for my eggs and so did Sarah.
MY GREEN SIDE · Photo Friday – Crayon Hearts
Capture the Details: Easter egg craft - suncatchers!
Bath Crayons
Kids Crafts: Bathtub Soap Crayons And Song For Children | Kids Grow Smart With Music