Tweets 2
Bourn Hall sets up new support group for IVF patients. Gangaji: Listen to the Stories You Tell Yourself. One of our most impressive powers as human beings is our power of language.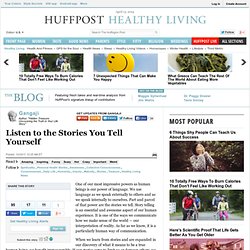 We use language as we speak externally to others and as we speak internally to ourselves. Part and parcel of that power are the stories we tell. A Hearing Aid That Cuts Out All the Clatter. Then, in June, he went to the Kennedy Center in Washington, where his "Voices of Light" oratorio had once been performed with the National Symphony Orchestra, for a performance of the musical "Wicked."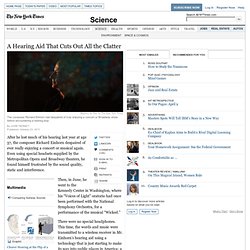 There were no special headphones. This time, the words and music were transmitted to a wireless receiver in Mr. Einhorn's hearing aid using a technology that is just starting to make its way into public places in America: a hearing loop. "There I was at 'Wicked' weeping uncontrollably — and I don't even like musicals," he said. "For the first time since I lost most of my hearing, live music was perfectly clear, perfectly clean and incredibly rich." Are Men Funnier Than Women?: Scientific American Podcast. In a 2007 Vanity Fair article Christopher Hitchens asked: Why are men, taken on average and as a whole, funnier than women?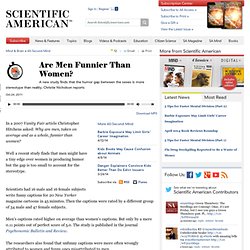 Well a recent study finds that men might have a tiny edge over women in producing humor but the gap is too small to account for the stereotype. Scientists had 16 male and 16 female subjects write funny captions for 20 New Yorker magazine cartoons in 45 minutes. Then the captions were rated by a different group of 34 male and 47 female subjects. Men's captions rated higher on average than women's captions. 1974 - Ella Fitzgerald - It Don't Mean a thing. CAA Where You Live | Benefits and Costs of the Clean Air Act. The Clean Air Act is one of the most successful public health programs in American history and, with a return of more than $30 in benefits for every dollar invested in pollution reductions, one of the best investments Americans have made.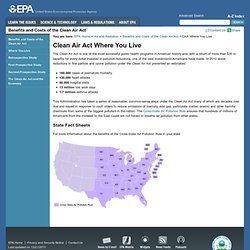 In 2010 alone, reductions in fine particle and ozone pollution under the Clean Air Act prevented an estimated: 160,000 cases of premature mortality 130,000 heart attacks 86,000 hospital visits 13 million lost work days 1.7 million asthma attacks This Administration has taken a series of reasonable, common-sense steps under the Clean Air Act many of which are decades over due and issued in response to court orders to reduce emissions of mercury, acid gas, particulate matter, arsenic and other harmful chemicals from some of the biggest polluters in the nation. The Cross-State Air Pollution Rule ensures that hundreds of millions of Americans from the midwest to the East Coast are not forced to breathe air pollution from other states. Physicians who cash in on a woman's desire to be beautiful.
Linda Burke-Galloway, MD | Physician | October 24, 2011 Three young mothers under the age of 40 are dead because they wanted to be beautiful.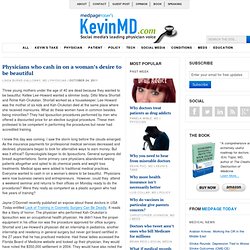 Kellee Lee-Howard wanted a slimmer body. Who Owns Your Identity on the Social Web? When I go to a bar, the bouncer usually stops me and asks for an ID.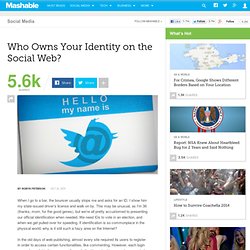 I show him my state-issued driver's license and walk on by. This may be unusual, as I'm 36 (thanks, mom, for the good genes), but we're all pretty accustomed to presenting our official identification when needed. We need IDs to vote in an election, and when we get pulled over for speeding. If identification is so commonplace in the physical world, why is it still such a hazy area on the Internet? In the old days of web publishing, almost every site required its users to register in order to access certain functionalities, like commenting. Atlanta Band Aid Laser Treatments & Cosmetic Injectable Specials. This time of year people often start preparing for the holidays.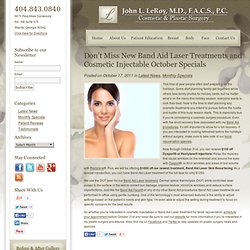 Some start planning family get-togethers while others take family photos for holiday cards, but no matter what's on the menu this holiday season, everyone wants to look their best. Now is the time to start planning any cosmetic treatments you intend to pursue before the hustle and bustle of this busy season starts. This is especially true if you're considering a cosmetic surgery procedure. Harley recalling more than 308,000 motorcycles. Fish Mislabeling Found To Be Rampant In 'Boston Globe' DNA Investigation.
Mortgage refinance; Obama; foreclosure; home loans. Reporting from Washington — The Obama administration, worried that the housing crisis is strangling the economic recovery, is stepping up efforts to aid the battered market as another wave of home foreclosures threatens to drive values down further and rattle consumer confidence again.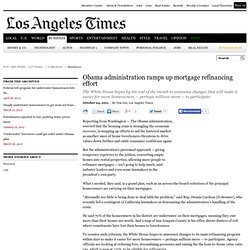 But the administration's piecemeal approach — giving temporary reprieves to the jobless, converting empty homes into rental properties, allowing more people to refinance mortgages — isn't going to help much, said industry leaders and even some lawmakers in the president's own party. What's needed, they said, is a grand plan, such as an across-the-board reduction of the principal homeowners are carrying on their mortgages. "Abysmally too little is being done to deal with the problem," said Rep. Dennis Cardoza (D-Atwater), who recently led a contingent of California lawmakers in denouncing the administration's handling of the crisis.
The Stats in the Hat - Hubaisms /// G Huba. New app aims to reduce stress with slow breathing. Roya R. Rad, MA, PsyD: The Power of Prayer: Why Does it Work? There is strong scientific evidence indicating that faith and prayer may help us with experiencing greater health physically, mentally and psychologically.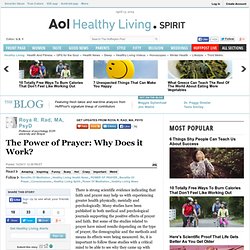 Many studies have been published in both medical and psychological journals supporting the positive effects of prayer and faith. But some of the studies related to prayer have mixed results depending on the type of prayer, the demographic and the methods and means its effects were being measured. So, it is important to follow these studies with a critical mind to be able to see why they came up with their conclusions. But overall most conclusions are supportive of the positive influences of prayer and faith on human health and functioning. Physician and researcher Larry Dossey, M. Letrozole Surpasses Tamoxifen at Reducing Breast Cancer Recurrence. The study is the latest installment in a long-running trial comparing treatment after surgery in postmenopausal women who have breast cancers that are estrogen-receptor positive, or sensitive to estrogen.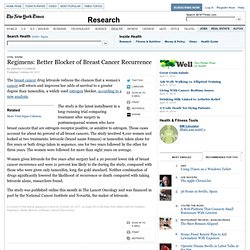 Those cases account for about 60 percent of all breast cancers. The study involved 8,010 women and looked at two treatments: letrozole (brand name Femara) or tamoxifen taken alone for five years or both drugs taken in sequence, one for two years followed by the other for three years. The women were followed for more than eight years on average. IRS on track to enforce taxes and penalties from healthcare law. The IRS appears to be meeting the technological challenges sparked by the overhaul of the U.S. healthcare system, a new federal audit has found. The Treasury Department's inspector general for tax administration reports that the agency is systematically dealing with the more than 40 changes that the healthcare law, signed in March 2010, makes to the tax code. At least eight of the modifications, which include penalties for those who do not acquire healthcare coverage and incentives for those who do, are forcing the IRS to craft entirely new processes to administer the law.
In all, the overhaul contains $438 billion in new taxes and fees, the audit found. "The new Affordable Care Act provisions represent the largest set of tax law changes in 20 years," Russell George, the tax administration inspector general, said in a statement. "I commend the IRS for its successful creation of a plan to implement them." Dr. Gregory Jantz, Ph.D.: Just Say No to...Vitamins? "Have you seen that article about older women and vitamins? " a colleague of mine breathlessly asked the other morning. Immediately feeling deficient for missing it, I had to admit, "No. What did it say? " Children's Risk For Nearsightedness May Be Reduced By Spending More Time Outdoors. How Long Is This Hot Wheels Track? | Wired Science  Let me start with this video: Pretty cool, right? The video says the track is 2,000 feet long. So, the questions that come to mind: Orangutan Culture Develops Like Human Culture | Wired Science. Beijing 'hubs' haven't curbed population pressures - World news - Asia-Pacific - China.
With Much At Stake, Lobbyists Stay Close To Super Committee. Exclusive Sneak Peek: 'Gold Rush' Family Hocks Everything To Strike It Rich, But Is It Worth It? Bisphenol A exposure in womb affects girls' behavior. Studies show no extra risk with Pfizer smoking drug. Exploring What We Don't Know About TEDMED's Twenty Great Challenges of Health and Medicine. Technolog - Google co-founder finally most popular on Google+ Math disability linked to problem relating quantities to numerals, October 24. Time – and brain chemistry – heal all wounds | Science Sushi. HPV Is Linked to Heart Disease in Women.
Healthcare reform law's backers hope to reclaim 'ObamaCare' label. Stephanie Armstrong: It's Cool to Skip Lunch. Inspector general report faults oversight of Medicaid drug program. Shunning water linked to high blood sugar. Psychopaths Share Similar Speech Patterns When Detailing Their Crimes, Study Shows. Battling for gay rights, in Allah's name - US news - Life. RGA opposes Obama plan to cut Medicaid spending. Zyprexa: FDA OKs Generic Version Of Schizophrenia And Bipolar Disorder Drug. Insomnia could moderately raise your heart attack risk / American Heart Association. APHA: Not getting enough sleep? Craig Ing: Suppression, Regression, Depression.
Million-dollar payments to surgeons raise questions. OVERNIGHT HEALTH: Barbour pitches Medicaid flexibility. Antibody for Hendra and Nipah Viruses Shows Promise. Tido von Schoen-Angerer: A Vaccine That Works Only Half the Time Is Not the Shot in the Arm Malaria Needs. MacBook Pro (15-inch, Mid 2010): Intermittent black screen or loss of video. Red Room: Love, Interrupted. NHS must prepare for the genetic revolution, report says.
Bruce A. Barron: What We Know and Don't Know. Coffee linked to reduced risk of common skin cancer - latimes.com. More Ways to Cope With Type 1 Diabetes and Low Blood Sugar. The new American Girl doll: She's Jewish, she's poor and her name is Rebecca. Antibody for Hendra and Nipah Viruses Shows Promise. Why Your Surgeon Should Be a Gamer | Wired Science  Floodwaters enter Bangkok's second airport - Weather. Health gap between rich and poor in the spotlight at UN forum in Brazil. Javan rhino 'now extinct in Vietnam' Senators Outraged U.S. Borrowing Big From China While Also Giving It Aid. Gas pump handles top study of filthy surfaces. Blood test could identify smokers at higher risk for heart disease, UT Southwestern researchers find.
Technolog - Tablet users don't want to pay for news on device. NYT on High-Functioning Schizophrenics - Neuroethics. East L.A. speaks from its heart - latimes.com. Premiums, Deductibles And Cost Sharing In Employer Health Plans Keep Rising. Screen Time Higher Than Ever for Children, Study Finds. Sari Eckler Cooper: Does Sexual Dysfunction Lead to Divorce?
Drugs to Treat A.D.H.D. Reach the Preschool Set. Novartis, Vectura lung drugs face delay in U.S. Report: Gadhafi buried in undisclosed location - World news - Mideast/N. Africa. Loss Of Independent Living For Seniors Greatly Influenced By Death Of Spouse. MPs condemn poor value from hi-tech equipment. Hurricane Rina becomes Category 2 storm - Weather. New Simulation Education Research Highlighted At CHEST 2011.
---