Sketchnotes
Visual Note Taking / Sketchnotes. The History of Graphic Facilitation. Designer Mike Rohde. IN JANUARY, the Summit Series team commissioned me to attend and capture sketchnotes at Basecamp, a meeting of 650 invite-only guests in Lake Tahoe's Squaw Valley.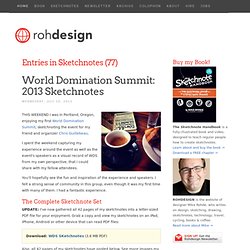 I had a great time, met a variety of interesting people and enjoyed live-capturing my experience in sketchnotes during Basecamp weekend. Typically, I post sketchnotes online, or create a PDF of the sketchnotes for attendees of events. I this case I felt strongly that a booklet, created from the sketchnotes would make a great after the fact artifact of the event for the all of the Summiters at the event in Squaw Valley. Audrey and the Summit Series team loved the idea so we began the process of designing a booklet from my sketchnotes. First Look: SketchNotes for iPad. When I first heard the idea for SketchNotes, I wasn't really that intrigued -- until I watched this video.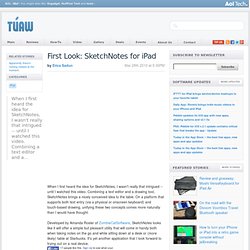 Combining a text editor and a drawing tool, SketchNotes brings a nicely conceived idea to the table. On a platform that supports both text entry (via a physical or onscreen keyboard) and touch-based drawing, unifying these two concepts comes more naturally than I would have thought. Developed by Amanda Rosler of ZombieCatSoftware, SketchNotes looks like it will offer a simple but pleasant utility that will come in handy both when taking notes on the go and while sitting down at a desk or (more likely) table at Starbucks. RSA Animate - Smile or Die. Collection: Sketchnotes. SXSW Interactive 2010 Sketchnotes - Rohdesign. I'm back from SXSW Interactive in Austin, Texas and I took along my Moleskine and gel pen to sketchnote it.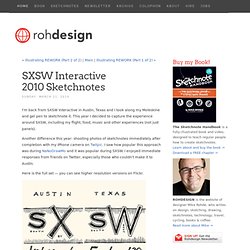 This year I decided to capture the experience around SXSW, including my flight, food, music and other experiences (not just panels). Another difference this year: shooting photos of sketchnotes immediately after completion with my iPhone camera on Twitpic. I saw how popular this approach was during NaNoDrawMo and it was popular during SXSW. I enjoyed immediate responses from friends on Twitter, especially those who couldn't make it to Austin. Sketchnotes of Ezio Manzini at School of the Art Institute of Chicago.
This past Monday evening, on an unseasonably warm night in Chicago, sustainability expert Ezio Manzini gave a thought-provoking lecture at the School of the Art Institute of Chicago.
Mr Manzini is a Professor of Industrial Design at Politecnico Milano, and is a renowned expert in the application of strategic design for sustainability. His perspectives on systems and service design relate nicely to his core message of sustainability, yielding a compelling framework for a vision of the future city.
Sketchnotes. Behavioural Dynamics Institute. 34 Design sketch notes. Add an event Sign in Lanyrd.com The Social Conference Directory Design Sketch notes.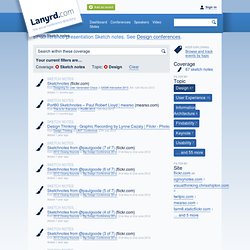 Sketchnotes 2009 & 2010 – A book by Eva-Lotta Lamm. RSA Animate - The Internet in Society: Empowering or Censoring Citizens?
---