Business information
10 Ways To Get Rich - You Can Do It Like Warren Buffett! With an estimated fortune of $62 billion, Warren Buffett is the richest man in the entire world.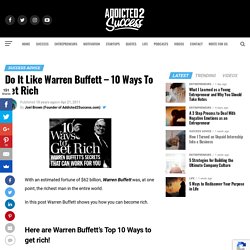 Here are Warrens Top 10 Ways to get rich! 1. Reinvest Your Profits: When you first make money, you may be tempted to spend it. Don't. Raising VC Money for Social Networking Companies - How to Raise Money for Web 2.0 Company. Raising money for a social networking venture?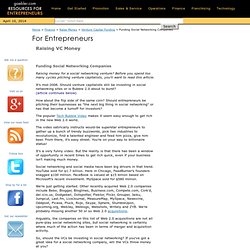 Before you spend too many cycles pitching venture capitalists, you'll want to read this article. It's mid-2008. Should venture capitalists still be investing in social networking sites or is Bubble 2.0 about to burst? 9 Keys to Business & Career Success. I'm fortunate enough to know a number of remarkably successful people.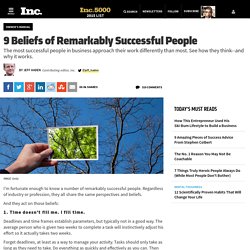 Regardless of industry or profession, they all share the same perspectives and beliefs. And they act on those beliefs: 1. Time doesn't fill me. I fill time. Startup, Inc - What You Need to Know Before Starting a Company. Often people start a company without any clear idea of what a company is.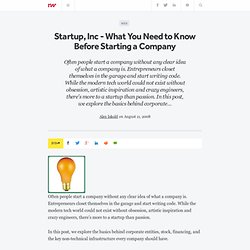 Entrepreneurs closet themselves in the garage and start writing code. While the modern tech world could not exist without obsession, artistic inspiration and crazy engineers, there's more to a startup than passion. In this post, we explore the basics behind corporate entities, stock, financing, and the key non-technical infrastructure every company should have. To make an idea really powerful, a startup needs to become a real company.
In former days, this might have meant bureaucracy, and lots of financial and legal infrastructure. Why I Won't Sign Your NDA. Why I Won't Sign Your NDA Posted on Jun 2, 2009 - 6:31 PM PST In the vast majority of cases where I get a non-disclosure agreement, it makes absolutely no sense for me to sign it.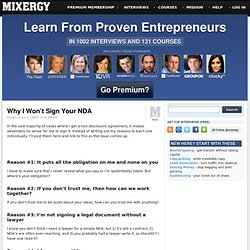 Top 10 Tips On Starting Your Own Successful Clothing Line. Nowadays it pays to plan before you jump in the deep end, with Teens to Grandmas and everybody else in between producing and marketing their own products and services it is proven that there are ways to make a successful company with a good business plan behind you.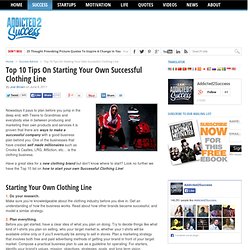 One of the businesses that have created self made millionaires such as Crooks & Castles, LRG, Affliction, etc… is the clothing business. Have a great idea for a new clothing brand but don't know where to start? Look no further we have the Top 10 list on how to start your own Successful Clothing Line! 1. Do your research. 5 Signs That You're an Entrepreneur at Heart. Entrepreneurs can be a wacky bunch, but it can get weird to see some of these personality traits in the people you select to help build your business.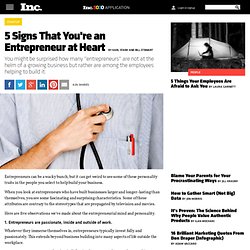 When you look at entrepreneurs who have built businesses larger and longer-lasting than themselves, you see some fascinating and surprising characteristics. Some of these attributes are contrary to the stereotypes that are propagated by television and movies. Here are five observations we've made about the entrepreneurial mind and personality. 1. The Best Advice On Raising Your Kids To Be Millionaires. We want our kids to learn money doesn't grow on trees, that if they lose another pair of school shoes they are not easily replaced and that if they save some of their earnings their money will grow and give them increased wealth for their future.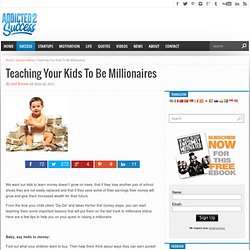 From the time your child utters "Da-Da" and takes his/her first clumsy steps, you can start teaching them some important lessons that will put them on the fast track to millionaire status. Here are a few tips to help you on your quest in raising a millionaire. The Top 10 Millionaire Secrets - The Cat Is Out The Bag. By Joel Brown on April 20, 2011 The idea of what was once considered "rich" is rapidly changing, as is the profile of the wealthy themselves.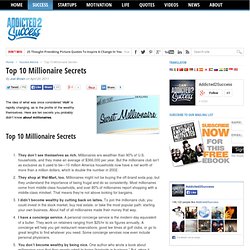 Here are ten secrets you probably didn't know about millionaires. They don't see themselves as rich. 101 Ways To Make Money Online | All The Secrets Are Right Here. Like To Talk?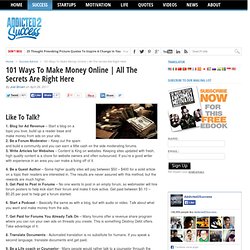 1. Blog for Ad Revenue – Start a blog on a topic you love, build up a reader base and make money from ads on your site.2. Be a Forum Moderator – Keep out the spam and build a community and you can earn a little cash on the side moderating forums.3. Advice From 100 Successful Entrepreneurs On Starting Your Own Business. 100 Successful Entrepreneurs where asked "What do you wish you knew before you started a business?" Here are there answers: 1. Creating The Perfect Tagline For Your Business - We Show You How! One of the many things in business that is considered a daunting and difficult task for most, is to perfect their company tagline. What does your tagline say about your business? Are your company values rolled into your tagline and is your tagline too weak, too strong or too corny?
A tagline is your Identity, with just a few words, a tagline must be understandable, summarize the product or service offering, build trust, or incite to buy. The right logo and the right tagline can take your company a long way. In this post we show you how to craft the perfect tagline for your new or current business in need of a creative upgrade. 8 Words You Should Never Use In Your Business Twitter Bio. By W. Eric Croomes on July 27, 2011 We get it, capturing the essence of your business in 140 characters on Twitter is tough. 4 Habits Of The Highly Successful Business Owner Next Door! Author Thomas J Stanley has been examining the super rich for years, his book "The Millionaire Next Door," became a New York Times bestseller.
Dr. Stanley's main thesis is that the rich live within their means while the wannabe-rich use status symbols (BMWs, Rolexes, Grey Goose vodka) to try to transplant themselves from one economic class to another without doing the hard work of actually earning a place among the super-rich. A couple years back, Thomas released "Stop Acting Rich . . . and Start Living Like a Real Millionaire".
How do you become a millionaire entrepreneur? It may not be quite the way you think. 100 Awesome Accounts That Every Entrepreneur Should Be Following On Twitter. Twitter is an excellent resource for learning, especially those who are building a business. You can learn about marketing, finance, and business lessons that you won't learn in school, as well as see what other successful entrepreneurs are up to.
Check out this list to find 100 awesome twitter accounts that every entrepreneur should be following on Twitter. Groups These groups on Twitter cater to young entrepreneurs. Mediabistro : Mediabistro is a great community for news, opportunities, and more for media professionals. 10 Great Business Lessons From Steve Jobs, The Founder Of Apple. The Dalai Lama's 18 Rules For Successful Living. The Top 6 Scientifically Proven Ways To Persuade & Encourage Others. 14 Nuggets Of Business Wisdom By Donald Trump & Robert Kiyosaki.
The 15 Different Ways That Successful People Think. 11 Ways To Stay Sharp & Effective While Running Your Business. The 7 Persuasion Techniques Used In Business. The Richest Man In Asia Shares His 8 Tips To Live By | Li Ka-Shing's Advice.
---