Business information
With an estimated fortune of $62 billion, Warren Buffett is the richest man in the entire world.
10 Ways To Get Rich - You Can Do It Like Warren Buffett!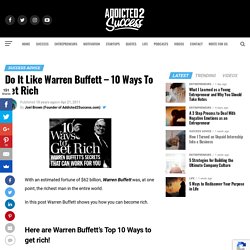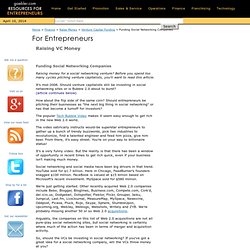 Raising VC Money for Social Networking Companies - How to Raise Money for Web 2.0 Company
Raising money for a social networking venture?
Startup, Inc - What You Need to Know Before Starting a Company
Often people start a company without any clear idea of what a company is. Entrepreneurs closet themselves in the garage and start writing code. While the modern tech world could not exist without obsession, artistic inspiration and crazy engineers, there's more to a startup than passion.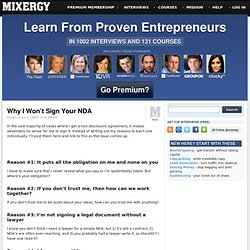 Why I Won't Sign Your NDA
Why I Won't Sign Your NDA Posted on Jun 2, 2009 - 6:31 PM PST In the vast majority of cases where I get a non-disclosure agreement, it makes absolutely no sense for me to sign it.
Top 10 Tips On Starting Your Own Successful Clothing Line
Nowadays it pays to plan before you jump in the deep end, with Teens to Grandmas and everybody else in between producing and marketing their own products and services it is proven that there are ways to make a successful company with a good business plan behind you. One of the businesses that have created self made millionaires such as Crooks & Castles, LRG, Affliction, etc… is the clothing business.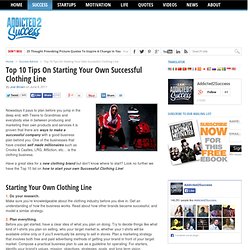 5 Signs That You're an Entrepreneur at Heart
The Best Advice On Raising Your Kids To Be Millionaires
The Top 10 Millionaire Secrets - The Cat Is Out The Bag
By Joel on April 20, 2011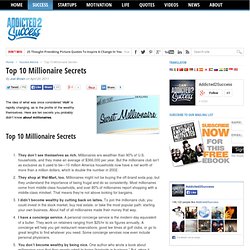 100 Successful Entrepreneurs where asked "What do you wish you knew before you started a business?" Here are there answers: 1.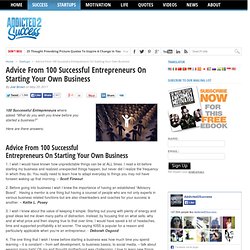 Advice From 100 Successful Entrepreneurs On Starting Your Own Business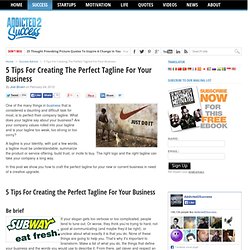 One of the many things in business that is considered a daunting and difficult task for most, is to perfect their company tagline. What does your tagline say about your business?
Creating The Perfect Tagline For Your Business - We Show You How!
We get it, capturing the essence of your business in 140 characters on Twitter is tough. This is more of a reason to be short & sweet. After searching through a wide array of business Twitter pages, there is a lot of fluff in the bio section that will make most direct their attention back to clicking on their "Home" or "Profile" button and leave the non convincing page that runs with a weak bio behind.
8 Words You Should Never Use In Your Business Twitter Bio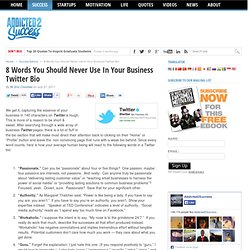 4 Habits Of The Highly Successful Business Owner Next Door!
Twitter is an excellent resource for learning, especially those who are building a business. You can learn about marketing, finance, and business lessons that you won't learn in school, as well as see what other successful entrepreneurs are up to.
100 Awesome Accounts That Every Entrepreneur Should Be Following On Twitter
The announcement of Steve Jobs' decision to quit as CEO of Apple may, on reflection, not be entirely unexpected, but it draws to a close one of the finest chapters in entrepreneurial history.
10 Great Business Lessons From Steve Jobs, The Founder Of Apple
By Joel on September 28, 2011 Early this year I had a chance to see the Dalai Lama when he was on his Australian Tour, I have to say he surprised me with his words of wisdom and sense of humor, I've kept a close eye on him and have come across these great rules by the Dalai Lama himself, Here they are. 1.
The Dalai Lama's 18 Rules For Successful Living
The Top 6 Scientifically Proven Ways To Persuade & Encourage Others
Today we feature 14 Nuggets Of Business Wisdom shared by the two most sought after Entrepreneurs with the Midas Touch, Donald Trump & Robert Kiyosaki, who have, in a combined effort, sold over 36 million copies of their business and finance books worldwide.
14 Nuggets Of Business Wisdom By Donald Trump & Robert Kiyosaki
The world's most successful people have one thing in common: they think differently from everyone else.
The 15 Different Ways That Successful People Think
11 Ways To Stay Sharp & Effective While Running Your Business
The 7 Persuasion Techniques Used In Business
The Richest Man In Asia Shares His 8 Tips To Live By | Li Ka-Shing's Advice