Social Media Best Practices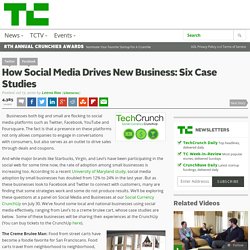 Businesses both big and small are flocking to social media platforms such as Twitter, Facebook, YouTube and Foursquare. The fact is that a presence on these platforms not only allows companies to engage in conversations with consumers, but also serves as an outlet to drive sales through deals and coupons. And while major brands like Starbucks, Virgin, and Levi's have been participating in the social web for some time now, the rate of adoption among small businesses is increasing too.
Social Media Mistake #7 - Handing Over the Keys | Intersection Marketing Blog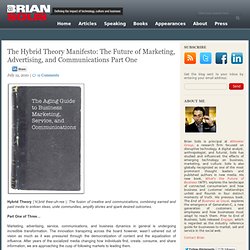 The Hybrid Theory Manifesto: The Future of Marketing, Advertising, and Communications Part One
Hybrid Theory |ˈhīˌbrid thee-uh-ree |: The fusion of creative and communications, combining earned and paid media to enliven ideas, unite communities, amplify stories and spark desired outcomes.
Take me to your Leader!
Which VC invested the most frequently in Silicon Valley Social Networks? Surprise!