Books And Libraries As Art
A collection of links focusing on the use of books and libraries as art or in a creative way. Includes things such as sculptures, paper art, text into images, book toppling, books used creatively in photographs.
Book Paintings. Books Transformed Into Visual Art - Green Diary. Origami artists have been transforming paper into varied, visually striking works of art since centuries.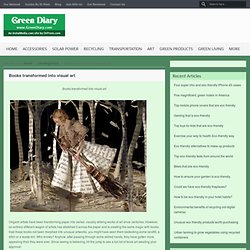 However, an entirely different wagon of artists has stretched it across the paper and is creating the same magic with books. Had these books not been morphed into unusual artworks, you might have seen them bedecking some landfill, a ditch or a waste-bin. The Page Turner, A Rube Goldberg Machine. Amazing Book Art of Robert The on DesignRulz. Artist Brian Dettmer Carves Old Books into Intricate Narrative Sculptures Brian Dettmer – Inhabitat - Green Design Will Save the World.
Most of Dettmer's focus is on books, favoring out of date encyclopedias, medical journals, illustration books and dictionaries.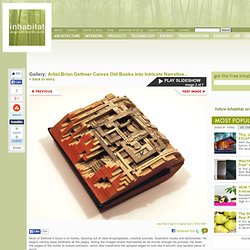 He begins carving away arbitrarily at the pages, letting the images reveal themselves as he moves through his process. He seals the edges of the books to ensure precision, which also transforms the splayed edges to look like a smooth and sanded piece of wood. Carefully extracting bits and pieces, he creates a narrative within the books' contents, revealing selected sentences and images. The spines are bent and contorted to juxtapose different sections of the books together.
No sections are removed or added, Dettmer simply works with the existing structure of each book. Creative book images. Book images by Boy Wonder. The Hideout. "You can never get a cup of tea large enough or a book long enough to suit me." - Lewis Carroll.
Libraries as art. Book toppling. Bookmans Does Book Dominoes. World record attempt Book Domino Chain Reaction. Beautiful Libraries. Home. 20 of the World's Most Beautiful Libraries - Oddee.com (beautiful libraries, amazing libraries...)
For some people it's castles with their noble history and crumbling towers, for others it's abandoned factories or lost cities.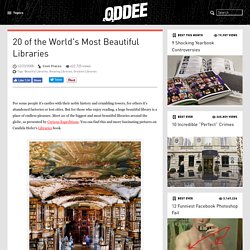 But for those who enjoy reading, a huge beautiful library is a place of endless pleasure. Meet 20 of the biggest and most beautiful libraries around the globe, as presented by . You can find this and more fascinating pictures on Candida Hofer's book. Abbey Library St. Gallen, Switzerland. Massimo Bartolini's Bookyard is an Outdoor Library in a Belgian Vineyard. In Ghent, Belgium, St.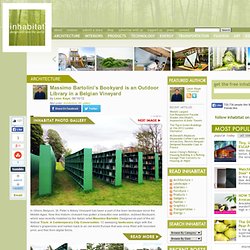 Peter's Abbey Vineyard has been a part of the town landscape since the Middle Ages. Now this historic vineyard has gotten a beautiful new addition, dubbed Bookyard, which was recently installed by the Italian artist Massimo Bartolini. Designed as part of the art festival Track: A Contemporary City Conversation, 12 sweeping bookcases align with the Abbey's grapevines and harken back to an old world Europe that was once filled with bounded print, and free from digital forms.
Book sculpture. Liu Wei's Chaotic Cities Are Made of Stacks Upon Stacks of Recycled Text Books. Unlike other book sculptures, Wei's pieces are rough, crumbling and unfinished, completely betraying their origination as crisp text books.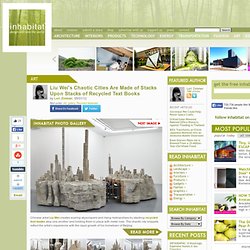 The carved pages possess a soft quality, which fuels the feeling of hurried chaos that Wei feels in the construction of new buildings in China. The city sculptures appear to have a lot going on at once, in a mess of construction confusion, much like the constant redevelopment of Beijing. Gartenkulter Makes Poetic Pots From Recycled Books. With the recent rise in popularity of electronic readers such as the Amazon Kindle and the Apple iPad, thoughts of "book extinction" have really seeped their way into design conversations.
Italy-based Gartenkulter pays tribute to the tree with these beautiful planters made from old and disused books. By removing the heart of the book's cover and pages and then creating a seal, the book becomes a home for a living and growing tree. Guy Laramee's New Carved Book Sculptures Reflect On Japanese Tsunami. Reading a good book has always been a bit like entering an alternative world contained within their pages.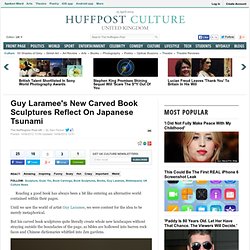 Until we saw the world of artist Guy Laramee, we were content for the idea to be merely metaphorical. But his carved book sculptures quite literally create whole new landscapes without straying outside the boundaries of the page, as bibles are hollowed into barren rock faces and Chinese dictionaries whittled into Zen gardens. Hollowed out Bible, by Guy Laramee. Stacked Book Sculptures by Jonathan Callan. Mysterious Edinburgh Book Sculptures. Edinburgh Book Sculpture Images. Mysterious paper sculptures. Book sculpture, Writers' Museum, Edinburgh.
Mysterious paper sculptures. Mysterious paper sculptures. Mysterious paper sculptures. City of Literature books sculpture. Mysterious paper sculptures. Mysterious paper sculptures. Final chapter in book sculpture mystery revealed - News centre. The Writers' Museum today (25 November) revealed the eighth instalment in the book sculpture mystery that has puzzled Edinburgh for months.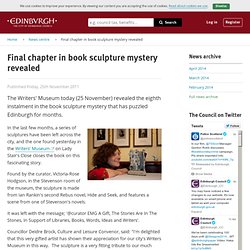 In the last few months, a series of sculptures have been left across the city, and the one found yesterday in the Writers' Museum (external link) on Lady Stair's Close closes the book on this fascinating story. Found by the curator, Victoria-Rose Hodgson, in the Stevenson room of the museum, the sculpture is made from Ian Rankin's second Rebus novel, Hide and Seek, and features a scene from one of Stevenson's novels.
It was left with the message; '@curator EMG A Gift, The Stories Are In The Stones, In Support of Libraries, Books, Words, Ideas and Writers'. Councillor Deidre Brock, Culture and Leisure Convenor, said: "I'm delighted that this very gifted artist has shown their appreciation for our city's Writers Museum in this way. Mysterious paper sculptures « Central Station. Those of you who don't keep up with Edinburgh's literary world through Twitter may have missed the recent spate of mysterious paper sculptures appearing around the city.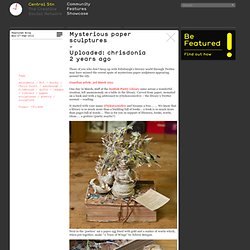 Guardian article, 3rd March 2011. One day in March, staff at the Scottish Poetry Library came across a wonderful creation, left anonymously on a table in the library. Carved from paper, mounted on a book and with a tag addressed to @byleaveswelive – the library's Twitter account – reading: It started with your name @byleaveswelive and became a tree.… … We know that a library is so much more than a building full of books… a book is so much more than pages full of words.… This is for you in support of libraries, books, words, ideas….. a gesture (poetic maybe?) Next to the 'poetree' sat a paper egg lined with gold and a scatter of words which, when put together, make "A Trace of Wings" by Edwin Morgan. Mystery sculptures appear at Edinburgh book festival. A symbol of literary love, left by an anonymous artist at the Edinburgh book festival It's a whodunnit that any crime writer would be proud of.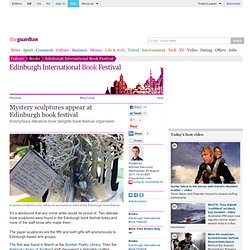 Two delicate book sculptures were found in the Edinburgh book festival today and none of the staff know who made them. The paper sculptures are the fifth and sixth gifts left anonymously to Edinburgh-based arts groups. The first was found in March at the Scottish Poetry Library. Then the National Library of Scotland staff discovered a delicately crafted gramophone in June. Edinburgh book sculptures turn the page. As symbols of love for libraries go, cutting up books wouldn't be most readers' first thought. But the delicate paper sculptures that have been left anonymously in recent months around Edinburgh's cultural institutions have been enchanting.
The latest, and it seems the last, of 10 such ornaments has been found in the Scottish Poetry Library, just off the capital's Royal Mile where the mystery began in March when staff there found the first gift from the Banksy of books … Booksy, perhaps. A note left with the sculpture reads: "'You need to know when to end a story,' she thought. Often a good story ends where it begins. This would mean a return to the Poetry Library. Portfolio Book-Cut Sculpture. Text Into Images. Single Page Book Poster | Unique Full Texts Book Posters | Spineless Classics. Welcome – Litographs.
---