Books And Libraries As Art
A collection of links focusing on the use of books and libraries as art or in a creative way. Includes things such as sculptures, paper art, text into images, book toppling, books used creatively in photographs. Jun 15
Book Paintings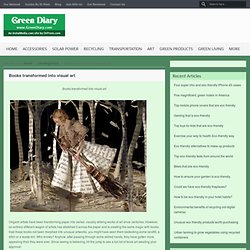 Origami artists have been transforming paper into varied, visually striking works of art since centuries. However, an entirely different wagon of artists has stretched it across the paper and is creating the same magic with books. Had these books not been morphed into unusual artworks, you might have seen them bedecking some landfill, a ditch or a waste-bin.
The Page Turner, A Rube Goldberg Machine
Amazing Book Art of Robert The on DesignRulz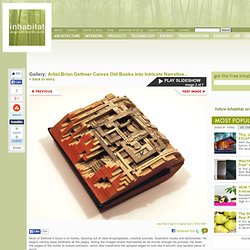 Most of Dettmer's focus is on books, favoring out of date encyclopedias, medical journals, illustration books and dictionaries. He begins carving away arbitrarily at the pages, letting the images reveal themselves as he moves through his process. He seals the edges of the books to ensure precision, which also transforms the splayed edges to look like a smooth and sanded piece of wood. Carefully extracting bits and pieces, he creates a narrative within the books' contents, revealing selected sentences and images. The spines are bent and contorted to juxtapose different sections of the books together. No sections are removed or added, Dettmer simply works with the existing structure of each book.
The Hideout | Flickr : partage de photos !
"You can never get a cup of tea large enough or a book long enough to suit me." - Lewis Carroll | Flickr : partage de photos !
Bookmans Does Book Dominoes
World record attempt Book Domino Chain Reaction
Home
Welcome to Beautiful-Libraries.com! There is something indescribably appealing about rooms filled with books, walls lined with well-organized shelves. Many book lovers dream of having such a space themselves, although not everyone has the space (or the desire) to have a dedicated library room in their dwellings. This site provides inspirational photos and information about libraries around the world, from modest personal collections to the longest-established academic facilities and most ornate royal libraries.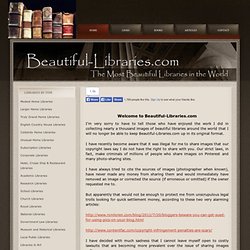 For some people it's castles with their noble history and crumbling towers, for others it's abandoned factories or lost cities. But for those who enjoy reading, a huge beautiful library is a place of endless pleasure. Meet 20 of the biggest and most beautiful libraries around the globe, as presented by . You can find this and more fascinating pictures on Candida Hofer's book. Abbey Library St. Gallen, Switzerland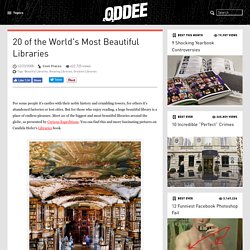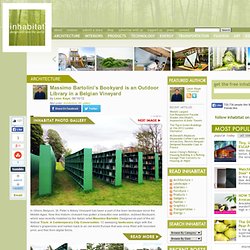 In Ghent, Belgium, St. Peter's Abbey Vineyard has been a part of the town landscape since the Middle Ages. Now this historic vineyard has gotten a beautiful new addition, dubbed Bookyard, which was recently installed by the Italian artist Massimo Bartolini. Designed as part of the art festival Track: A Contemporary City Conversation, 12 sweeping bookcases align with the Abbey's grapevines and harken back to an old world Europe that was once filled with bounded print, and free from digital forms.
Massimo Bartolini's Bookyard is an Outdoor Library in a Belgian Vineyard
Liu Wei's Chaotic Cities Are Made of Stacks Upon Stacks of Recycled Text Books
Unlike other book sculptures, Wei's pieces are rough, crumbling and unfinished, completely betraying their origination as crisp text books. The carved pages possess a soft quality, which fuels the feeling of hurried chaos that Wei feels in the construction of new buildings in China. The city sculptures appear to have a lot going on at once, in a mess of construction confusion, much like the constant redevelopment of Beijing.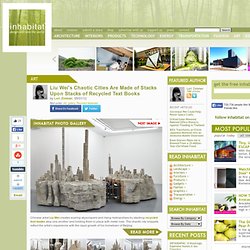 With the recent rise in popularity of electronic readers such as the Amazon Kindle and the Apple iPad, thoughts of "book extinction" have really seeped their way into design conversations. Italy-based Gartenkulter pays tribute to the tree with these beautiful planters made from old and disused books. By removing the heart of the book's cover and pages and then creating a seal, the book becomes a home for a living and growing tree.
Gartenkulter Makes Poetic Pots From Recycled Books
Reading a good book has always been a bit like entering an alternative world contained within their pages. Until we saw the world of artist Guy Laramee, we were content for the idea to be merely metaphorical. But his carved book sculptures quite literally create whole new landscapes without straying outside the boundaries of the page, as bibles are hollowed into barren rock faces and Chinese dictionaries whittled into Zen gardens. Hollowed out Bible, by Guy Laramee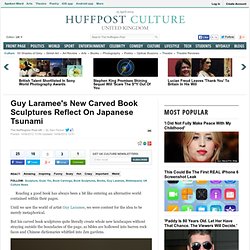 Guy Laramee's New Carved Book Sculptures Reflect On Japanese Tsunami
Stacked Book Sculptures by Jonathan Callan
Mysterious paper sculptures | Flickr : partage de photos !
book sculpture, Writers' Museum, Edinburgh | Flickr : partage de photos !
Mysterious paper sculptures | Flickr : partage de photos !
Mysterious paper sculptures | Flickr : partage de photos !
Mysterious paper sculptures | Flickr : partage de photos !
City of Literature books sculpture | Flickr : partage de photos !
Mysterious paper sculptures | Flickr : partage de photos !
Mysterious paper sculptures | Flickr : partage de photos !
Final chapter in book sculpture mystery revealed - News centre - City of Edinburgh Council
Mystery sculptures appear at Edinburgh book festival | Books
Edinburgh book sculptures turn the page | Books
Single Page Book Poster | Unique Full Texts Book Posters | Spineless Classics