JOOMLA BAZY
Site Templates - Style Premium One Page Template
Theme Description: Style Premium xHTML One Page Template uses a great deal of white/dark space to create a clean feel to this site. The elements of this web design are nicely spaced out to create a clean overall design.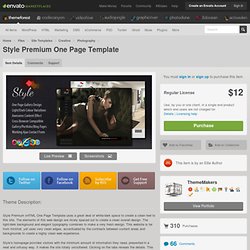 Home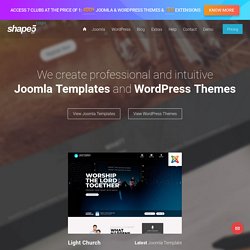 Discover The Shape5 Community Today Shape 5 creates some of the best Joomla templates, Joomla extensions and Wordpress Themes available on the web. With over 125,000 members Shape 5 is one of the longest running Joomla Template Clubs with dozens of aesthetically pleasing products to pick from. Everything available on Shape 5 is designed to run on either the Joomla or Wordpress platforms. Have Questions or Need Product Help?
Premium Joomla Templates Club
Free Joomla Templates | JF
Home
Blog, Free Joomla Templates & Wordpress Themes \| vonFio
More Than 3100 Free Joomla CMS Templates - Delition
Need a new Joomla Template? We provide professional & exclusive Joomla 2.5 and Joomla 3.2 themes.More then 30.000 Satisfied Customers Personal Email and Live Chat Support Quick Installer ( SQL dump) always included Easy to customize, well commented code Single License and Memberships You are here: Home Latest Joomla Templates All Joomla3 Responsive Colorful Warp Bright Top Dark Default Title Date
Joomla Templates - Professional Joomla Templates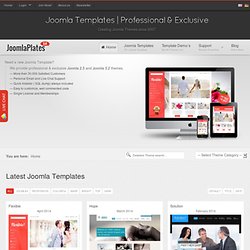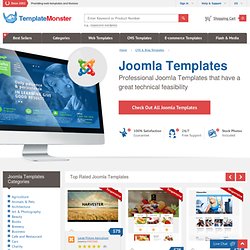 Please welcome the Joomla templates from TemplateMonster - so beautiful and dynamic, all at your service! In this section we've gathered our complete collection of them, including the themes made for different Joomla versions as well as Joomla templates made with various technologies (such as Flash or jQuery for example, you all seem to really love these extra features). With every Joomla template that you buy from us not only do you get a premium design but also free support services from our team (in case something goes wrong for some reason). And picking the right item out of our collection of Joomla templates won't be hard - with a vast variety that we have, you will have no problem finding the right design for any kind of business you can think of! Browse them right now!
Joomla Templates | Template Monster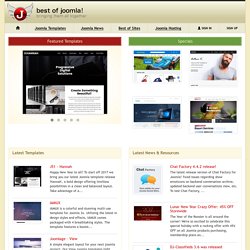 ChangelogHQ Saves Time in Software Development ChangelogHQ is a great changelog generator for all web developers. If you are always having issues of time and manpower to generate changelogs of your software, ChangelogHQ will replace the job of a project manager. All your software development activities… Balbooa - Joomla Google map module - 6maps New Year's Eve, one of the most anticipated day of the year. Today, we want to share our plans with you again. So, take your seats and we are begin. - "What are the coordinates of our office?"
Free Joomla 2.5 Templates
More Than 3100 Free Joomla CMS Templates
Gantry Framework Templates are build on Gantry Framework, a Powerful framework with 100's of inbuilt features. Responsive Design All Templates have an optimal viewing experience with all Web-browsing devices. Cross-Browser Compatible Tested with latest version of Internet Explorer, Firefox, Safari and Google Chrome.
Free Joomla 2.5 Templates - Free Joomla templates - Joomla 1.7 templates - Joomla templates - Joomla Corporate Templates - Free Joomla Themes - Free Joomla Templates Download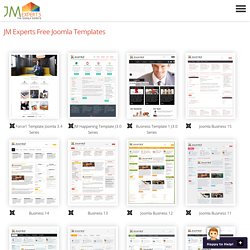 New theme available for joomla 2.5 templates, joomla templates 3, included wide slideshow, and multiple parameters. Professionnal joomla template available for joomla 2.5 templates, joomla templates 3.0, included slideshow, and multiple parameters. beautifull joomla template available for joomla 3.0 templates, joomla templates 2.5, included wide slideshow, and multiple parameters.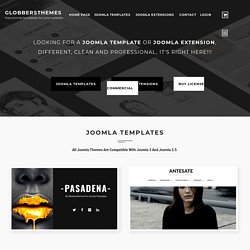 Rosen Todorovsky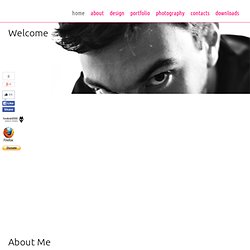 As a designer I worked for major Bulgarian and foreign companies over a variety of projects. I got award from The Society for News Design for the redesign of business newspaper Pari daily with Jacek Utko. Attended various seminars by Mignon Media, Chimera (Poland), Javier Zarracina Info graphics seminar and SND Boston 2007. Now I teach students in graphic design at Sofia University St. Kliment Ohridski, and work for my Ph.D. Typography in the web.
Hurricane Media | Free High Quality Joomla Templates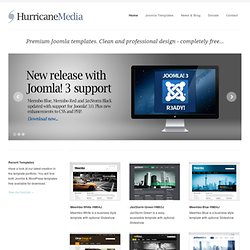 Meembo-Blue and Meembo-Red HM04J updated (ver. 1.8) Meembo-Blue and Meembo-Red HM04J version 1.8 released: Bug fixes regarding forms and tooltips (ver. 1.8) Bug fixes regarding Joomla 3 support (ver. 1.7) Bug fixes regarding CSS/PHP (ver. 1.6) Meembo […] Meembo-White HM04J template for Joomla released Meembo-White is a business style Joomla 2.5/3.x template, easy accessible and clean design. It's ideal for businesses or organisations looking to build a website.
Herzlich Willkommen bei Next - Level - Design
Free Joomla 1.7 and 2.5 Templates - Fresh Templates
Interior Design Template Compatibility 100% responsive Joomla 3.x template. There is a nice slideshow, built in social buttons, to top button, custom slogan and much much more.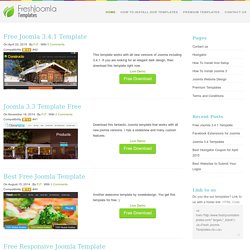 What's WordPress, and what can I do with it? WordPress, like Joomla, is a Content Management System, often abbreviated to CMS. A CMS is like a middleman that takes care of the basic setup and running of your website and its design, so you can focus on creating content; no coding knowledge required, though a little HTML can go a long way!
Joomla 2.5 templates showroom, also for 1.7,1.6 and 1.5
Joomla Templates
joomla 2.5 templates, joomla 1.7 templates, Joomla 1.6 Templates, Joomla 1.5 Templates, Joomla 1.0 Templates