FUN
How Social Media Saved the Holidays
Connaissez-vous Gmale? Parodie du service de messagerie de Google Gmail, ce petit ami idéal en apparence pourrait bien faire prochainement de votre vie... un enfer! Vous aimez nos contenus ? Recevez gratuitement la meilleure news et vidéo du jour, et profitez des conseils de Consogazette pour améliorer votre pouvoir d'achat On doit cette amusante parodie au site Comediva qui vient de se fendre d'un sketch hilarant visant à se moquer gentiment de Gmail, le service de messagerie de Google. Mettant en scène un petit ami encombrant du nom de "Gmale", cette parodie voit le jeune homme littéralement envahir la vie de sa fiancée!
Video Découvrez Gmale, une parodie de Gmail en vidéo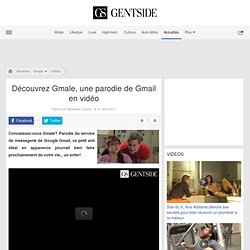 Google does not use the keywords meta tag in web ranking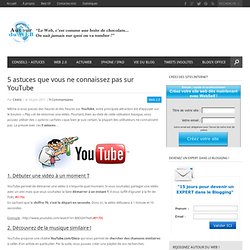 5 astuces que vous ne connaissez pas sur YouTube
Même si vous passez des heures et des heures sur YouTube, votre principale attraction est d'appuyer sur le bouton « Play » et de visionner une vidéo. Pourtant, bien au-delà de cette utilisation basique, vous pouvez utiliser des « options cachées » que bien je suis certain, la plupart des utilisateurs ne connaissent pas. La preuve avec ces 5 astuces… 1. Débuter une vidéo à un moment T
7 Biggest CEO Secrets Accidentally Revealed at AllThingsD
One of my favorite movie scenes is in "Airplane," where a Black Power passenger attempts to communicate with a young stewardess, with very little luck. A little old lady steps up, asserts, "Excuse me Miss, I speak jive," and proceeds to translate between the two. After four years of running internet TV network Revision3, like that lady I can confidently say that "I speak CEO." And that was a good thing this week, as I spent two days at the super-exclusive D9 conference, put on by All Things D editors Walt Mossberg and Kara Swisher. A parade of media and technology CEOs shared their thoughts on their company and the industry. Walt and Kara are superb interviewers, but for the most part the CEOs were well coached, delivered canned answers and evaded the tough questions.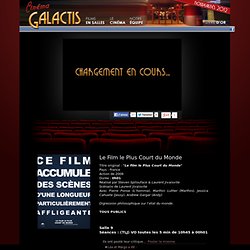 Le Film le Plus Court du Monde | Cinéma Galactis
Un film de Sébastien Espanol Casting : Avec Sébastien Espanol (le philosophe) Equipe technique :Réalisation / Scénario / Montage / Étalonnage / Effets visuels / Musique : Sébastien Espanol
tp://www.socialmediapills.com/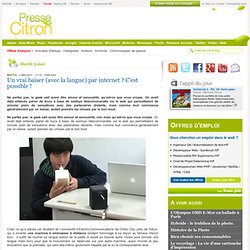 Un vrai baiser (avec la langue) par internet ? C'est possible !
Mardi 3 mai Matos - 3 mai 2011 :: 11:16 :: Par Eric Ne partez pas, le geek sait aussi être amour et sensualité, qu'est-ce que vous croyez.
Durex protège de la maladie du concombre #malin on Twitpic