Solid Modeling
SolidACE - Home
SolidACE - Home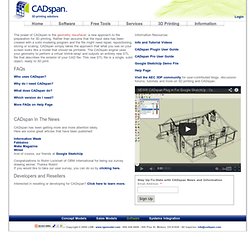 The power of CADspan is the geometry resurfacer ; a new approach to file preparation for 3D printing. Rather than assume that the input data has been created with a solid modeling program and the file might need repair, repositioning, slicing or scaling, CADspan simply takes the approach that what you see on your screen looks like a model that should be printable. The CADspan engine uses your geometry to perform a virtual 'shrink-wrap' and outputs an entirely new STL file that describes the exterior of your CAD file.
3D Printing Solutions
2 weeks ago Father Christmas delivered a MakerBot Thing-O-Matic 3D Printer to my office. I think I understand how it must have felt to own an Altair 8800 back in the day when the world was on the brink of the consumer computing revolution.
I'm building a WebGL modelling tool for 3D printing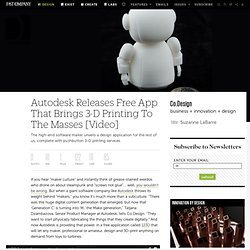 If you hear "maker culture" and instantly think of grease-stained weirdos who drone on about steampunk and "screws not glue"... well, you wouldn't be wrong .
Autodesk Releases Free App That Brings 3-D Printing To The Masses [Video] | Co.Design
An Open Web-based 3D Modeling Program for 3D Print… and More - SolidSmack