Cosmologie
Un article de Wikipédia, l'encyclopédie libre. Cosmologie de la civilisation Inca Schéma de l'univers d'Anaximandre (VIe siècle av. J.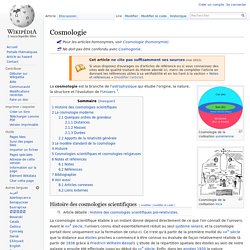 December 11, 1998 - High Redshift Quasars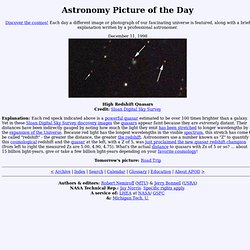 Discover the cosmos! Each day a different image or photograph of our fascinating universe is featured, along with a brief explanation written by a professional astronomer. December 11, 1998
Société Astronomique de Genève (SAG)
Avec un nombre de visiteurs estimé à plus de 30'000, la Nuit de la Science 2012 a connu un très grand succès. Il faut dire que la météo était de la partie, ce qui a attiré un nombreux public sur le stand de la SAG. Eric Ashkar, nouveau président de la S.A.G. a assuré l'organisation de notre activité.