Feed+readers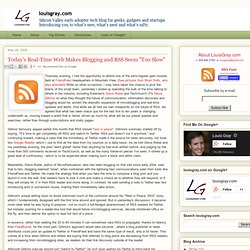 Today's Real-Time Web Makes Blogging and RSS Seem "Too
Thursday evening, I had the opportunity to attend one of the semi-regular open houses held at FriendFeed headquarters in Mountain View.
Google's co-founder, Larry Page, admitted today that the company has been losing out to Twitter in the race to meet web user's demand for real-time information. Instead, the search engine's chairman and chief executive, Eric Schmidt, hinted that it could become a partner of the micro-blogging site. Twitter has come from nowhere to become the third most visited social networking site in the US in just three years by allowing its users to broadcast their thoughts, actions and news instantly. Google's search engine, in contrast, can take hours or even days to update. While this is usually not a problem as accuracy of results is more important than speed of updating, as the internet community comes to demand ever faster information Twitter has left Google in its wake. "People really want to do stuff real time and I think they [Twitter] have done a great job about it," Page said in a closing address at Google's Zeitgeist conference .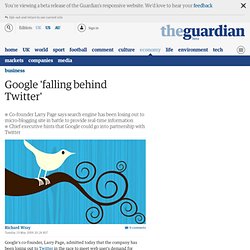 Google falling behind Twitter
Twitter Search Will Be Powerful
This Is How My Social Media Data Flows. I'll Explain. If you're anything like me, you are constantly creating social data.
Know and Master Your Social Media Data Flow - louisgray.com