Feed+readers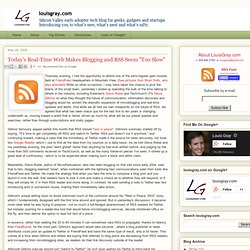 Today's Real-Time Web Makes Blogging and RSS Seem "Too
Thursday evening, I had the opportunity to attend one of the semi-regular open houses held at FriendFeed headquarters in Mountain View. ( See pictures from Brian Solis, who also attended ) While on other occasions, I may have taken the chance to pick the brains of the small team, yesterday I ended up spending the bulk of the time talking to others in the industry, including Edelman's Steve Rubel and TechCrunch IT's Steve Gillmor on what they thought the future of communication, information discovery and blogging would be, amidst the dramatic expansion of microblogging and real-time updates and alerts.
Google's co-founder, Larry Page , admitted today that the company has been losing out to Twitter in the race to meet web user's demand for real-time information.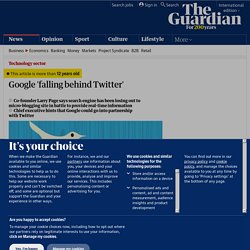 Google falling behind Twitter
Twitter Search Will Be Powerful
This Is How My Social Media Data Flows. I'll Explain. If you're anything like me, you are constantly creating social data.
Know and Master Your Social Media Data Flow - louisgray.com