Maps
Cette carte permet de visualiser certaines données issues des revenus fiscaux localisés des ménages de 2010. Ces données sont en effet de nouveau disponibles de manière très fine (aggrégées sur des pixels de 200m x 200m !). J'ai donc essayé de visualiser celles-ci à différentes échelles : aux échelles hautes, les données sont aggrégées sur des pixels de 4km², aux échelles intermédiaires sur des pixels de 1km² et enfin aux échelles fines sur des pixels de 200m par 200m. A ce niveau de détails, les informations associées à chaque pixels sont aussi disponibles par simple survol. N'hésitez donc pas à zoomer pour explorer les détails et à jouer avec les différentes variables :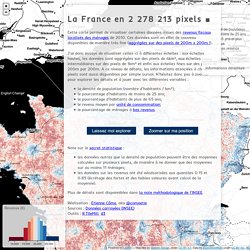 Launch Google MapsLaunch Maps in LUNA Browser The over 120 historical maps in the Google Maps have been selected by David Rumsey from his collection of more than 150,000 historical maps; in addition, there are a few maps from collections with which he collaborates. These maps can also be seen in the Gallery layer of Google Earth, Rumsey Historical Maps layer, and in the Google Earth viewers on this website. All the maps contain rich information about the past and represent a sampling of time periods (1680 to 1930), scales, and cartographic art, resulting in visual history stories that only old maps can tell.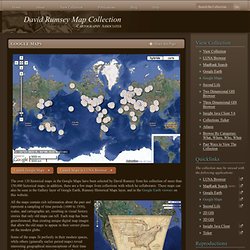 In the aggregate, our model simulations make it possible to reconfigure conventional maps of the Roman Empire to express the relative cost of transfers from or to a central point as distance. This perspective captures the structural properties of the imperial system as a whole by identifying the relative position of particular elements of the network and illustrating the impact of travel speed and especially transport prices on overall connectivity. Distance cartograms show that due to massive cost differences between aquatic and terrestrial modes of transport, peripheries were far more remote from the center in terms of price than in terms of time. Due to an unexpectedly high volume of traffic to the site, performance of the routing map and interactive cartogram are not what they should be. If you experience delays performing route calculations or rendering the map, you can try refreshing the map by zooming in or out.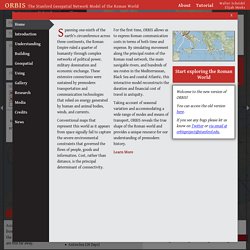 The Boston Globe has published an interesting photo that uses the Leaflet mapping platform to provide an interactive graphic of survivors of the bombing of the Boston Marathon. One year after the tragic bomb explosion at the Boston Marathon, The Boston Globe invited survivors, police, firefighters, EMTs, doctors, nurses and runners back to the finish line on Boylston Street to pose for a group photo. The resulting One Year, One City photo is a powerful testimony to the resilience of the people of Boston. By using the Leaflet mapping platform the Boston Globe has created an interactive photo which you can pan around and in which you can zoom in on individuals in the picture. You can even click on the people in the photo to learn a little more about their experience during last year's tragic events. NECN.com has also used the Leaflet platform to create a story map of the Boston Marathon.
Map, interactive . Custer's Last Stand . American Experience . WGBH
ΧΑΡΤΗΣ ΤΗΣ ΚΕΡΚΥΡΑΣ.jpg (2500×3040)
Υπουργείο Πολιτισμού - Πολιτιστικός Χάρτης
www.tabula-peutingeriana.de/tp/tp6.html
www.tabula-peutingeriana.de
Concharte
Concharto is an encyclopedic atlas of history and happenings that anyone can edit. Free Open Source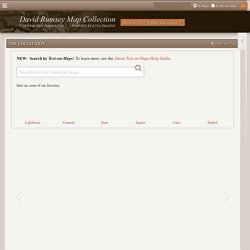 Welcome to the David Rumsey Map Collection Database and Blog. The Map Database has many viewers and the Blog has numerous categories. The historical map collection has over 46,000 maps and images online. The collection focuses on rare 18th and 19th century North American and South American maps and other cartographic materials. Historic maps of the World, Europe, Asia, and Africa are also represented.
Periodis Web - A Historical Atlas and Gazetteer of Europe from Year 1 to 2000 Europe in Year 2000 Europe in Year 1900 Europe in Year 1800 Europe in Year 1700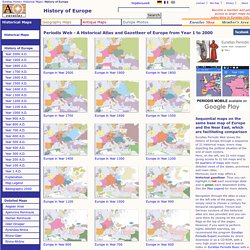 TIMEA: Browse by Place
Description The dissolution of the Austro-Hungarian Empire at the end of World War I transformed the political organization of the Balkans. The war had started in the Balkans with the assassination of the Habsburg Archduke Franz Ferdinand by a militant Bosnian Serb seeking independence for his country from the dual empire. Jovan Cvijić, the author of this "ethnographic map" of the Balkans, published in 1918 by the American Geographical Society of New York, was a professor of geography at the University of Belgrade.
Ethnographic Map of the Balkan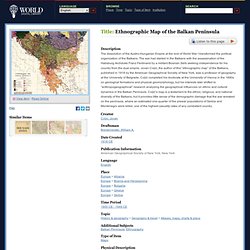 Welcome to the Interactive Ancient Mediterranean home page IAM is an on-line atlas of the ancient Mediterranean world designed to serve the needs and interests of students and teachers in high school, community college and university courses in classics, ancient history, geography, archaeology and related fields. NEW: The activities of the Interactive Ancient Mediterranean Project have been taken over by the Ancient World Mapping Center at the University of North Carolina in Chapel Hill and the content of this website will eventually be incorporated into the AWMC. The Center has a growing set of on-line resources related to the Barrington Atlas of the Greek and Roman World and to other aspects of ancient geography and cartography.
The Interactive Ancient Mediterranean Project
The Interactive Nolli Map of Rome Website Cooperating with faculty at UNC-CH , and with the scholars who commission custom maps from the AWMC for their publications, we are developing a collection of free digital maps for educational use. This effort gives teachers and students an expanding set of small-scale reference maps for classroom and personal use. Each may be downloaded from the website in multiple formats. A blank version of each map — suitable for map quizzes and customization — is usually available.
Tech Learning TL Advisor Blog and Ed Tech Ticker Blogs from TL Blog Staff – TechLearning.com
2 Comments June 1, 2011 By: Guest Blogger Jun 1 Written by: 6/1/2011 12:39 PM ShareThis Outlines are used frequently in education to organize content and show relationships among items.
Why use Tiki-Toki? There are loads of timeline makers out there.What's so special about Tiki-Toki? Nothing to download Tiki-Toki works in your browser.
What is Dipity? Dipity is a free digital timeline website. Our mission is to organize the web's content by date and time. Users can create, share, embed and collaborate on interactive, visually engaging timelines that integrate video, audio, images, text, links, social media, location and timestamps.
Geek Chart Log in - Explore - Feedback Show where you share.
Infographics - Own your Information
I am a Visual Arts teacher, just so you might start to understand my next comment. I love good Infographics ! I can not think of another technique that condenses the essence of a message down into a more accessible and easily understood medium. I love the way that; - the graphic can be the of hero the story - simple images can tell complicated stories - the combination of graphics and facts can explain a complex concept - facts and figures can be portrayed in an exciting and visually appealing way - the portrayal of the information becomes as important as the message Sometimes I think it is this last point that interests me the most.
szindros