Podcast
Zoo
Screencasting. Foundation. Digital Photography Tips From The Top Floor. Flash Movie Conversion for Mac OS X. In a recent discussion about options for sharing movies as Flash FLV or SWF format files, we were trying to find the most cost effective way to convert files for Mac OS X.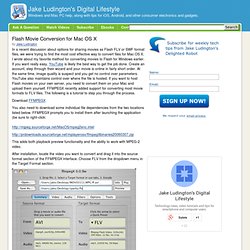 I wrote about my favorite method for Download FFMPEGX You also need to download some individual file dependencies from the two locations listed below. FFMPEGX prompts you to install them after launching the application (be sure to right-click: Podcasting - Jake Ludington - MediaBlab. Recording environmental sounds like singing birds, wild animal calls, water running through a streambed, or the chirp of baby birds is one of the more fascinating (and challenging) aspects of audio recording.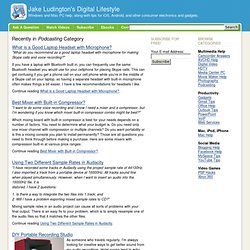 Some of the same audio recording techniques apply when recording things like car noises, lawn mower engines and other man made sounds, but you don't always get a chance to do a second take with nature like you do with machines. Getting started in recording nature sounds requires three basic things: 1) A recording device, like a MiniDisc recorder, Compact Flash recorder, or other digital audio recorder. 2) A stereo microphone or stereo microphone pair 3) Headphones for listening to what you're recording The big reason to use a digital recorder is to avoid the hiss that comes with using a tape recording medium. Windows Media Enhanced Podcast. Apple's AAC format allows podcasters to create "enhanced podcasts" complete with embedded photos at publisher defined points throughout the podcast.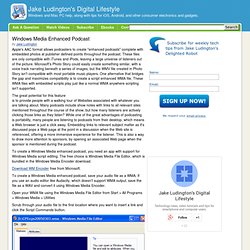 These files are only compatible with iTunes and iPods, leaving a large universe of listeners out of the picture. Microsoft's Photo Story could easily create something similar, with a voice track narrating beneath a series of images, but the WMV file created in Photo Story isn't compatible with most portable music players. One alternative that bridges the gap and maximizes compatibility is to create a script enhanced WMA file, These WMA files with embedded scripts play just like a normal WMA anywhere scripting isn't supported. Podagogy.
Creating more engaging media. In the past 2 weeks I have spent most of my waking hours (and some non-waking hours) on designing an online training course for our online faculty, or scrambling to keep up with the work load in my doctoral program.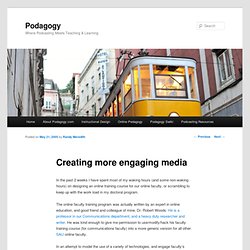 The online faculty training program was actually written by an expert in online education, and good friend and colleague of mine, Dr. Robert Woods. How to make a podcast that doesn't suck - Marco.org. I never expected to acknowledge podcasting on my site because I figured it would be a temporary fad, like blogs.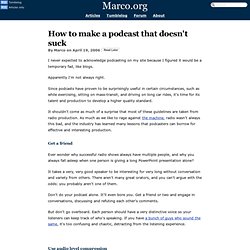 Apparently I'm not always right. Since podcasts have proven to be surprisingly useful in certain circumstances, such as while exercising, sitting on mass-transit, and driving on long car rides, it's time for its talent and production to develop a higher quality standard. It shouldn't come as much of a surprise that most of these guidelines are taken from radio production. As much as we like to rage against the machine, radio wasn't always this bad, and the industry has learned many lessons that podcasters can borrow for effective and interesting production.
Welcome to PodCacher. In Ireland » educasts. How to Create RSS / XML Feed for Podcasts. This tutorial will talk about how we put together our MP3 file for this podCast and then more importantly about how to create a proper RSS / XML file for a podCast.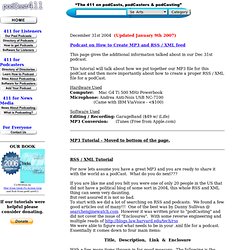 Hardware Used Computer: Mac G4 Ti 500 MHz Powerbook Microphone: Andrea Anti-Nois USB NC-7100 (Came with IBM ViaVoice - <$100) Software Used Editing / Recording: GarageBand ($49 w/ iLife) MP3 Conversion: iTunes (Free from Apple.com) RSS / XML Tutorial For now lets assume you have a great MP3 and you are ready to share it with the world as a podCast. How to Podcast - Pt 1 of 3. This week's How-To is a three part special complete with our first Engadget "Podcast" MP3.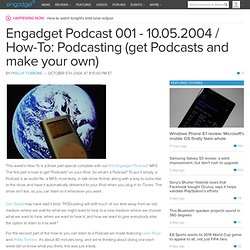 The first part is how to get "Podcasts" on your iPod. So what's a Podcast? To put it simply, a Podcast is an audio file, a MP3, most likely, in talk show format, along with a way to subscribe to the show and have it automatically delivered to your iPod when you plug in to iTunes. The show isn't live, so you can listen to it whenever you want. Podcast Free America » The Real Beginners Guide to Podcasting.
---