Googlewave
11 Wave Tools You May Not Know Exist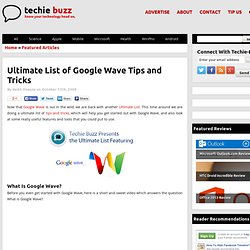 Now that Google Wave is out in the wild, we are back with another Ultimate List . This time around we are doing a ultimate list of tips and tricks , which will help you get started out with Google Wave, and also look at some really useful features and tools that you could put to use.
Best Google Wave Tips and Tricks
5 Tips for Parenting with Google Wave
On September 30, one of the most anticipated sentences I've read showed up in my in-box: "We're happy to give you access to Google Wave and are enlisting your help to improve the product."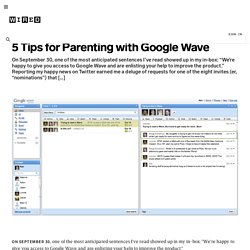 Google Wave in Research - the slightly more sober view - Part I - Papers
More Ways to Use Google Talk
Google offers more ways to use its instant messaging client. Here's a (supposedly complete) list: Desktop applications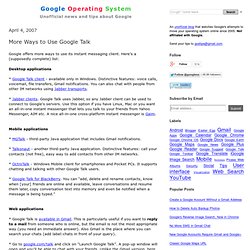 Earth
News
Google Weblog
If you're not finding what you're searching for after using our basic search tips , try a search operator . Add one of these symbols to your search terms in the Google search box to gain more control over the results that you see.