CCT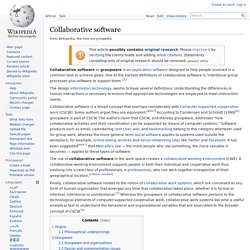 Collaborative software or groupware is application software designed to help people involved in a common task achieve goals. One of the earliest definitions of collaborative software is 'intentional group processes plus software to support them.' [ 1 ] The design intent of collaborative software is to transform the way documents and rich media are shared to enable more effective team collaboration. Collaboration, with respect to information technology , seems to have several definitions. Some are defensible but others are so broad they lose meaningful application.
GNRT: Group communication tools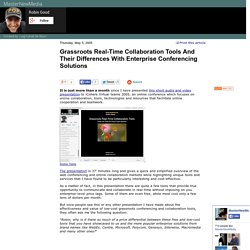 Grassroots Real-Time Collaboration Tools And Their Differences With Enterprise Conferencing Solutions - Robin Good's Latest News
It is just more than a month since I have presented this short audio and video presentation to iCohere Virtual teams 2005, an online conference which focuses on online collaboration, tools, technologies and resources that facilitate online cooperation and teamwork. Andres Ojeda The presentation is 37' minutes long and gives a quick and simplified overview of the web conferencing and online collaboration markets while highlighting unique tools and services that I have found to be particularly interesting and cost-effective. As a matter of fact, in this presentation there are quite a few tools that provide true opportunity to communicate and collaborate in real-time without imposing on you enterprise-level price tags. Some of them are even free, while most cost only a few tens of dollars per month.