20080406CSFH
Forums : Surnames
Build Your Family Tree, Share Your Family History and Improve Your Genealogy Research Geneanet Sign UpIt's Free! Sign In SearchSearch Search in a database of hundreds of millions records!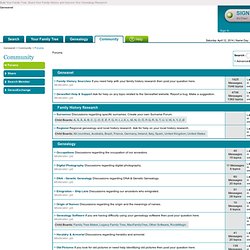 Scott Surname Resource Center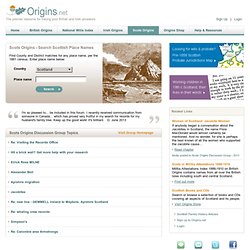 Scots Origins - Scottish genealogy site featuring free IGI search and Scottish Ancestry Research
All of us hit a research brick wall every so often and we all need help or advice or direction suggestions. Origins.net has an easy to locate `About' section to each dataset. This includes a detailed description of each dataset, what the date and geographical coverage is, what details/information it contains and examples of many original documents. Where the dataset consists of an index there are also details of how to view or obtain a copy of the full or original document.
Welcome to the Ancestors Web Site
Kurt Laidlaw's Genealogy, Copyright © 2005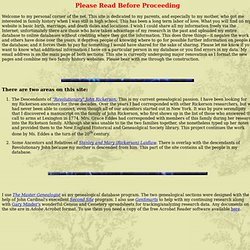 Welcome to my personal corner of the net. This site is dedicated to my parents, and especially to my mother, who got me interested in family history when I was still in high school. This has been a long term labor of love. What you will find on my website is basic birth, marriage, and death dates and locations.
Scott Family Web Page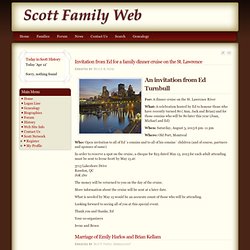 Surnames associated with this branch of the Scott clan Allen, Ames, Anderson, Appleton, Ashey, Ballantine, Barr, Bean, Bergeron, Bergman, Billard, Birtch, Brennan, Brown, Bullock, Burns, Butler, Campbell, Capperauld, Clark, Cormier, Cropper, Curran, Currige, Dalziel, Daoust, Delane, Dunbar, Dupong, Falconer, Ferguson, Finnerty, Flynn, Giannos, Gibson, Gillies, Gilliland, Gray, Green, Greenshields, Hager, Harlos, Haslam, Hoover, Hutchinson, Isherwood, Jodoin, Kees, Kesson, Kimmins, Lajoie, Liddel, Logan, Lyons, MacDonald, Majkowski, Marlin, Martin, McAdam, McGregor, McGuigan, McKnight, McLeish, McFarlane, McIlroy, McLaughlin, Meadows, Mediratta, Meechan, Merry, Montgomery, Morin, Moss, Nadon, Nisbet, Neveu, O'Hara, Outridge, Pepin, Pilon, Pinkham, Pretty, Prosser, Purcell, Purvis, Ramsay, Reid, Robertson, Robinson, Rudolph, Russell, Ste.